Digital
UI-Patterns.com
The Main Tap › PatternTap
Pattern Tap 5,174 Patterns Sort By | Type | Style | Device Show Filters Hide Filters

Awwwards - Website Awards - Best Web Design Trends
Introducing A New Article Design — NYTimes.com
Stöd oss I svenska garderober finns mängder av klädesplagg som inte längre används. För att uppmärksamma om detta har Stockholms Stadsmission startat en insamlingskampanj på Facebook för att få svenska folket att lämna in kläder till second hand och därigenom hjälpa människor i utsatthet. "You'll never wear that again" är en Facebook-app som via dina Facebookbilder på ett snabbt och roligt sätt hjälper dig att sortera ut vilka kläder du inte längre använder. Bilderna samlas i ett bildgalleri som visar de klädesplagg som sorterats ut för att skänkas till Stockholms Stadsmissions second hand-butiker. Om du vill kan du dela det med dina vänner för att uppmana dem att göra detsamma. Så gör du för att bidra:- Starta applikationen via www.facebook.com/stadsmissionen- Välj via bilderna som kommer upp vilka kläder du inte längre använder- Berätta till vilken av Stockholms Stadsmissions second hand-butiker du tänker skänka dina plagg- Dela på din blogg / Twitter / Instagram.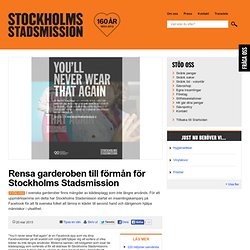 Clear the closet in favor of the Stockholm City - Stockholm City
Form Follows Function
Welcome to the new Myspace!
Cannes Lions 2012: Design Gave 19 Gold Lions and One Grand Prix
maxmedia
Cheese & Burger Society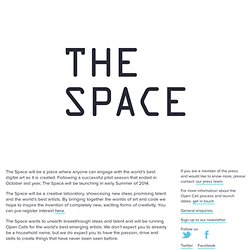 John Peel's Record Shelf
The arts — free and on-demand The Space pilot service came to an end on 31 October 2013. You can watch The Space Journey to see some of the highlights from the last 18 months and hear from those who've contributed to the creation of this new digital service for the arts. The Space, the online partnership between Arts Council England and the BBC is planning to re-launch in Spring/Summer 2014, subject to BBC Trust approval, as a dynamic new space for artists and audiences to invent and explore brilliant digital art, live, free and on-demand.
GE Performance Machines | Landing Page
Andrew Winter - Design & Art Direction
Andrew Winter is a Creative Director and Designer with a passion for creating strong brands and immersive interactive experiences. With over 10 years digital experience across art direction, design, development, copywriting and commercial photography, Andrew has worked on many successful and award-winning projects, from large-scale global websites to campaign sites, mobile apps and online magazines. His approach reflects this experience; combining brand, design, tone, usability and front-end development considerations and always applying meticulous attention to detail. Prior to working in advertising, Andrew founded Step-On Magazine, a ground-breaking digital actionsports magazine that became one of the most-read publications of its kind in the world. He also gained sponsorship for snowboarding, representing several global brands and competing at semi-professional level.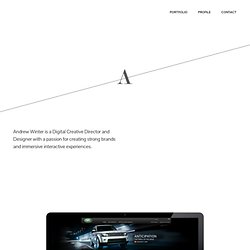 How To Play - The Grid: Run Your City
Nike - Run to the Beat
Gif Rap The Rainbow
If you are a member of the general public: The fact that you are seeing this page indicates that the website you just visited is either experiencing problems, or is undergoing routine maintenance. If you would like to let the administrators of this website know that you've seen this page instead of the page you expected, you should send them e-mail. In general, mail sent to the name "webmaster" and directed to the website's domain should reach the appropriate person. For example, if you experienced problems while visiting www.example.com, you should send e-mail to "webmaster@example.com".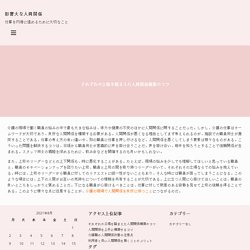 The Lynx Stream App - Record and relive your night out
untitled
The Museum of Me
Interactive - National Film Board of Canada
Hair Meet Wardrobe | VINTAGE PROM / NORTHERN SOUL / SEA SALT TEXTURISING SPRAY / PIN & TEASE / | TONI&GUY
The next edition of the DRAW YOUR OWN LINE series is here and comes this time with the very special debut of London! We are proud to introduce you to our new partner in London: JAGUAR SHOES , a collective of creatively motivated business and individuals working in the fields of art, film, fashion, music, publishing and design. They provide many platforms for creative talent; from exhibitions and events, to collaborative products and retail opportunities. We are excited to announce the next battle against Berlin on the 20th of October at 8 pm and see how the newcomer performs against our good old Berlin. The event will take place at: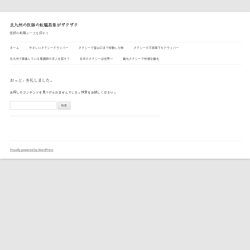 Berlin vs. London | Vector Lounge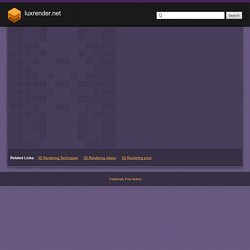 LuxRender is a physically based and unbiased rendering engine. Based on state of the art algorithms, LuxRender simulates the flow of light according to physical equations, thus producing realistic images of photographic quality. To get started with LuxRender, choose a package: LuxRender is free software - both for personal and commercial use - and is licensed under the GPL.
home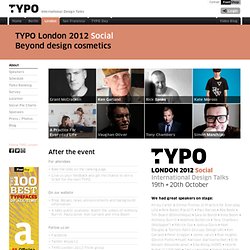 TYPO London 2011 | Places | Schedule | Saturday
After the event For attendees On our website Follow us on
The Girl Store: Buy a Girl Her Life Back
Soulwire » Experiments in Code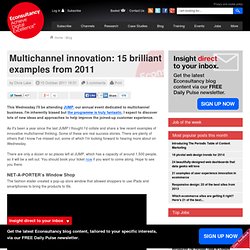 This Wednesday I'll be attending JUMP, our annual event dedicated to multichannel business. I'm inherently biased but the programme is truly fantastic. I expect to discover lots of new ideas and approaches to help improve the joined-up customer experience. As it's been a year since the last JUMP I thought I'd collate and share a few recent examples of innovative multichannel thinking. Some of these are real success stories. There are plenty of others that I know I've missed out, some of which I'm looking forward to hearing more about on Wednesday.
Multichannel innovation: 15 brilliant examples from 2011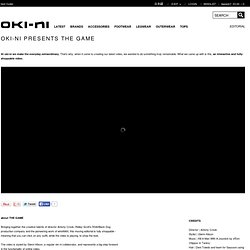 At oki-ni we make the everyday extraordinary. That's why, when it came to creating our latest video, we wanted to do something truly remarkable. What we came up with is this, an interactive and fully-shoppable video. about THE GAME Bringing together the creative talents of director Antony Crook, Ridley Scott's RSA/Black Dog production company and the pioneering work of wireWAX, this moving editorial is fully shoppable - meaning that you can click on any outfit, while the video is playing, to shop the look.
presents THE GAME at oki
Hair Meet Wardrobe | Fringing / Hard graft / Extreme Hold Hairspray / Backcomb / | TONI&GUY
Product Design & Strategy
Zizzi Ristorante | Fresh, Local Italian Restaurants
http://www.immersive-garden.com
The Art of FLIGHT
Rice Travis Rice is often hailed by sportswriters and peers as the best all-around snowboarder in the world. Since earning 'Rookie of the Year' kudos in 2002, Travis has won numerous global slopestyle, big air and backcountry events, including two X Games gold medals. The Jackson, WY local has unveiled a slew of new tricks, including the first double backside rodeo 1080 in competition, while establishing new benchmarks in big-mountain audacity.
Ben the Bodyguard. Protecting your data on iPhone® and iPod touch®
Nike Better World
Show me the difference Back in 2008 every piece of research we looked at (over 10 years worth), national consumer surveys and our own focus groups and our friends, colleagues and families told us the same story. Givers first concerns were constant: where does my money go, what difference does it make? Show givers where their money was going and the difference it was making and they'd give more the theory went (and maybe arrest the decline in the percentage of the population giving too). Simples.
See The Difference, online fundraising and charity donations, non profit organization UK
All ready a member? put your bad words to good use Fuck Cancer activates Generation Y to engage with their parents about early detection of cancer. Learn More...
Charity Swearbox
Own A Colour And Help Save A Child's Life
35+ Sites for Web Savvy Families
StylesInspiration - Web Design Style Inspiration
home
BBC - Homepage - Beta Version
The Fashionisto: The Latest in Fashion from Runway to Print
Alpha-ville Festival 2011 | Festival of Post-Digital Culture
Category Archives: News
Nicholas Felton | Feltron.com
bleed
Counter-Print.co.uk
::: Toko. Concept. Design. ::: +61 (0)4 136 133 81 :::
Slanted - Typo Weblog & Magazin - Das Gefühl Typografie - Alles über Schriften, Fontlabels & Design
fonts, typefaces and all things typographical — I love Typography (ILT)
Welcome to Baseline Magazine
eye | the international review of graphic design
Scott Dadich - WIRED's Digital Rebirth on Vimeo
Grid Based is a showcase of the best grid based designs & WordPress themes
One Page Love
greyworld | Playing in the City
25 Flash Portfolios for Your Inspiration
Calendar World Cup 2010 by MARCA.com
Wishbone Website Bikes
The Angelic | London | N1
TMA-1
sneakers turntables
WBA - Willams Boag Architects - Melbourne Australia
music matters
Nike Air Talent
pCubee Perspective-Corrected Cubic Display
OneMore Pixels - video
Stop motion video
Case Studies | EPIC Agency
IT'S A GOOD DAY - Motion design 3D