Dinner
Caesar-Roasted Fish Recipe : Ina Garten. Directions Preheat the oven to 500 degrees F.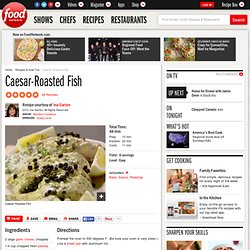 (Be sure your oven is very clean.) Line a sheet pan with aluminum foil. For the Caesar sauce, place the garlic, parsley, anchovy paste, and mustard in the bowl of a food processor fitted with the steel blade and pulse until the garlic is minced. Baked Ravioli. Olive Garden Pasta Alfredo Recipe. If you like this recipe then PIN IT on Pinterest Make sure to follow Budget Savvy Diva on Facebook Find more Copy Cat Recipes HERE.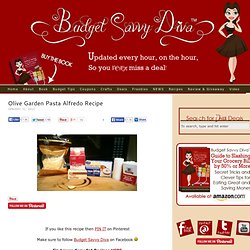 Chocolate Therapy: Crockpot Chicken Tacos. I'll keep this short and sweet: this is one of my all time favorite recipes.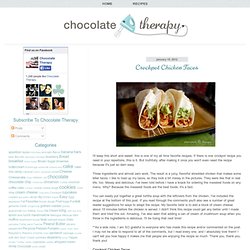 If there is one crockpot recipe you need in your repertoire, this is it. But truthfully, after making it once you won't even need the recipe because it's just so darn easy. Three ingredients and almost zero work. The result is a juicy, flavorful shredded chicken that makes some killer tacos. I like to load up my tacos, so they look a bit messy in the pictures. Chicken Bundles, Chicken pockets.
Chicken bundles are delicious dough pockets filled with cream cheese, sesame seeds and more.
This recipe is crazy popular (thanks gals!) , so you'll definitely want to read through the comments for additional ideas. I made them exactly as the recipe reads, and we loved it! Ingredients for Chicken Bundles 4 oz. cream cheese, softened1-13 oz. can chicken (or equivalent cooked chicken, rotitsserie chicken, etc)1 Tbs. sesame seeds1/4 tsp. parsley2 cans Pillsbury Crescent Rolls - leave in fridge until ready to use! What About Pie: Pepperoni Roll...my own version. Hello everyone!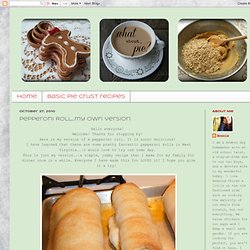 Welcome! Thanks for stopping by! Here is my version of a pepperoni roll. It is soooo delicious! I have learned that there are some pretty fantastic pepperoni rolls in West Virginia...I would love to try one some day. Chicken Ranch Pizza - Fake Ginger. Pizza night is always a favorite around here.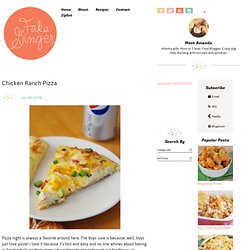 The boys love is because, well, boys just love pizza! I love it because it's fast and easy and no one whines about having to finish what's on their plate. I have been trying to branch out for the usual pepperoni and definitely found a winner in this one! Instead of a red sauce, this pizza uses ranch dressing with a good bit of garlic mixed in. Skinny Sour Cream Enchiladas. These sour cream chicken enchiladas hit that Mexican craving my family seems to get weekly.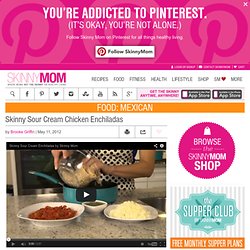 They are easy to make, and as I'm sitting here eating leftovers for lunch, great the next day too! Trust me when I say this will definitely be a family favorite! Skinny Sour Cream Enchiladas. The Test Kitchen of Melissa Fallis: Freezer Cooking- Slow Cooker Meals! **Update 9.2.2012- Many of the recipes below turned out a bit more "bland" than my husband and I like so at the end of this post I have offered some "additions" to the recipes that you can try if you wish!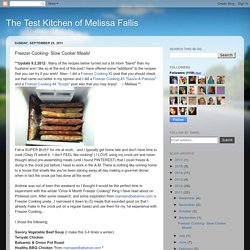 Also-- I did a Freezer Cooking #2 post that you should check out that came out better in my opinion and I did a Freezer Cooking #3 "Sauce-A-Palooza" and a Freezer Cooking #4 "Soups" post also that you may enjoy! ~ Melissa ** Chicken Rollatini with Spinach alla Parmigiana. Baked chicken breasts rolled with spinach and ricotta topped with pomodoro sauce and melted mozzarella.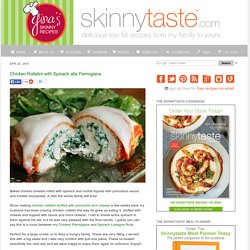 A dish the whole family will love! Since making chicken rollatini stuffed with prosciutto and cheese a few weeks back my husband has been craving chicken rollatini the way he grew up eating it, stuffed with cheese and topped with sauce and more cheese. One Pot Creamy Chicken and Noodles - Yellow Bliss Road. One Pot Meals have become a staple in our home.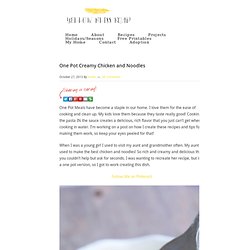 I love them for the ease of cooking and clean up. My kids love them because they taste really good! Cooking the pasta IN the sauce creates a delicious, rich flavor that you just can't get when cooking in water. Easy Chicken Casserole. Easy chicken casserole that the children will love. Can be made ahead of time and frozen. Great for leftovers,, Easy Chicken Casserolemakes 4 to 5 servings Ingredients: 4 skinless, boneless chicken breast halves1 (10.75 ounce) can condensed cream of chicken soup1 cup sour cream32 buttery round crackers1/4 cup chopped onion (optional)1/4 cup chopped mushrooms (optional) Instructions:Preheat oven to 350 degrees F (175 degrees C).Boil chicken until cooked through (no longer pink inside), about 20-30 minutes. Saucy Trout Recipe : Trisha Yearwood. Minestrone Soup with Pasta, Beans and Vegetables Recipe : Robin Miller. Easiest Comfort Foods Videos. Turkey Day Troubles - Installment #2. I just finished reading a book (Cooking for Mr. Latte) written by Amanda Hesser, a food writer for the New York Times.
In one of her chapters she writes, "I have a few favorite dishes, I rarely make them. " She goes on further to describe those old tried and true recipes, "You know, ones that I'll want to return to for years and years. You make it again and again, altering it to your liking, it becomes an expression of you aesthetic, of your palate, of who you are. And when you serve that dish to guests, they come to understand you a little better. " Peas and Crayons: Waiter? There are balls in my soup. I'm still tallying up the winner from yesterday's shenanigans but had to sneak this amazingness into your life ay-sapp [that's ASAP if you don't speak crazy] I'll try to write up the recipe for the soup next week.
Scratch that -- I *will* write it up for you next week. Promise.Until then, all you'll need is a bowl of creamy tomato soup and some balls. Creamy Tomato Soup with Baked Mozzarella Balls-aka cheese ball soup-
Pasta. Chicken. Classic Corn Dogs and Cheese-on-a-Stick. For the second State Fair recipe, I whipped up some hot dogs and cheese-on-a-stick reminiscent not just of state fairs and carnivals…but also of shopping malls in the eighties: this is said to be the same batter recipe used by the famous Corn Dog 7 chain of stores, and if you don't remember Corn Dog 7, you're way too young and probably don't have slack abdominal muscles or jowls yet. I feel very sorry for you! Corn Dog 7 had fabulous hot dogs, of course…but their Cheese-on-a-Stick was what I loved the most as I traipsed through the mall with my best friend Jenn, buying things like neon pink fingerless gloves and Soloflex posters and Duran Duran tapes.
I miss the Eighties so much it hurts. I'm going to go text Jenn right now. Roasted Garlic-Thyme Butter - Condiment / Sauce - Dishes - Recipes. Sign in to access your account information and expedite the checkout process. Create a new account. Once you've set it up, you can take advantage of the many benefits of membership. Dr. Pepper Barbecue Sauce Recipe at Epicurious.com. 100 Famous Restaurant Recipes You Can Replicate at Home |
Freezer/Crockpot/Grill. Italian.
---