Dinner
Cream Cheese Greatness. I found this recipe a while back and printed it out with the intentions of making it that night.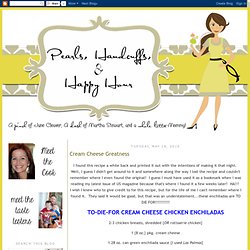 Well, I guess I didn't get around to it and somewhere along the way I lost the recipe and couldn't remember where I even found the original! I guess I must have used it as a bookmark when I was reading my latest issue of US magazine because that's where I found it a few weeks later! HA!!! I wish I knew who to give credit to for this recipe, but for the life of me I can't remember where I found it.
They said it would be good, but that was an understatement...these enchiladas are TO DIE FOR!!!!!!!!!! MaMa's Supper Club Tilapia Parmesan Recipe - Food.com - 53914. Chicken Parmesan Casserole HOLY CRAP! | Our Pinteresting Summer. You have to stop what you're doing and make this RIGHT NOW!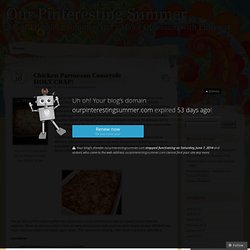 As far as we're concerned, Chicken Parmesan is one of the most delicious, most classic Italian dishes out there. It's probably safe to say that we order Chicken Parmesan in an Italian restaurant at least half the time. It is a go-to dish. Cheeseburger Soup. I hope that you all had a fantastic holiday!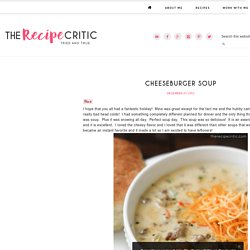 Mine was great except for the fact me and the hubby came down with really bad head colds! I had something completely different planned for dinner and the only thing that sounded good was soup. Plus it was snowing all day. Recipe for Baked Chicken Stuffed with Pesto and Cheese. (For Phase One Fridays I highlight Phase One recipes from the past that have been my personal favorites, and this recipe for Baked Chicken Stuffed with Pesto and Cheese is something I've made over and over.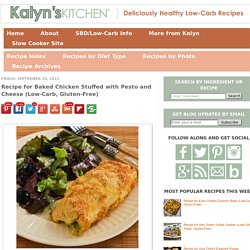 It's also been one of the most popular recipes on the blog for a while now; hope you enjoy if you haven't tried it yet!) For several weeks now I've been keeping an eye on the basil plants in my garden, hoping to get one more batch of pesto in the freezer before the plants started to freeze. For the last few days the leaves were starting to look a little brown on the edges, so today I trimmed the plants vigorously and made a big batch of pesto.
Then I made this Chicken Stuffed with Pesto and Cheese! I'm always wanting to adapt recipes every time I make them, and when I looked at the old version of this I knew I wanted to change it. Life In The Lofthouse - Sunday Night Prep to Eat Clean All Week. There is nothing easy about making most of your meals from scratch.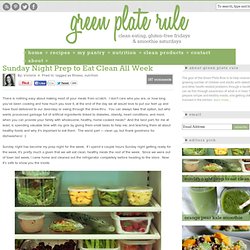 I don't care who you are, or how long you've been cooking and how much you love it, at the end of the day we all would love to put our feet up and have food delivered to our doorstep or swing through the drive-thru. You can always take that option, but who wants processed garbage full of artificial ingredients linked to diabetes, obesity, heart conditions, and more, when you can provide your family with wholesome, healthy, home cooked meals? Panera Mac & Cheese. Restaurant Recipe Serves: 4 to 6 Hands-on time: 25 min.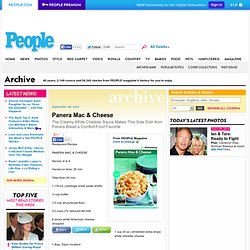 Total time: 40 min. 1 (16-oz.) package small pasta shells ¼ cup butter. Recipe for Lawnmower Taco. Unless you've got a nanny, a housekeeper, a chauffeur, and a chef, it's hard to manage a home and family–and still keep a smile on your face.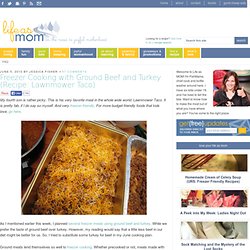 But, it's worth trying. Because nobody wants a crabby mom. Join me while I try to navigate these choppy waters and keep smiling. Makin' it Mo' Betta: Bubble Up Pizza. If you are popping over from Pinterest, Welcome to Makin' it Mo'Betta!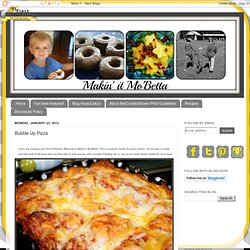 This is a popular recipe for good reason...it's so easy to make, and kids love it! (At least mine do) Feel free to look around, and consider following me on any of my social media outlets for more easy recipes. Caprese Lasagna Roll Ups. Aww, just look at all the gooey, soon to be stretched and strung (upon my no longer empty fork) cheese and dream of what could be yours =)!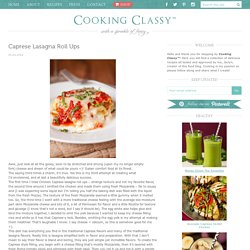 Italian comfort food at its finest. The saying third times a charm, it's true. Yes this is my third attempt at creating what I'd envisioned, and at last a beautifully delicious success. The first time I tried Chicken Caprese lasagna roll ups – strange texture and not my favorite flavor, the second time around I omitted the chicken and made them using fresh Mozzarella - far to soupy and (I was expecting some liquid but I'm telling you half the baking dish was filled with the liquid from the fresh Mozza).
Chicken Parm Meatballs. Unless I'm out to dinner, or unless there's a birthday to celebrate, there's not much room in my life right now for high-concept food.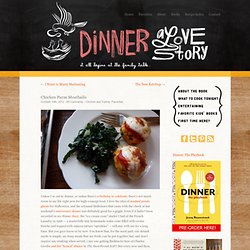 I love the idea of mashed potato ghosts for Halloween, and the artisanal Mallomars that came with the check at last weekend's anniversary dinner was definitely good for a giggle. Even if it hadn't been recorded in my dinner diary, the "ice cream cone" starter I had at the French Laundry in 1998 — a masterfully tiny homemade wafer cone filled with creme fraiche and topped with salmon tartare "sprinkles" — will stay with me for a long time. Busy Mama Bird: Yummy Crunchwrap Supremes.
It's time to share some of the delicious Pinterest inspired recipes we've been trying around here. Up first is one of my favorites- Crunchwrap Supremes! It's so simple I wonder how I've never thought to do it at home on my own before. French Onion Soup. The weather is starting to turn here in Minnesota, which means that the snow is melting but it's still around 30 degrees. This also means that we are still in "soup season" even if we don't like it admit it.
I've always been kind of intimidated by making French Onion Soup because it usually calls for a dozen or so different kinds of cooking wines and cognac and the exact caramelizing etc. etc. etc. Our Story: Italian Chicken. A few posts ago, I brought you Fiesta Chicken. Today, I created Italian Chicken. I know, my recipe titles are so original! The preparation of this Italian dish is very similar to it's mexican version, meaning, it's very simple to prepare. Throw everything in the dish, cook your noodles, and serve. Cheesy Chicken, Bacon And Tater Tot Crock Pot Bake Recipe - Food.com - 403520. Cheesy Chicken Lasagna. Here is a fun alternative to your normal lasagna. I found this recipe at What's for Dinner? It is so delicious and not that complicated to make. I love the chicken and ranch flavor to it. You can increase the cheese too it you like it extra cheesy. Slow Cooker Beef Brisket over Garlic Parmesan Mash | 31 Things You Can Freeze To Save Time and Money! The Pursuit of Happiness: Crock Pot Orange Chicken.
Crockpot Pizza Casserole. Garlicky Baked Shrimp | Normal Cooking. One Preppy Cookie: Gumby's Pokey Stix Copycat Recipe. Panera (Inspired) Broccoli Cheddar Soup. 135 Recipes for Football Season. Spicy Grilled Shrimp Tacos with Pineapple Salsa - The Girl Who Ate Everything. Chicken Enchiladas. The Best Homemade Ranch Recipe. 50 Slow Cooker Recipes. Database Error. 3 Meat Pizza Casserole Recipe. Claire Bidwell Smith » Windy City Crescent Rolls. A Latte' with Ott, A: 3 different recipes for crescent roll ring bakes. Beef and Bean Taco Casserole.
10 Great Ground Beef Casseroles - Dinner Tonight. Caesar-Roasted Fish Recipe : Ina Garten. Baked Ravioli. Olive Garden Pasta Alfredo Recipe. Chocolate Therapy: Crockpot Chicken Tacos. Chicken Bundles, Chicken pockets. What About Pie: Pepperoni Roll...my own version. Chicken Ranch Pizza - Fake Ginger. Skinny Sour Cream Enchiladas. The Test Kitchen of Melissa Fallis: Freezer Cooking- Slow Cooker Meals! Chicken Rollatini with Spinach alla Parmigiana. One Pot Creamy Chicken and Noodles - Yellow Bliss Road. Easy Chicken Casserole. Saucy Trout Recipe : Trisha Yearwood. Minestrone Soup with Pasta, Beans and Vegetables Recipe : Robin Miller. Easiest Comfort Foods Videos. Turkey Day Troubles - Installment #2. Peas and Crayons: Waiter? There are balls in my soup.
Pasta. Chicken. Classic Corn Dogs and Cheese-on-a-Stick. Roasted Garlic-Thyme Butter - Condiment / Sauce - Dishes - Recipes. Dr. Pepper Barbecue Sauce Recipe at Epicurious.com. 100 Famous Restaurant Recipes You Can Replicate at Home | Mexican Style Food. Freezer/Crockpot/Grill.
---