Lyrics/Poetry/Rap
Enter your e-mail to get the e-book for FREE. We'll also keep you informed about interesting website news. "I have searched the web and used different worksheets, but none have come close to your worksheets and descriptions of (what to do and what not to do). Both courses I have taken have with Creative Writing Now have been amazing. Each time I have learned something new.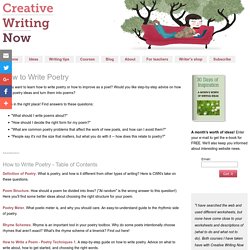 How to Write Poetry - Creative Writing Lessons
How to Write Lyrics to a Rap or Hip Hop Song
Edit Article Breakdown Edited by Teresa, KJR, Edward, Chris Hadley and 48 others Are you an aspiring rapper looking to make a smash hit? Are you ready to surpass the footsteps of 2Chainz, Nicki Minaj or Young Lyric, Well then, you're in the right spot.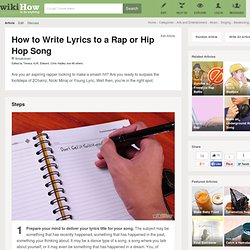 Jay-Z "I've Inspired A Generation Of Bad Writers" Jay-Z, whose "Rain Man" recording process finds him mumbling words to himself in the studio before stepping into the booth to spit out a complete song, definitely has the corner locked when it comes to rappers composing full songs in their heads. Young tykes like Chris Brown and Sean Kingston even cite Hov as an inspiration for their own songwriting processes. "I've inspired a generation of bad writers," Jay joked to MTV News last week. But the Def Jam president and iconic rapper obviously wrote down lyrics at one point in time. In fact, he revealed the last time he actually did so was for "Can I Live," a standout track on his 1996 debut, Reasonable Doubt.
Jay-Z Talks Lyrics Writing Process - Hip Hop Galaxy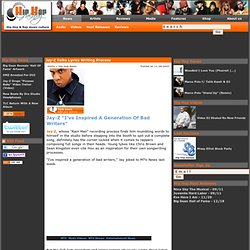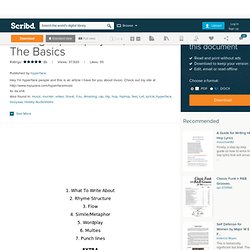 Writing Hip Hop Lyrics, The Basics
That's what I got from listening that song. You might get moreor less, but the idea will remain the same. Let's look at eachpart.He Gon Pass It You might think, what the hell can I write about this? But Take alook.First I translate it to normal English, He is going to pass it.Now you can simply get ideas from this by setting up your mindthe right way. "I'm in the club, Your boyfriend knows so he's going to pass thisone" "I get my Lay-Up on, he knows I score so he going to pass hisball" (Passing his balls, I bet you know what I mean with balls.
Complete Guide to Writing Rap/Hip Hop Lyrics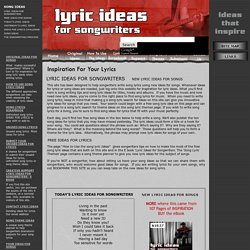 LYRIC IDEAS FOR SONGS
Take the 'IDEAS FOR LYRICS' Writing Lyrics Challenge Can you write a song that includes the lyric idea below? By taking this challenge, you will be honing your skills as a songwriter.
How can one write better lyrics? Here are a few lyric writing tips and suggestions. 1.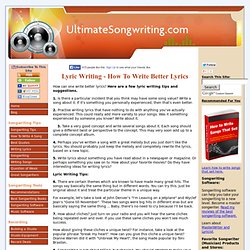 Lyric writing tips, ideas and suggestions.
Writing lyrics that "show - don't tell" is a great lyric tool to learn. When you do it your music lyrics stand out all by themselves. When you don't, your songwriting lyrics get lost in a bored crowd. Get 50 FREE MP3s from eMusic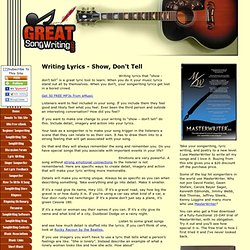 Writing Lyrics - Show, Don't Tell
Understanding & Writing Lyrics, Part 1
Technique : Miscellaneous Writing the words to songs is often thought of as a process of pure intuition, but there's a lot more to it than that. In the first part of a new series, Sam Inglis suggests an alternative way of going about it. This is the first article in a five-part series.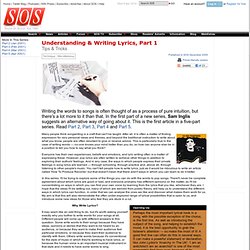 Poems and song lyrics have much in common. Here are a few things to keep in mind when writing a song lyric for Empire Music Company: Songs Consist Of Three Sections: 1. The Verse contains the main story line of the song.
Lyric Writing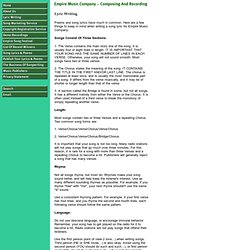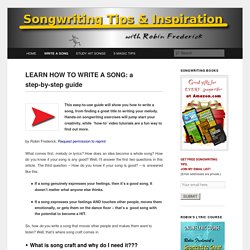 Just like a potter has clay and a painter has tubes of paint, the songwriter has images, action words, and fresh concepts. These are your raw materials. You're going to create it yourself by using the words, phrases, and images suggested by your song title.
Poems written by teens