Lyrics/Poetry/Rap
Do you want to learn how to write poetry or how to improve as a poet?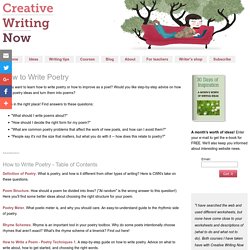 How to Write Poetry - Creative Writing Lessons
How to Write Lyrics to a Rap or Hip Hop Song
Edit Article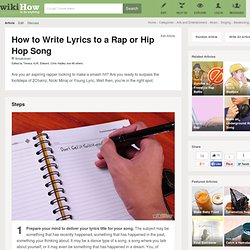 Jay-Z Talks Lyrics Writing Process - Hip Hop Galaxy
Writing Hip Hop Lyrics, The Basics
Complete Guide to Writing Rap/Hip Hop Lyrics
LYRIC IDEAS FOR SONGS
How can one write better lyrics? Here are a few lyric writing tips and suggestions. 1.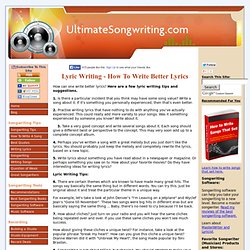 Lyric writing tips, ideas and suggestions.
Writing lyrics that "show - don't tell" is a great lyric tool to learn.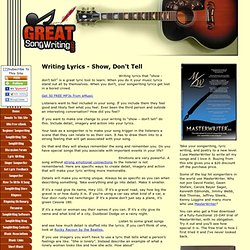 Writing Lyrics - Show, Don't Tell
HOW TO WRITE LYRICS, SONGS AND MUSIC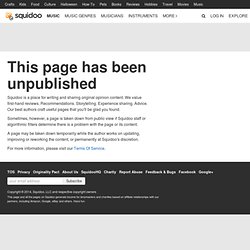 A good way to start or if you have writers block is to pick up a blank sheet of paper and start writing furiously non stop. Don't think about what you are writing. Try and write at least one page and if you feel like continuing then carry on until you stop. It might look something like this. "When you go to the beach you find yourself eating an apple and through the window you find a door handle with a dog hanging on it.
Understanding & Writing Lyrics, Part 1
Technique : Miscellaneous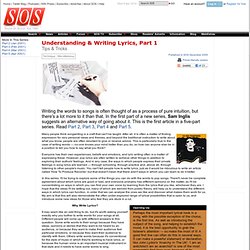 Lyric Writing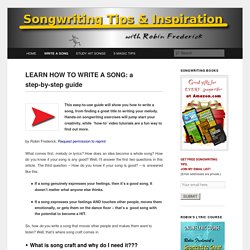 Just like a potter has clay and a painter has tubes of paint, the songwriter has images, action words, and fresh concepts. These are your raw materials. You're going to create it yourself by using the words, phrases, and images suggested by your song title.
Poems written by teens