Visual Software
Synfig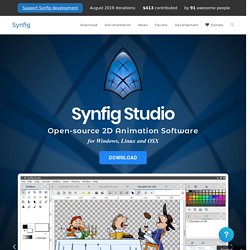 Insectby Satrip Werewolfby Will Short, Robert Quattlebaum and Darrin Michelson Dr. MacWolfen PIby Voria Studios Happy Fun-Joy Time (Day)by Rabecha Lenhart Synfig Demo Reel 2012by Rafael & others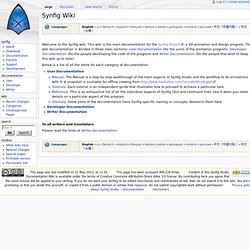 Welcome to the Synfig wiki. This wiki is the main documentation for the Synfig Project, a 2D animation and design program. The wiki documentation is divided in three main sections: User Documentation (for the users of the animation program), Developer Documentation (for the people developing the code of the program) and Writer Documentation (for the people that wish to keep this wiki up to date). Below is a list of all the items for each category of documentation. User Documentation Manual. The Manual is a step by step walkthrough of the main aspects of Synfig Studio and the workflow to do animations with it.
Synfig Wiki
FAQ - Synfig Animation Studio
General FAQs Who is synfigbot at the Synfig IRC channel? synfigbot is a bot that sits in the Synfig IRC channel, not a human. It has some commands and could respond to some of the usual questions like: "What's the latest Synfig Studio version? One of its funnier commands is to quote past funny comments from people at the IRC. To make it remind a quote, just type: !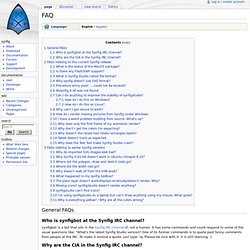 Create a font from your own handwriting - fontcapture.com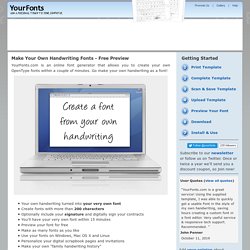 YourFonts.com is an online font generator that allows you to create your own OpenType fonts within a couple of minutes. Go make your own handwriting as a font! Your own handwriting turned into your very own font Create fonts with more than 200 characters Optionally include your signature and digitally sign your contracts You'll have your very own font within 15 minutes Preview your font for free Make as many fonts as you like Use your fonts on Windows, Mac OS X and Linux Personalize your digital scrapbook pages and invitations Make your own "family handwriting history" Use your fonts in Microsoft Word, PowerPoint and every program that you own Just $9.95 (plus $5.00 if you upload both template pages) - only purchase if you're satisfied! High Quality Personal Handwriting Fonts YourFonts allows you to upload large templates (up to 6000 x 9000 pixels) and it has the most advanced raster to vector conversion algorithm. Together this results in unbeatable high quality personal fonts.
Fyre: News
9 October 2006 - 1.0.1 Released Wow, it's been a while! This release sports several improvements: a beautiful new icon, some performance increases, a more robust oversampling method, and other bug fixes. 14 May 2005 - More cool stuff Now that you're all finished ogling at quartz composer, you can ogle at the progress on fyre 2.0! We spent the last couple months starting work on the pipeline editor, using a class project as an excuse.
Apophysis.org
Celtx - #1 Choice for Media Pre-Production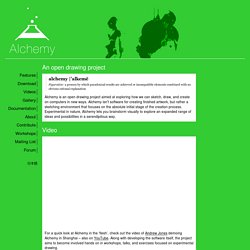 alchemy |'alkemē Figurative: a process by which paradoxical results are achieved or incompatible elements combined with no obvious rational explanation Alchemy is an open drawing project aimed at exploring how we can sketch, draw, and create on computers in new ways. Alchemy isn't software for creating finished artwork, but rather a sketching environment that focuses on the absolute initial stage of the creation process. Experimental in nature, Alchemy lets you brainstorm visually to explore an expanded range of ideas and possibilities in a serendipitous way.
Alchemy | An open drawing project
Inkscape. Draw Freely.
Inkscape: Guide to a Vector Drawing Program
Adobe
Vectortuts+
Psdtuts+
QBrushes - Quality Brushes for Photoshop
Photoshop Brushes - BrushLovers.com
Sorted by Date There are 3319 free desktop wallpapers available below. You are on page 1 of 332. Your screen's resolution is 1600x1200 pixels.
Wallpaper sorted by Date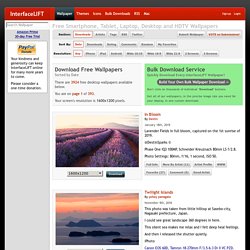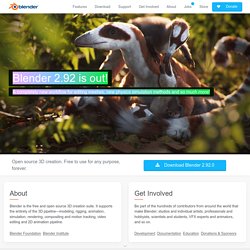 Top 20 developers in 2013 To salute and applaud the developers: here's a 2013 top-20 Blender developers page. Plans for 2014-2015 With the high quality demands users expect nowadays it's needed to involve more full-time developers.
Home
25 Useful Blender tricks that aren't so obvious | Blender Articles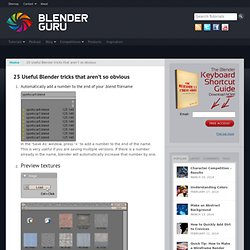 Automatically add a number to the end of your .blend filename In the 'Save As' window, press '+' to add a number to the end of the name. This is very useful if you are saving multiple versions. If there is a number already in the name, blender will automatically increase that number by one.Preview textures The feature you always wanted was right under your nose! Simply Hold Ctrl whilst clicking the 'Load' button to take advantage of thumbnail previews. This feature however, is currently in an unstable state (which is why it hasn't been made official yet), so use it at your own risk!Changing the cameraCtrl + NumPad 0.
Make Human
Minor patch release, files are available from the usual downloads location on SourceForge https://sourceforge.net/projects/aqsis/files/ Firstly, apologies for missing the release notice for 1.8.1, which fixed the binary issues in the previous announcement.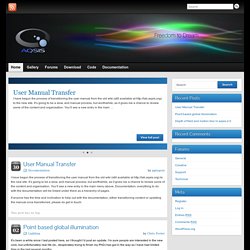 Aqsis Renderer : Freedom to Dream
BlenderArt Magazine: The unofficial Blender 3D magazine
It's time again to start thinking about articles, tutorials and images for Issue # 44 of Blenderart Magazine. The theme for this issue is "Mech Mayhem" Mechanical objects are endless fascinating. They can range from the simple can opener to highly specialized robotic equipment. In this issue we are going to have some fun and see what unusual and interesting mechanical objects we can create. So put on your creative caps and get mechanizing.
Fidèle à son habitude, Olivier Saraja m'a envoyé il y a un peu plus d'un mois la nouvelle édition de Blender de son livre intitulé La 3D Libre avec Blender 2.6. Bon je dis machinalement "son" livre, mais en réalité il en partage la paternité avec deux acolytes bienvenus vu l'ampleur de la tâche. Henri Hebeisen et Boris Fauret sont maintenant de la partie.
News
Support the Python Community Help the Python community by becoming an associate member or making a one-time donation. Python 3 Poll I wish there was Python 3 support in What they are saying...
Python Programming Language – Official Website
Color Scheme Designer 3
GIMP is the GNU Image Manipulation Program. It is a freely distributed piece of software for such tasks as photo retouching, image composition and image authoring. It works on many operating systems, in many languages.
The GNU Image Manipulation Program
scripts that work in gimp 2.6
GIMP on OS X
Noupe Design Blog
Best of GIMP brushes: 35+ brush sets (1400+ brushes)
GIMP Plugin Registry | A repository of optional extensions for the GIMP.