Current Online Comics
Sin Titulo by Cameron Stewart
Hi all! This is the end of this story arc. I encourage you to go back and Read It Again now that it's not updating at a slow pace. I've been in Europe! Thought Bubble was a lot of fun, and I'm so glad I was able to go.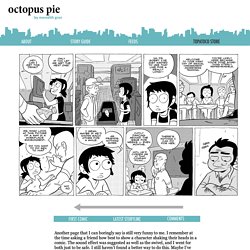 octopus pie
Girls With Slingshots
Customs
Picture Diary
Friends: Lynn AllinghamJohn AllisonAmy AshDawn and Margie BeatonMarc BellSally BloodbathJohn CampbellScott CampbellRyan CarleyAnthony ClarkRebecca ClementsMelanie ColosimoDomitille CollardeyJillian Comeau, Kim Carson and Michelle SkeldingAaron DiazThe Doug Wright AwardsJess FinkEric FeursteinBrian FukushimaSarah GliddenMeredith GranLisa HanawaltDustin HarbinChristopher HastingsEmily Horne and Joey ComeauJimmie KilpatrickJon KlassenSteve LambkeHope LarsonJoe ListDavid MalkiPhil McAndrewCarolyn MerrimanCarly MonardoVicki NerinoAndre RichardRyan NorthRyan PequinNeil RoughJeffrey RowlandGabby SchulzSmart and BirdDeana SobelNathan StapleyHenry SvecMatthew TraffordJulia WertzBritt WilsonStephanie WeirathmuellerSteve WolfhardYou've Changed RecordsChip Zdarsky Good comic shops that have taught me a thing or two: The Beguiling, TorontoStrange Adventures, HalifaxLegends Comics and Books, VictoriaDesert Island, Brooklyn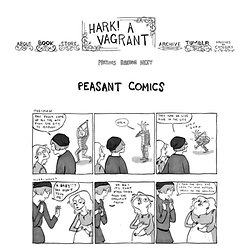 332
TopWebComics.com - Showing Comics Ranked 1 to 100
introdoucing, 20104............ the NEWD YEAR Gigapause status: STILL GIGAPAUSED. It's almost over, right? Um, no, sorry. I still have no time estimate, or specific date I am shooting for. 4/13 would be the COOLEST date to shoot for, right? I doubt that's realistic though.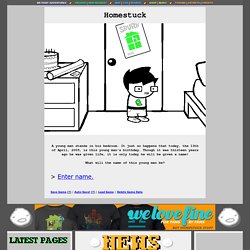 MS Paint Adventures
Conventions and other Horror Stories June 28, 2013 Holy crap, the year's half over. I better get back to making blos, huh? So, do you like horror comics? Spike Trotman of Templar, AZ has a KickStarter running for an anthology of horror comics.
S*P and Other Comics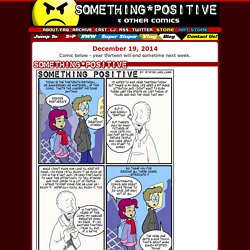 Axe Cop | Episodes
Axe Cop's tragic childhood. NOTE: This episode is best read in order after episode 4 Continue reading A cop finds the perfect fireman axe.
Sensual Burlap
Howdy all! Corbin here with a few quick updates. First off, I'd really like to thank everybody that donates to the hosting fund. For those of you that don't know, there's a small link directly below our beloved artist's donation button that donates directly into the account that hosts this comic. Occasionally you guys click it, and put small amounts of money into the account, and that actually keeps us afloat.
Updated Mondays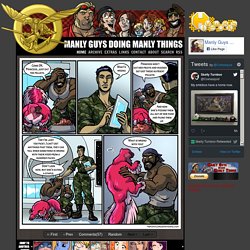 Lucky Penny - 6
JHall Pokemon - Poison Poot
Rice Boy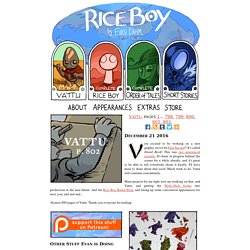 attu is 500 pages long as of today, which might be around halfway through the story but I'm not sure yet: I know all the important things that have yet to happen but I don't know how long they'll take. Thank you everyone for reading, and for bearing with this occasionally idiosyncratic and slow-moving project. The contents of the second book of Vattu, tentatively titled Sword & Sacrament, are heading towards a close now.
Achewood § February 20, 2012
February 22nd, 2012
Orion Nebula
2389
QC: New Comics Every Monday Through Friday
December 24th, 2013 Merry Christmas, everybody who is a person who celebrates that! And a joyous Winter Solstice to the rest of you. Just to let you know, we won't be updating on Christmas or New Years day. The fourth and final issue of Longshot Saves the Marvel Universe came out last week! It is the issue where he actually does the universe saving (BUT AT WHAT COST DUN DUN DUN) If you've been holding off for the trade, that'll be out soon and I'll let you know!
The Adventures of Dr. McNinja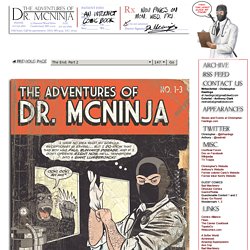 Court - By Tom Siddell
Gods of the Moon - Sometimes I think you're only dating me because I'm the only living thing within a 15 mile radius.