Cooking
How to Make Brownie in a Mug. Christmas Cookie Pinwheels. Description Festive Christmas sugar cookie Details Ingredients.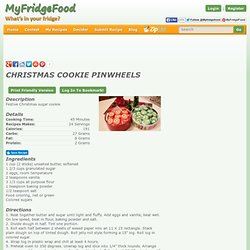 Super-Easy Microwave Peanut Butter Fudge Recipe - Food.com - 42547. Spicy Roasted Potatoes and Asparagus Recipe. James Coney Island Chili – a Texas favorite, you can make this anytime. James Coney Islands are famous in Texas.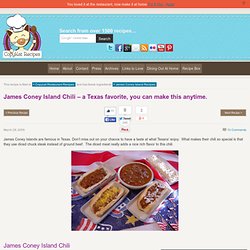 Don't miss out on your chance to have a taste at what Texans' enjoy. What makes their chili so special is that they use diced chuck steak instead of ground beef. The diced meat really adds a nice rich flavor to this chili. James Coney Island Chili Author: CopyKat.com Recipe Type: Copycat Restaurant Recipes, CopyKat Recipes, Meat Recipes, Soup Recipes Prep time: 10 minutes Cook time: 1 hour, 50 minutes Serves: 1. Salmon with Dijon Cream Sauce Recipe. Quiche. Fact: Real cowboys don't eat quiche.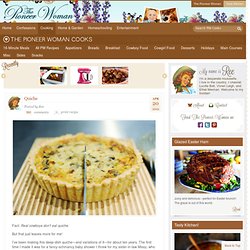 But that just leaves more for me! I've been making this deep-dish quiche—and variations of it—for about ten years. The first time I made it was for a fancy-schmancy baby shower I threw for my sister-in-law Missy, who was about 8 1/2 months pregnant at the time, which means I was about six months pregnant at the time, which means the second the shower guests left, Missy and I both fell on the sofas in my living room, started crying, and didn't move for a year. Broccoli parmesan fritters. Last week, it was pointed out to me that among the 750 recipes in the archives, there is but a single recipe that utilizes broccoli.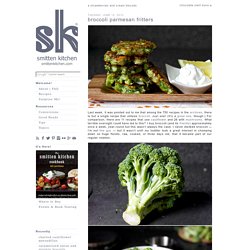 Just one! (It's a great one, though.) For comparison, there are 11 recipes that use cauliflower and 26 with mushrooms. What terrible oversight could have led to this? Scottish Farmhouse Eggs | Ahoy! | Portland Maine DIY Blog. Chicken and Cheese Lasagna Roll-Ups. Scalloped Hasselback Potatoes. "Scalloped" is an attractive word, isn't it?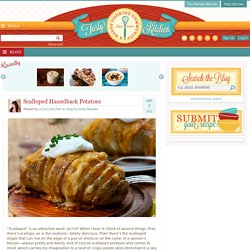 When I hear it I think of several things: first, there's scallops, as in the seafood—totally delicious. Then there's the scalloped shape that can live on the edge of a pair of shorts or on the collar of a woman's blouse—always pretty and dainty. And of course scalloped potatoes also comes to mind, which carries my imagination to a land of crispy potato skins drenched in a sea of cheese and cream. I can think of no better place to exist, actually. So when I came across TK member Shelbi Keith's recipe for Scalloped Hasselback Potatoes, I knew we were going to become fast friends. Girl Eats Food - Skittles Cups. As gloriously diabetic as Skittles are, there aren't that many ways of tasting the rainbow™ outside of listlessly inhaling them from a vending machine packet.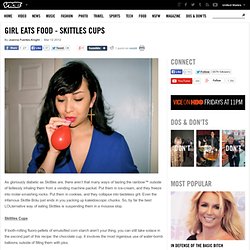 Put them in ice-cream, and they freeze into molar-smashing rocks. Put them in cookies, and they collapse into tasteless grit. Even the infamous Skittle Bräu just ends in you yacking up kaleidoscopic chunks. So, by far the best LOLternative way of eating Skittles is suspending them in a mousse slop. Skittles Cups. Monkey Bread. Hi, guys.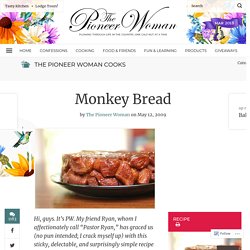 It's PW. My friend Ryan, whom I affectionately call "Pastor Ryan," has graced us (no pun intended; I crack myself up) with this sticky, delectable, and surprisingly simple recipe for…Monkey Bread. Take it, Ryan! That's right…Monkey Bread. Although I'm almost certain there are no actual monkeys in this recipe, it's still very good.
Single ingredient ice cream recipe. Recipe: single-ingredient ice cream Administrative news: The amount of spam accumulating in my filter is increasing and the amount of time I have to glance through and fish out the occasional legitimate comment is all but nil at this point.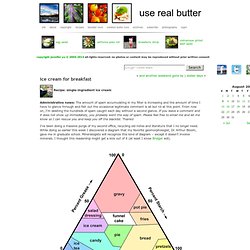 From now on, I'm deleting the hundreds of spam caught each day without a second glance. If you leave a comment and it does not show up immediately, you probably went the way of spam. Monkey bread with cream cheese glaze. A while back, knowing my love of any and all baked goods with awesome names, a reader tipped me off to something called monkey bread which turns out to be one of those doughy delights people have either known about their entire lives and cannot believe I have been deprived of or are 54 words into this post and still have no idea what I'm talking about.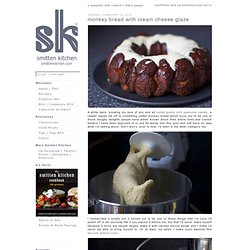 Don't worry, prior to that, I'd been in the latter category too. I researched it briefly but it turned out to be one of those things that I'm sure I'd polish off in ten seconds flat if you placed it before me, but that I'd never make myself because it turns out people largely make it with canned biscuit dough and I knew I'd never be able to bring myself to. Or at least not when I make such damned fine biscuits without cans.
But it came back on my radar a few weeks ago when my mother, Alex and I shared some, warm and gooey from the oven, at a local restaurant and all three of us have been obsessed since. Tres Leches Cake. I first made Tres Leches cake about five years ago, when my baby was still a baby and I was trying to find something yummy to make for my friend Ana for her birthday.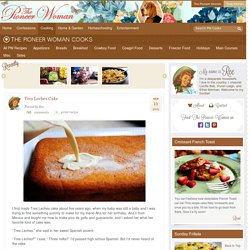 Ana's from Mexico and taught me how to make pico de gallo and guacamole, and I asked her what her favorite kind of cake was. "Tres Leches," she said in her sweet Spanish accent. "Tres Leches?" I said. "Three milks?" Cinnamon Roll Pancakes. Cinnamon Roll Pancakes Updated 9/22/11 to Add: If you're coming here to sample these delicious Cinnamon Roll Pancakes, you just might like the latest recipe that I've posted for Pumpkin Cinnamon Roll Pancakes too. And Gingerbread- Cinnamon Roll Pancakes too. Enjoy! If you've ever thought you needed a reason to eat pancakes, today is the day: National Pancake Day. Eat a short stack for breakfast, enjoy them for lunch, or make a dinner out a manhole-sized pancake… guilt free… because you're merely celebrating their existence. Crash Hot Potatoes. Man, do I love Australia. First, my oldest daughter was conceived there on our honeymoon…and while we're on the subject, have I ever shared with you that we almost named her "Sydney" as a nod to her point of origin?
In the end, I chickened out, though—I thought that might be a little corny, and truth be told, I think she was actually conceived in Brisbane. But I'll stop there. This is a family-friendly website. Quick, easy and cheap recipes ideal for students. Shrimp Caught in Spaghetti Nets. TunaMac and Cheese. Easy Shortbread. Description Details Ingredients 1 cup butter1/2 cup white sugar2 cups sifted all-purpose flour Directions 1.Preheat oven to 350 degrees F (175 degrees C). 2.In a medium bowl, beat the butter and sugar with an electric mixer until light and fluffy.
---