Recipes
Pizza
... Fries. ..Bites. Desserts. Chicken Recipes. Recipe for Zucchini Cakes at Life. Mmm...is for Mommy: Easy Barbecued Ribs. I've never cooked ribs before.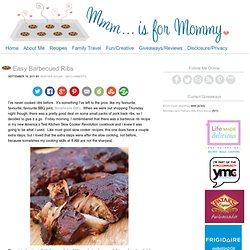 It's something I've left to the pros, like my favourite, favourite, favourite BBQ joint, Boneheads BBQ. When we were out shopping Thursday night though, there was a pretty good deal on some small packs of pork back ribs, so I decided to give it a go. Friday morning, I remembered that there was a barbecue rib recipe in my new America's Test Kitchen Slow Cooker Revolution cookbook and I knew it was going to be what I used. Like most good slow cooker recipes, this one does have a couple extra steps, but I loved that the extra steps were after the slow cooking, not before, because sometimes my cooking skills at 8 AM are not the sharpest. Idaho sunrise (baked eggs and bacon in potato bowls) - gimme some oven. I probably should have poured a nice stiff drink recipe for you all on this loveliest of lovely tax days.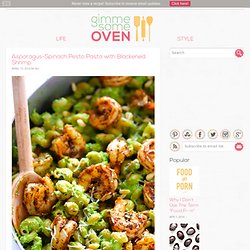 Especially for my fellow small business owners who just gave half of their revenue back to the government. Good grief, I won't even go there. Garlic Cheddar Biscuits (a la "Red Lobster") Recipe. TGIF, friends.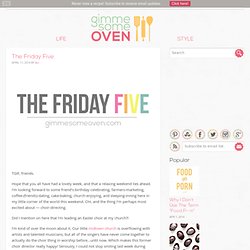 Hope that you all have had a lovely week, and that a relaxing weekend lies ahead. I'm looking forward to some friend's-birthday-celebrating, farmers-marketing, coffee-(friends)-dating, cake-baking, church-enjoying, and sleeping-inning here in my little corner of the world this weekend. OH, and the thing I'm perhaps most excited about — choir-directing. Espresso chocolate chip shortbread cookie recipe.
Recipe: espresso chocolate chip shortbread What new views through the lens?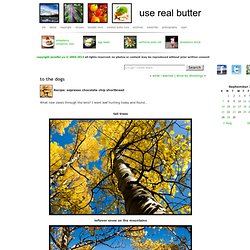 I went leaf hunting today and found… Www.thesweetslife.com/2011/08/cheesecake-stuffed-strawberries.html. These aren't anything complicated.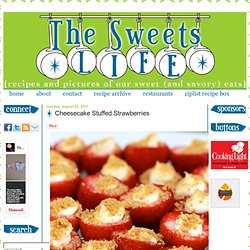 With five ingredients, they take only a few minutes to put together. In fact, these were probably the least time-intensive food at my Cheesecake Extravaganza. Yet, I had more than a few people come up and proclaim their love for the finger food. You don't have to throw a cheesecake party to serve these....I imagine they'd be welcomed just about anytime! Spinach Pesto Grilled Cheese Sandwich. Earlier on in the week, when I made the spinach, or spanakopita pesto pasta I made sure to keep some of the pesto left over for something new.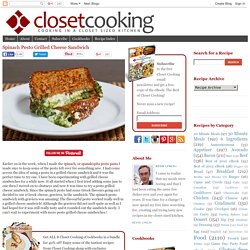 I had come across the idea of using a pesto in a grilled cheese sandwich and it was the perfect time to try one. I have been experimenting with grilled cheese sandwiches for a while now. Don't Forget Delicious! » Blog Archive » Fastest Cinnamon Rolls. Heat the oven to 400°F.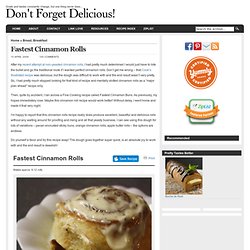 Grease the sides and bottom of a 8 or 9″ baking pan with cooking spray. Combine the ricotta cheese, buttermilk, sugar, melted butter, and vanilla in food processor and process until smooth, about 10 seconds. Add the flour, baking powder, salt, and baking soda and pulse in short bursts just until the dough clumps together (don't overprocess). Boy-Approved Spiked Pasta (Spaghetti with Vodka Cream Sauce) My boyfriend P has a busy, active job and is often too busy to eat a big lunch, if any lunch at all.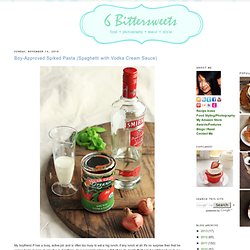 It's no surprise then that he comes home hungry at only 5 p.m. For those days especially, I have a list of go-to meals that can be whipped up in no time. And while P's sweet enough to try almost anything I cook, I reserve this list for only the dishes he gets excited about. Chief among them is this fabulous spaghetti alla vodka. P's not much of a foodie. Skinny Spaghetti. Ok, so I know we're all trying to cut back & slim down for summer.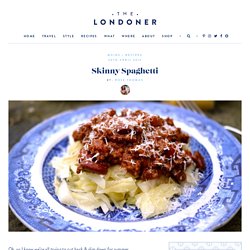 I know you've read my Anti-Diet & you're desperate for more recipes to help you on your way. You're probably looking at this huge plate of mouthwatering meaty pasta and thinking about all those carbs & calories... Come on! Oven Roasted Potatoes | My Adventures In The Country. When I heard this month's Kitchen Bootcamp Challenge was potatoes, I was pumped.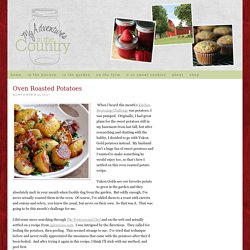 Originally, I had great plans for the sweet potatoes still in my basement from last fall, but after researching and chatting with the hubby, I decided to go with Yukon Gold potatoes instead. My husband isn't a huge fan of sweet potatoes and I wanted to make something he would enjoy too, so that's how I settled on this oven roasted potato recipe. Potato and Cheese Pierogi Recipe. Pierogi are traditional Polish noodle dumplings, filled with a variety of classic sweet and savory mixtures. For this recipe, we've chosen to make a basic potato-cheese filling and serve them as a side dish topped with sour cream, garlic and chive sauce. Our family recipe, combined with a fairly standard dough preparation method, produces an exceptionally light and tender finished product. Mashed Potatoes with Bacon & Cheddar. 1. Preheat oven to 350 degrees. Peel potatoes, and cut into 1-inch chunks.
Place in a large saucepan, and add enough cold water to cover by about 2 inches.
---