Foundry/Forge Building
Build Your Own Home Foundry. It's funny how an event will sort of get stuck in your mind.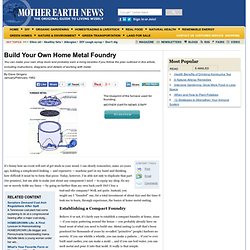 I can clearly remember, some 20 years ago, holding a complicated-looking — and expensive — machine part in my hand and thinking how difficult it must be to form that piece. Today, however, I'm able not only to duplicate that part (for pennies), but am able to make just about any component I need — to equip my shop, fix my car or merely tickle my fancy — by going no farther than my own back yard! Did I buy a tool-and-die company? Well, not quite. Foundry. The Home Foundry (Safety Note : Metal casting is an inherently dangerous activity, with possible injurious or fatal consequences.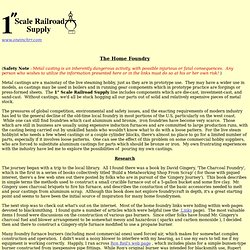 Any person who wishes to utilize the information presented here or in the links must do so at his or her own risk! ) Metal castings are a mainstay of the live steaming hobby, just as they are in prototype use. Ray Rogers Handcrafted Knives. One of the most expensive and mysterious parts of a forced air forge is the forge blower.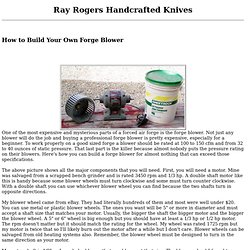 Not just any blower will do the job and buying a professional forge blower is pretty expensive, especially for a beginner. To work properly on a good sized forge a blower should be rated at 100 to 150 cfm and from 32 to 40 ounces of static pressure. That last part is the killer because almost nobody puts the pressure rating on their blowers. Zoeller Forge Home Page Gas Forge parts, Atmospheric Burners, an. How to build a home foundry. Ron's Forge Page. (Image by permission from "The Plaza del Herrero" in Ecuador.)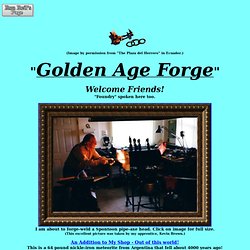 "Golden Age Forge" Welcome Friends! Forge and Burner Design Page #1. Forge and Burner Design Page #1 (Note: This page is now broken into two pages, #1 and #2) ©Golden Age Forge Jump to page #2 I am about to forge-weld a Spontoon pipe-ax head.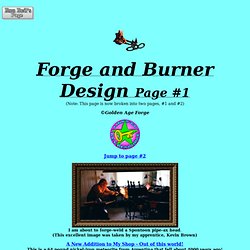 (This excellent image was taken by my apprentice, Kevin Brown)
Refractory. DIY Propane/Natural Gas Forge, Foundry Plans (A Working Example) Virtual Tour The World's Smallest Museum!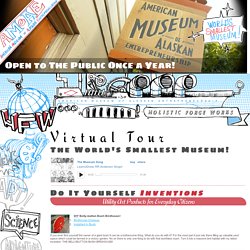 Do It Yourself Inventions Utility Art Products for Everyday Citizens DIY Belly-button Bush Birdhouse! If you ever find yourself the owner of a giant bush it can be a bothersome thing. What do you do with it? For the most part it just sits there filling up valuable yard space which could be farmed in a victory garden.
---