Geek Universe
euh je veux pas la ramener mais j'avais listé les armures sur le topic chronologie MCU.
Les Toiles Héroïques Forum • Afficher le sujet - Les armures de Stark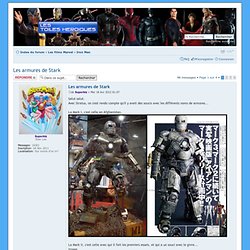 10 Superheroes Who Really Don't Need Their Own Movie
Qu'est ce qu'un Geek ?
http://www.journaldugeek.com/files/2010/10/ft-geek-10-18.png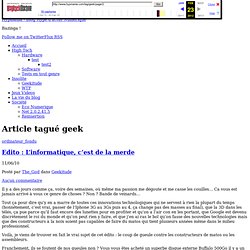 geek « Page 2
Il y a des jours comme ça, voire des semaines, où même ma passion me dégoute et me casse les couilles… Ca vous est jamais arrivé à vous ce genre de choses ? Non ? Bande de veinards…
Geeks. (part1)
Geeks. (part2)
La différence entre un geek, un nerd, et un no-life
Etes vous Geek , Nerdz ou No-Life ?
Nerd - Wikipedia
Un article de Wikipédia, l'encyclopédie libre.
Nolife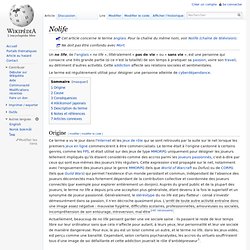 Un article de Wikipédia, l'encyclopédie libre. Ne doit pas être confondu avec Mort . Un no life , de l' anglais « no life » , littéralement « pas de vie » ou « sans vie », est une personne qui consacre une très grande partie (si ce n'est l'exclusivité) de son temps à pratiquer sa passion , voire son travail , au détriment d'autres activités.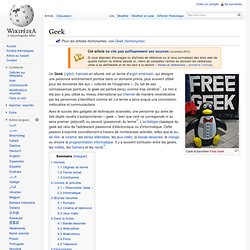 Un article de Wikipédia, l'encyclopédie libre.
Geek
Les médecins ne sont plus toujours en chair et en os.
High-Tech : Culture Geek : des robots qui pourraient vous sauver la vie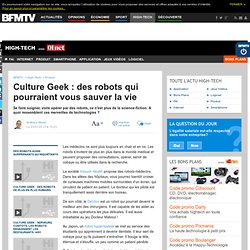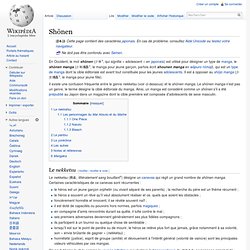 Shōnen
Un article de Wikipédia, l'encyclopédie libre. Ne doit pas être confondu avec Seinen .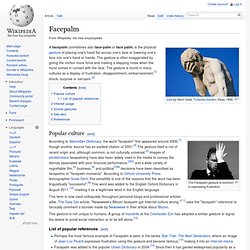 Facepalm
A facepalm (sometimes also face-palm or face palm ) is the physical gesture of placing one's hand flat across one's face or lowering one's face into one's hand or hands.
Internet meme
An Internet meme ( pron.: / ˈ m iː m / MEEM ) is a concept that spreads from person to person via the Internet . [ 1 ] The concept of a meme was defined and described by Richard Dawkins in his 1976 book The Selfish Gene , as an attempt to explain the way cultural information spreads; [ 2 ] internet memes are a subset of this, specific to the culture and environment of the internet. Fads and sensations tend to grow rapidly on the Internet, because the instant communication facilitates word of mouth transmission.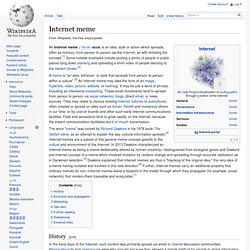 versatility
Déjà Q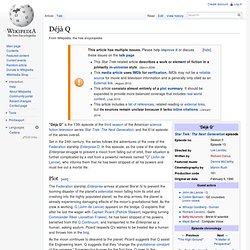 "Déjà Q" is the 13th episode of the third season of the science fiction television series Star Trek: The Next Generation , and the 61st episode of the series overall. Overview: As the crew of the starship Enterprise struggle to prevent a moon from falling out of orbit, their situation is further complicated by a visit from a powerful nemesis named " Q ", who informs them that he has been stripped of all his powers and must live out a mortal life. [ edit ] Plot
From Wikipedia, the free encyclopedia Nemesis may refer to:
Nemesis
nemesis
nemesis
némésis
An archenemy , archfoe , archvillain or archnemesis (sometimes spelled arch-enemy , arch-foe , arch-villain or arch-nemesis , originated around the mid-16th century) is the principal enemy of someone or something. [ 1 ] [ 2 ] [ 3 ] In fiction, it is a character who is the hero 's worst enemy. [ edit ] Etymology The word archenemy or arch-enemy originated around the mid-16th century, from the words arch- (from Greek "arkhos" meaning "most important") [ 3 ] and enemy . [ 1 ]
Archenemy
Daily Geek Show
Envie de faire toute la différence au bureau ?
18 souris totalement déjantées et rigolotes pour geek accompli
31 clichés improbables pris sur l'instant qui valent le détour
Avoir un bon appareil et être un photographe averti n'est pas toujours nécessaire pour parvenir à prendre des photos saisissantes et surtout parfaitement synchronisées avec un évènement pour réaliser des clichés surprenants ! Découvrez sans attendre une sélection de 31 photos épatantes !
20 séries pour faire de vous le meilleur des geeks
Indiegogo | X6 innovations
Les bons plans pour les étourdis - Europe1.fr - Quoi de neuf