Cool things
How do you measure up? | Special reports. Quantity and quality How would you define your sexuality?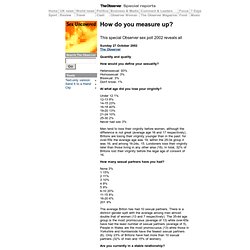 Heterosexual: 93% Homosexual: 3% Bisexual: 3% Don't know: 1% Cocktail Recipes - Shot-Cocktail-Recipe.com. The Town With No Roads. To Do List - 101photography. The Look - DIY! 7 new stylish ways to de-clutter your beauty closet. DIY Sweat-sacoche diy-laptop-sweat - the Trendy Girl. 25 (more) clever ideas to make life easier. .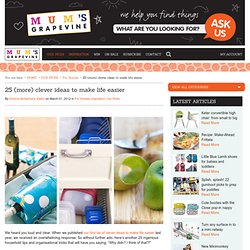 We heard you loud and clear. When we published our first list of clever ideas to make life easier last year, we received an overwhelming response. So without further ado, here's another 25 ingenious household tips and organisational tricks that will have you saying, "Why didn't I think of that?!" Source: chezerbey.com. A ModernTake on the Doily - $850 Lamp for less than $50. A Modern Take on the Doily $850 Lamp for less than $50?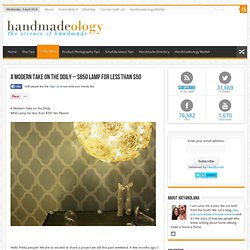 Yes Please! Hello Pretty people! We are so excited to share a project we did this past weekend. A few months ago, I came across a ceiling lamp, I absolutely loved. It was $850, and I just couldn't justify the spend, being it was simply made of doilies. 24 old pictures. The once innocent little girl, may now have become another bride, the temples in the elderly, in the heaven or so happy?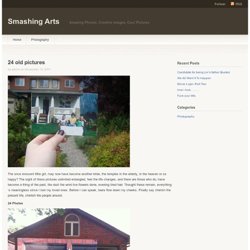 The sight of these pictures unlimited entangled, feel the life changes, and there are those who do, have become a thing of the past, the dust the wind live flowers done, evening tired hair. Thought these remain, everything 's meaningless since I lost my loved ones. Before I can speak, tears flow down my cheeks. Finally say cherish the present life, cherish the people around. Glass Beach - The Dump You'll Want to Visit. It's like a little Inuksuk… Before you say anything about the content of this article, I hate people who litter.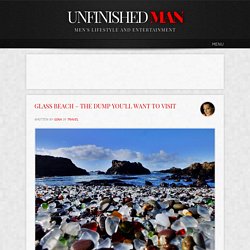 I'll judge you if I think you're too lazy to recycle. All That Is Humor & humor. OC Comic Idea Can you learn how to be happy?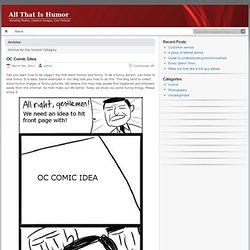 You first learn Humor and funny. To be a funny person, you have to look funny. Amazing Places To Experience Around The Globe (Part 1) Preachers Rock, Preikestolen, Norway Blue Caves - Zakynthos Island, Greece Skaftafeli - Iceland Plitvice Lakes – Croatia.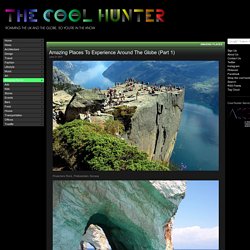 The Art of Negative Space. on the Behance Network. Absolutely Genius Ideas. :::::: carnovsky :::::: RGB Color est e pluribus unus RGB is a work about the exploration of the "surface's deepness".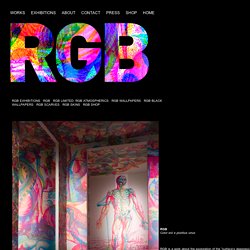 RGB designs create surfaces that mutate and interact with different chromatic stimulus. Carnovsky's RGB is an ongoing project that experiments with the interaction between printed and light colours. The resulting images are unexpected and disorienting. The colors mix up, the lines and shapes entwine becoming oneiric and not completely clear. - StumbleUpon. 100 Websites You Should Know and Use. Entertainment Meet David Peterson, who developed Dothraki for Game of Thrones There are seven different words in Dothraki for striking another person with a sword.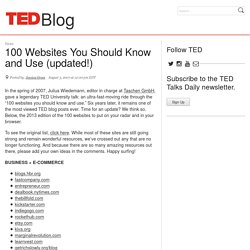 Life Hacks @imageBlog. YTMND - Arnold shares his deepest feelings. Your source of daily updated funny pictures and gifs. - StumbleUpon. Pictures That I Gone And Done — Home. Wanelo - Find unique products and stores you have never heard of. StatusHumor.com | Funny Social Network Status Humor. Colossal | An art and design blog. Thing in a Jar. Thing in a Jar 7 inches by 4 inches, mason jar Pictured above is the Thing in a Jar that's usually sitting in my office at work.
The coolest thing about the Thing is that everyone responds to seeing it by asking questions. Super Cheap Acoustically Amplifier (horn type) for iPhone/iPod Touch. Secrets To A Longer Life, Even With A Desk Job. We reported on some statistics Friday that showed how working at a desk job is slowly killing you. There were some frightening statistics revealed in the infographic that should leave us all concerned. Fear not, however, as another infographic has come to save the day (and your life). Today's infographic comes from Confused.com and hopes to give you a few tips on how to live a longer, happier life. Most favorited all-time | craftgawker - StumbleUpon. Future Computer by Jakub Záhoř & Yanko Design - StumbleUpon. Future Touch Tech This concept computer-of-the-future by designer Jakub Záhoř allows the user to operate the device anywhere they can find a glass surface.
The user simply attaches the central unit to any glass surface like a window or coffee table, switches on the power, and watches their system light up before their eyes. The display appears as an interactive hologram on the glass that the user merely has to touch to operate.
---