Artish
Animated Short Movies » Life-Changing Arts. Movie shorts, or short animations are a unique form of art, which can inspire and enlighten just like any other art form.
Sometimes even more so. Here is a selection of inspiring, or for some reason animated short movies, here shown in their original full length. Thanks to all the visitors who have contributed with their detailed suggestions! Carved Book Landscapes by Guy Laramee. (click images for detail) For the better part of three decades multidisciplinary artist Guy Laramee has worked as a stage writer, director, composer, a fabricator of musical instruments, a singer, sculptor, painter and writer.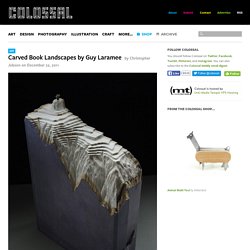 Among his sculptural works are two incredible series of carved book landscapes and structures entitled Biblios and The Great Wall, where the dense pages of old books are excavated to reveal serene mountains, plateaus, and ancient structures. Of these works he says: So I carve landscapes out of books and I paint Romantic landscapes. Mountains of disused knowledge return to what they really are: mountains. Dream Big by Peter Fecteau. Фото и рисунки, арт и креативная реклама. BACK TO THE FUTURE 2 (2011) : Irina Werning - Photographer. Now its time for KOREA, TAIWAN AND TOKYO.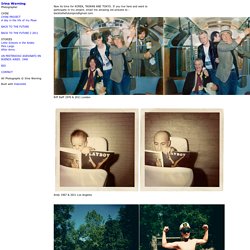 If you live here and want to participate in my project, email me amazing old pictures to : backtothefuturepics@gmail.com Riff Raff 1976 & 2011 London. 36 Jaw-Dropping Nature Photos. The Last Supper Made of 20,000 Spools of Thread. Showing on 11-11-11, at the debut of the brand new Crystal Bridges Museum in Bentonville, Arkansas, is an incredibly impressive work of art created by Devorah Sperber.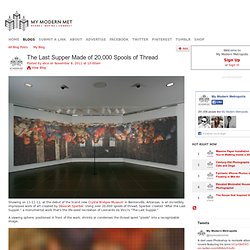 Using over 20,000 spools of thread, Sperber created "After the Last Supper," a monumental work that's the life-sized recreation of Leonardo da Vinci's "The Last Supper. " A viewing sphere, positioned in front of the work, shrinks or condenses the thread spool "pixels" into a recognizable image. The Crystal Bridges Museum was made by Walmart heiress Alice Walton who, for many years, had a dream of building a world-class museum of American art in her hometown of Bentonville, Arkansas. She is the third-wealthiest woman in the world. Incredible Making of the 3D LEGO Chalk Drawing. After one picture of a LEGO street painting was posted on Reddit, the Internet took over, making it a sensation online.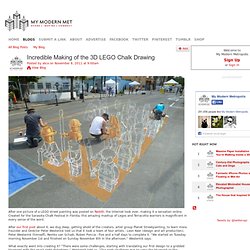 Created for the Sarasota Chalk Festival in Florida, this amazing mashup of Legos and Terracotta warriors is magnificent in every sense of the word. After our first post about it, we dug deep, getting ahold of the creators, artist group Planet Streetpainting, to learn more. Founder and Director Peter Westerink told us that it took a team of four artists - Leon Keer (design and art production), Peter Westerink (himself), Remko van Schaik, Ruben Poncia - five and a half days to complete it. "We started on Tuesday morning November 1st and finished on Sunday November 6th in the afternoon," Westerink says. What exactly went into creating it?
Anka Zhuravleva | Designcollector™ Tori Praver SI Swimsuit Collection - 2009 - Sports Illustrated. Yarn Bombing / Guerrilla Crochet – A Collection | STREET ART UTOPIA. Nick Gentry | Social art from the obsolete. Fine Art Photography & Prints. 21 Amazing Examples Of Shadow Art.
Help your brain
Eyjafjallajökull Volcano Photo, Iceland Wallpaper. Banksy. Famous Photos Master Photographers Famous Photos that Changed the World.
---