Bêtises sympa
Si vous êtes en coloc avec vos potes, ou même si vous voulez bien faire flipper votre copine ou votre famille pour le 1er Avril, voilà une bonne blague de mauvais goût à faire de toute urgence ! Très facile à réaliser, vous allez pouvoir remplir votre frigo d'une horrible tête décapitée dans un bocal ! C'est Mikeasaurus, un utilisateur du site Instructables, qui nous explique comment la réaliser : Tout d'abord, créez un portrait "enroulant" de vous-même, et imprimez-le. Si le montage photo n'est pas votre truc, rendez-vous ici pour toutes les instructions détaillées. Une fois votre portrait imprimé, plongez-le dans un grand bocal rempli d'eau colorée selon votre choix.
Comment Terrifier Vos Potes Avec Une Tête Décapitée Dans le Frigo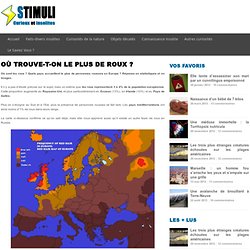 Où sont les roux ? Quels pays accueillent le plus de personnes rousses en Europe ? Réponse en statistiques et en images. Il n'y a pas d'étude précise sur le sujet, mais on estime que les roux représentent 3 à 4% de la population européenne.
Où trouve-t-on le plus de roux ?
Posted by Un odieux connard under Société | Tags: Adolf, Facebook, Goût, Histoire, Hitler, Humour, Mauvais, Noir, Page, Réseau, Révision, Social | [138] Comments Réviser l'Histoire, ce n'est pas facile. Que vous soyez lycéen ou leader d'un célèbre parti d'extrême-droite, vous connaissez ce problème. Comment réviser de manière posée et ludique ? Comment joindre l'utile à l'agréable ? Il suffit !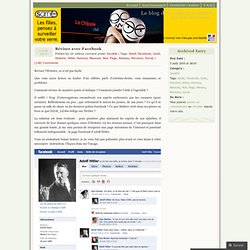 Réviser avec Facebook
Eyebombing
THE DIGITAL STORY OF THE NATIVITY www keepvid com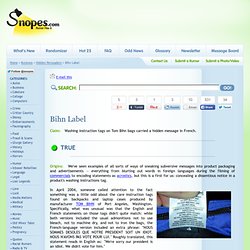 Claim: Washing instruction tags on Tom Bihn bags carried a hidden message in French. Origins: We've seen examples of all sorts of ways of sneaking subversive messages into product packaging and advertisements — everything from blurting out words in foreign languages during the filming of commercials to encoding statements as acrostics, but this is a first for us: concealing a dissentious notice in a product's washing instructions tag. In April 2004, someone called attention to the fact something was a little odd about the care instruction tags found on backpacks and laptop cases produced by manufacturer TOM BIHN of Port Angeles, Washington. Specifically, what was unusual was that the English and French statements on those tags didn't quite match: while both versions included the usual admonitions not to use bleach, not to machine dry, and not to iron the bags, the French-language version included an extra phrase: "NOUS SOMMES DESOLES QUE NOTRE PRESIDENT SOIT UN IDIOT.
Tom Bihn Hidden Message Label
Ufunk.net Marutaro – Le plus célèbre des hérissons japonais ! Jolies Filles et Animaux Sauvages – 23 superbes photographies surréalistes de Katerina Plotnikova L'envers des pochettes des albums cultes…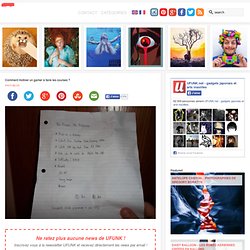 Comment motiver un gamer à faire les courses ?
tableau-periodique-des-alcools.jpg (Image JPEG, 2521x1927 pixels)
We are Internets on Bordom
cepcam centre européen de protection contre les attaques de morts-vivants
Mapping European Stereotypes
by Maria Popova Geopolitical cartography is all about an objective view of the world's political conventions. But there's nothing politically correct in Bulgarian-born, London-based designer Yanko Tsvetkov's Mapping Stereotypes project — a series of amusing, often tragicomically true maps of Europe based on various subjective perceptions and ideologies. Europe According to USA Europe According to France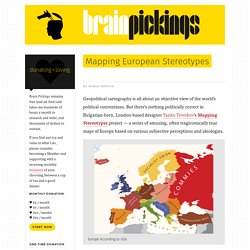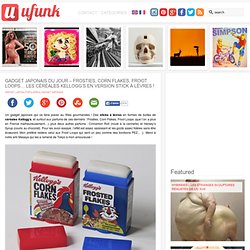 Gadget Japonais du jour – Frosties, Corn Flakes, Froot Loops… Les céréales Kellogg's en version stick à lèvres ! Un gadget japonais qui va faire plaisir au filles gourmandes ! Des sticks à lèvres en formes de boites de céréales Kellogg's, et surtout aux parfums de ces derniers : Frosties, Corn Flakes, Froot Loops (que l'on a plus en France malheureusement…), plus deux autres parfums : Cinnamon Roll (roulé à la cannelle) et Hersey's Syrup (coulis au chocolat). Pour les avoir essayé, l'effet est assez saisissant et les goûts assez fidèles sans être écœurant. Mon préféré restera celui aux Froot Loops qui sent un peu comme des bonbons PEZ… ;) Merci à notre ami Masaya qui les a ramené de Tokyo à mon amoureuse !
Gadget Japonais du jour – Frosties, Corn Flakes, Froot Loops… Les céréales Kellogg's en version stick à lèvres !
Doctissimo m'a tuer
Wébifiez-moi
– November 15, 2011Posted in: Retired Two months ago Mozilla launched a campaign called Webify Me. The campaign was rooted in the idea that although there is one Web that we use, we all have different interactions with it, which makes the Web both unique and personal for each individual. Webify Me is a site that builds a fun, visual manifestation of the user's personal Web.
Wébifiez-moi