Think
Blog
Personal Development for Smart People - Steve Pavlina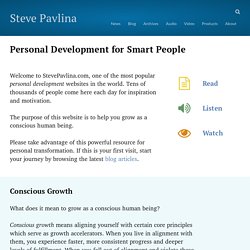 The purpose of this website is to help you grow as a conscious human being. This includes guiding you to discover and accept your life purpose; inspiring you to feel more motivated, energized, and passionate; helping you shed disempowering relationships and build a network of loving support; teaching you how to achieve stable financial abundance doing what you love; and encouraging you to make a genuine contribution to humanity -- so you can finally experience the kind of life that deep down, you always knew you were meant to live. You aren't here to struggle and suffer. You're here to express and share your creative gifts, to give and receive love, and to be happy. It will take time, but this site can certainly help you get there, and the vast majority of resources here are free. This site will help you make conscious decisions in your personal development journey and courageously follow through.
How to Discover Your Life Purpose in About 20 Minutes
How do you discover your real purpose in life? I'm not talking about your job, your daily responsibilities, or even your long-term goals. I mean the real reason why you're here at all — the very reason you exist.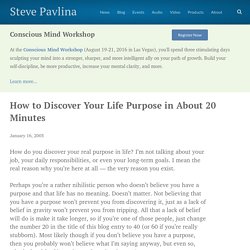 NBA Games Live Streaming HD. For any fan who loves to watch NBA online or doesn't want to miss out on even a single match of their favorite game! Watch it here! As NBA is the premiere sport for all the basketball fans in the world, this PC TV software provides these fans with the best online streaming solution to watch their favourite games played every week. For all those NBA fans who are not at home, out of country or anywhere where they don't have TV, PC TV is the answer to watch NBA games stream every weekend on all their favourite channels.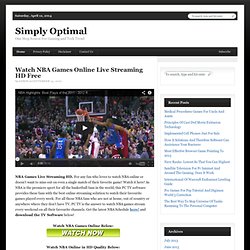 the SO Lab | Simply Optimal
The Haters
The Haters will tell you... Blogging doesn't have a ROI. A tweet is worthless. Getting someone to "like" your Facebook page doesn't increase your sales.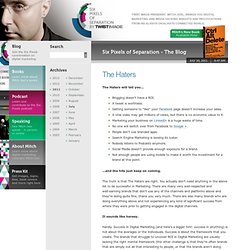 Khan Academy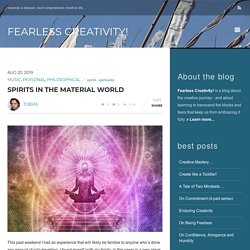 Fearless Creativity! - towards a deeper, more empowered creative life…
photo credit: Magic Madzik In part one of this article , we looked at the value of channeling what we might think of as the 'beginner's spirit' in our creative work – that combination of curiosity, naiveté and excitement at the discovery of something new that so often lends the work of 'beginners' its energy and spark, and which is all too often missing in more established, 'career' artists, musicians and so on. Today I'd like to look at another kind of beginner, and to think about this idea in a different light.
The Hacker's Guide to Finding a Job: 9 Tactics No One's Using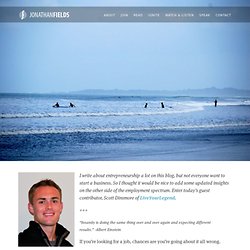 I write about entrepreneurship a lot on this blog, but not everyone want to start a business. So I thought it would be nice to add some updated insights on the other side of the employment spectrum. Enter today's guest contributor, Scott Dinsmore of LiveYourLegend. "Insanity is doing the same thing over and over again and expecting different results."
Quit Your Job Without Quitting (To See If It's What You Really Want) A note from Jonathan: Every day I get emails from people asking if they should quit their job right now to do what they "really want to do," or if they should wait and follow a plan. In nearly every case, my answer is "Yes, you should absolutely have a plan.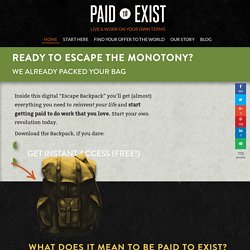 Live and Work on Your Own Terms
Pin It This post is part of the Creativity and Money series. Creative people have a love/hate relationship with money. We love it, because – well, who wouldn't want it? But we also hate it, avoid dealing with it, and avoid even talking about it. Here are some of the reasons why.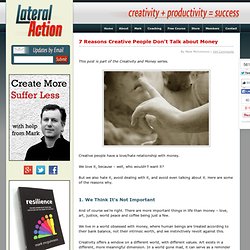 7 Reasons Creative People Don't Talk about Money
There is a language crisis going on. Buzzwords are so abundant in our professional vocabularies, I'm pretty sure they're getting their own channel on Oprah Network. HERE'S THE REALITY: Language that limits, loses.
HELLO, my name is BLOG!: 11 Words That Don't Matter Anymore
#015: In the Sky Podcast: Play in new window | Download | Embed Subscribe on iTunesRSS Feed On this episode of the UnPodcast, we talk all about airlines and how good or bad customer service can change the entire way we view an airline and whether or not we choose to fly on it. We also share some of our best and worst flight experiences. Other topics include: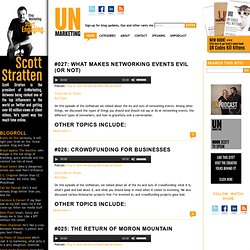 UnMarketing
Kicking your Art Career into Gear Carlos and I are getting together each week on Friday for a brand new series of videos discussing the business side of art. In this episode we talk about: • Getting things started • Some of the things we have planned for the upcoming year • What's holding you back and how to overcome it • Taking action If you have a topic you'd like us to cover in future episodes please leave a comment. Free Photoshop Demo
Drawn By Success-Freelancers Attracting Better Clients and Higher Fees
The premise of Christopher Nolan's latest thriller Inception is simple enough. Plant an idea within the mind of your target so it grows in a way that it seems to come from the target himself. Why? Because nothing consumes a man more than his own idea. An idea with which he can persuade himself along a path YOU'VE pre-determined. But how do you plant this idea?
Content Marketing: The Inception Method
Kaufen Canon PowerShot G11 Es ist nicht alles eitel Sonnenschein, auch so. Die sperrigen Design kann nicht für jeden geeignet, es fehlt jeder HD-Film zu bannen (es maxes bei [...] Hallo Fi Cd Player Wie können Sie aus 6 Technische Hifi CD-Player zu wählen? Was ist der beste Ort, um alle technischen Hifi cd hi [...]
[Podcast] How To Run Your Business Like An Artist | Frank Dickinson
Creative Coaching and Training | Wishful Thinking
Create an impact when it counts If your business depends on wowing clients and winning pitches with creative presentations, you need to know you can deliver. Mark McGuinness speaking at the Royal College of Art for FuelRCA Many people (audiences included) dread presentations, and 'death by PowerPoint' is so common it's become a cliche.
Art Heroes Radio
When it comes to movies, most of us "pay no attention to the man behind the curtain." We follow the stars and often directors, but rarely does the producer of a film get to be in the spotlight. But in many ways, the producer of a film is the one person most central to the creation— from choosing a screenplay, to hiring key personnel, to facilitating the millions of details large and small required to successfully coordinate a large number of creatives and technicians.
Creativity + Productivity = Success
Stop Trying To Get Everyone To Like Your Work
Jonathan Fields
The Clear-Minded Creative | Helping creative people get clear on what they want out of life.
Watch
29 WAYS TO STAY CREATIVE on Vimeo
Social Triggers — Social Media Marketing Tips That Work
NOTES ON WRITING AND DRAWING by Austin Kleon - Part 16
Home | Bryan Franklin
Help Create an Email Charter!
Urban Legends Reference Pages
s Guest Blog Wednesday featuring David Hobby! « Scott Kelby's Photoshop Insider Blog » Photoshop & Digital Photography Techniques, Tutorials, Books, Reviews & More
A.N.D / Worldwide
Unicornfree
thoughts-ebook1.pdf - Powered by Google Docs
Productive Flourishing — Strategies for Thriving in Life and Business
Small Business Advice for Business Startups | Self Employed Cafe
New? Start Here
The Friendly Anarchist | Your Life, Your Pace, Your Rules
Write a Book, Build Your Business : The World
7 Deadly Sins of Business Storytelling : Lifestyle
The Artist's Way Online
HELLO, my name is BLOG!: A Young Artist's Guide to Playing For Keeps, Pt. 1
BLOG
Corbett Barr | Adventures in Working Online, Living Anywhere and Being Awesome
Mars Dorian — The World Needs You
Evbogue.com
Seth Godin's Presentation on Making an Impact
13 Things I Wish I'd Learned at University — Happenchance
Better Living Through Uncertainty
A 5-Point Plan for Achieving Anything
Rejecting the status quo & rebelling against mediocrity
21 Must-Read Blogs for Luck-Makers — Happenchance
6 Effective Keys to Make Excellence a Habit
Are you making these mistakes on your LinkedIn profile? ? Copylicious. Persuasion for business. Now with 30% more Kelly Parkinson.
Blog | Chris Garrett on New Media
chrisbrogan.com — Learn How Human Business Works - Beyond Social Media
Motivation and Self Improvement
The Blog of Author Tim Ferriss
The Art of Non-Conformity
Favorite Seth Godin Quips
Email checklist (maybe this time it'll work!)
sethgodin.typepad.com/files/thelinchpinmanifesto.pdf