Contemporary art
Diversão e Arte - Exposição reúne obras que passaram um mês em 10 residências escolhidas com a ajuda de anúncio de jornal. Quando se trata do grande cubo branco — expressão usada pelos artistas para definir a galeria — tudo é muito confortável.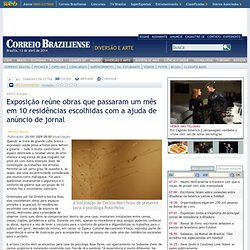 O espaço destinado a receber obras de arte oferece a segurança de que ninguém vai pisar ali com outra intenção além de contemplar os trabalhos dos artistas. Permite-se um certo grau de ousadia e, às vezes, até uma excentricidade considerada por muitos como maluquice. Foi para questionar exatamente a segurança e o conforto da galeria que um grupo de 10 artistas fez o movimento contrário. This is tomorrow. Escape Into Life. Donald Lipski. Moondog. Rebecca Horn - official website. Rebecca Horn 1944 Born 1963 Studies at the Hochschule für Bildende Künste, Hamburg 1971 DAAD-scholarship at Saint Martins College of Art, London.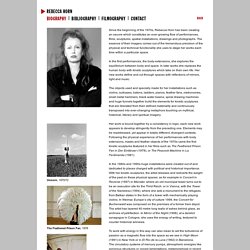 Art & art history. Mark Manders. FotoFest. Unurth | street art. Walker Art Center. Olafur Eliasson. Andrea Zittel. Gallery | Vitamin Creative Space. Performa-arts. The Drawing Center | Exhibitions-Current | New York, NY. TEXTE ZUR KUNST. If I Can't Dance, I Don't Want To Be Part Of Your Revolution. Her Morning Elegance / Oren Lavie. Index - The Swedish Contemporary Art Foundation. Mariko Mori. InArts. Free To Air. PHOTOGRAPHIE. BrusselsArtDays. Relação de Artistas. Artreview.com - Contemporary artists & photography | Online Art Magazine | ArtReview.
Mark Manders Artist Talk.
Mariko Mori
English : Main page. Home - Fundació Joan Miró. NIMk. El Museo del Barrio New York.
---