Photography
- StumbleUpon. Pictures of Moments Speak More than Thousand Words...... - StumbleUpon. Picture can speak thousands of words.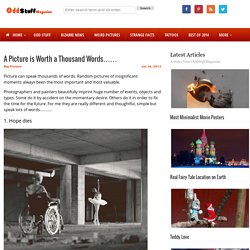 Random pictures of insignificant moments always been the most important and most valuable. Photographers and painters beautifully imprint huge number of events, objects and types. "Though no one can go back and make a brand new start, anyone can start from now and make a brand new ending" by traumlichtfabrik aka Eddi. National Geographic Photo Contest 2011 - Alan Taylor - In Focus - The Atlantic - StumbleUpon. National Geographic is currently holding its annual photo contest, with the deadline for submissions coming up on November 30.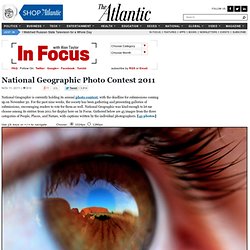 For the past nine weeks, the society has been gathering and presenting galleries of submissions, encouraging readers to vote for them as well. National Geographic was kind enough to let me choose among its entries from 2011 for display here on In Focus. Gathered below are 45 images from the three categories of People, Places, and Nature, with captions written by the individual photographers. [45 photos] 6a00d8341bf8f353ef0153906165ee970b-800wi from blogs.com - StumbleUpon.
Unrealistic Scenes on Photography Served - StumbleUpon. Unrealistic Scenes some things you'll never see This is an ongoing project of composite photographs.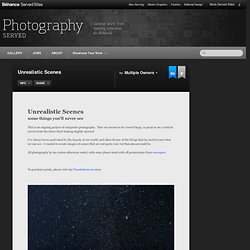 They are meant to be viewed large, in print or on a vertical screen from the lower third looking slightly upward. I've always been captivated by the beauty of our world, and often dream of the things that lay just beyond what we can see. Mila's Daydreams | Fubiz™ - StumbleUpon. Spring-desktop-wallpaper-1280x800-0911085.jpg from wallpaperstop.com - StumbleUpon. Beautiful/Decay Cult of the Creative Arts | Artist Book Series + Daily Art... - StumbleUpon.
I couldn't help but direct everyone to fellow public art loving blog Street Art Utopia as they have compiled a pretty decent list of the best street art of 2011.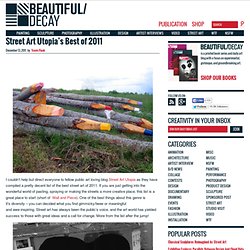 If you are just getting into the wonderful world of pasting, spraying or making the streets a more creative place, this list is a great place to start (short of Wall and Piece). One of the best things about this genre is it's diversity – you can decided what you find gimmicky/twee or meaningful and awe-inspiring. Street art has always been the public's voice, and the art world has yielded success to those with great ideas and a call for change. More from the list after the jump!
Ratkowski1.jpg from harvard.edu. Vintage Wanna Bee: HOW TO MAKE A FB TIMELINE COVER... So, you know how facebook is always super annoying and changes their layout constantly?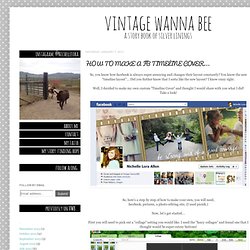 You know the new "timeline layout"... Did you further know that I sorta like the new layout? I know crazy right. The PEN Ready Project from Olympus. Dear Photograph. 877e2e8b216a52b9bfe2edf40ebdd861.jpg from 1x.com.
---