Places Woth Visiting
Noimerli Echi - De viaje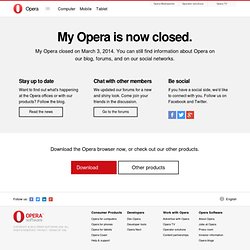 Ciao famiglia, come stiamo?
Blue Ridge Scenic Railway
Viajes y rutas con encanto, escapadas fin de semana, cruceros, trucos para viajar con seguridad
In pictures: romantic travel destinations
En el noroeste de Galicia se encuentran los misteriosos acantilados que marcaban para los medievales el fin del mundo. Litoral bravo y escarpado, la llamada Costa da Morte se extiende al noroeste de Galicia, en la provincia de A Coruña. Sus acantilados comienzan al norte en la villa de Caión, muy cercana a la capital y llega hasta el pueblo de Muros, al sur.
Hacia el fin del mundo, por los pueblos emblemáticos de la Costa da Morte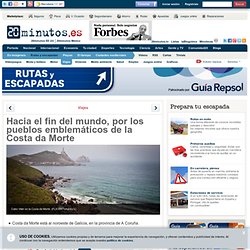 eagle creek oregon
El Viajero
Kuroshio Sea - 2nd largest aquarium tank in the world - (song is Please don't go by Barcelona) on Vimeo
Landscape, Nature, HD City wallpapers
10 Most Terrifying Places on Earth - StumbleUpon
Creepy There are places on this planet that are stranger than the most alien landscapes we have ever imagined. Places that make your skin crawl.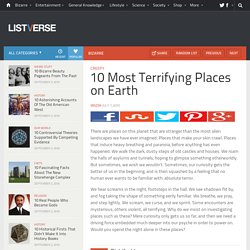 10 places to move abroad and extend your life
This is the National Park Service's on-line Junior Ranger program for kids of all ages.
Webrangers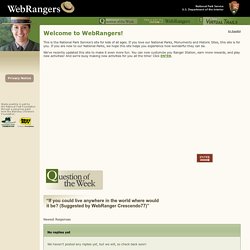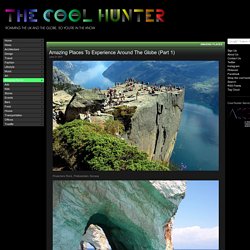 Amazing Places To Experience Around The Globe (Part 1)
Preachers Rock, Preikestolen, Norway Blue Caves - Zakynthos Island, Greece Skaftafeli - Iceland
The luxury Dhigu Resort, Maldives Anantara Dhigu Resort & Spa is encircled by mystic lagoons and unspoilt crystal shores, the resort is a heavenly sanctuary on a secluded paradise island, offering barefoot elegance in one of the world's most celebrated tropical havens. Here the sparkling turquoise waters of the Indian Ocean offer an endless horizon of aquatic allure and the evocative location is matched by a tranquil island design style. Anantara Dhigu is a luxurious five-star resort hidden on tropical terrain on Dhigufinolhu Island in the Maldives' South Male Atoll, a mere 35 minute speedboat journey from the island nation's international airport, or a scenic five minutes by private chartered seaplane. Male-based architect Mohamed Shafeeq from Group X Design Associates and Thailand-based interior design company, Abacus, headed by John Lightbody, have styled the resort's distinctive environment as a creative complement to the natural beauty of the island.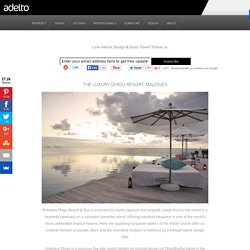 The Luxury Dhigu Resort, Maldives
Transporlis > Home
Trollveggen
What is Burning Man?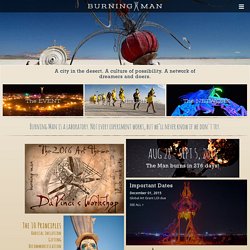 Burning Man is an annual event and a thriving year-round culture. The event takes place the week leading up to and including Labor Day, in Nevada's Black Rock Desert. The Burning Man organization (Black Rock City LLC) creates the infrastructure of Black Rock City, wherein attendees (or "participants") dedicate themselves to the spirit of community, art, self-expression, and self-reliance. They depart one week later, leaving no trace. As simple as this may seem, trying to explain what Burning Man is to someone who has never been to the event is a bit like trying to explain what a particular color looks like to someone who is blind.
Webcam Network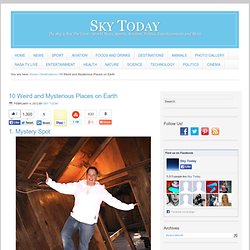 10 Weird and Mysterious Places on Earth
digg
Cape Lookout National Seashore - Beach camping (U.S. National Park Service)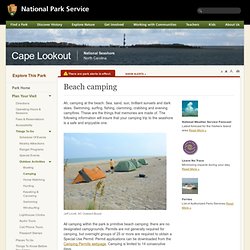 All camping within the park is primitive beach camping: there are no designated campgrounds. Permits are not generally required for camping, but overnight groups of 25 or more are required to obtain a Special Use Permit. Permit applications can be downloaded from the Camping Permits webpage.
La arena es de tonalidades plateadas por la presencia de minerales como la mica.
Coronado Beach, la playa donde Tony Curtis sedujo a Marilyn Monroe, la mejor de EE UU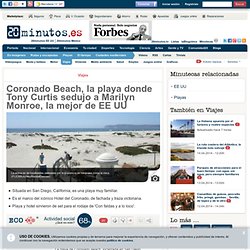 The 6 Creepiest Places on Earth (Part 2)
In Cracked's continuous effort to make your local haunted house look like a boring pile of dog turds, we once again present the creepiest real places on Earth. Whether it's due to their bizarre histories, suspicious coincidences or good ol' human insanity, these are the locations even the die-hardest of atheists wouldn't venture into without a crucifix and a Super Soaker full of Pope-blessed water. Located smack in the middle of a swamp in the heart of Aztec country is the popular tourist destination La Isla de las Munecas, or Island of the Dolls, a name missing at least two adjectives and the word "fucking."
Plitvice Lakes National Park, Croatia | Beautiful Places to Visit - StumbleUpon
The stunning Plitvice Lakes National Park lies in the Lika region of Croatia. The park is surrounded by the mountains Plješevica, Mala Kapela, and Medveđak, which are part of the Dinaric Alps. The 16 blue-green Plitvice Lakes, which are separated by natural dams of travertine, are situated on the Plitvice plateau. Waterfalls connect the lakes, and the tallest waterfall is Veliki Slap at 70 meters (230 feet) tall. The Plitvice lakes area boasts a large variety of interesting and colorful flora and fauna. Visitors can enjoy walking and hiking the many pathways and trails, or exploring the lakes by boat.
Ubud Hanging Gardens's Multi-Leveled Infinity Pools
Sno-Park locations • Snowplay locations • PDF Maps • Permits • Trail Etiquette • Advisory Committee
Winter Recreation Trail Maps
Icicle Gorge Loop Trail--Leavenworth Icicle Creek--Washington Trails Association--WTA
The loop follows both sides of the Icicle Creek, crossing bridges at the Rock Island Campground and just across from the Chatter Creek Campground. The view of the gorge from the latter bridge is not to be missed.
El Camino del Rey [High Quality]
http://www.vivirextremadura.es/?p=209
China > Wudangshan > Tianzhu Feng [ Up ]
Pétra, Jordanie -patrimoine mondial de l'UNESCO
Sandy Cay, Honduras | Private island for rent on the cheap
10 places you should visit before you die « Go! from HomeAway
Pyrenees Mountains Villages and Sights
Amazing Places around the world | LikEAndShARe.info
Amazing Places To Experience Around The Globe (Part 1)
Awesome pictures from around the world | Vivi The Mage
BBC Mundo - Video y Fotos - En las profundidades de la mayor cueva del mundo
Beyond Mesa Verde - Anasazi Ruins
Entrances to Hell
National Caves Association
Paisajes del Postapocalipsis | Dos de Adobe
World's best festivals: Corsa dei Ceri (Candles Race)
» 8 paisajes helados que cuesta creer que existen 101 Lugares increíbles -