Learn Spanish
Virtual Classroom Spanish: spanish courses online, in class, part-time, distance learning. Real Academia Española. Spanish. Lista de Expresiones Españolas | Expresiones españolas para Erasmus en apuros. 797 Votes A buen entendedor, pocas palabras bastan A buenas horas mangas verdes.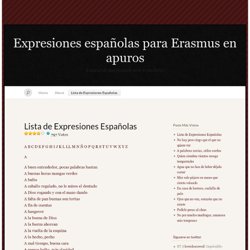 Estados Unidos ya no sabe vivir sin el español – Mundo – Noticias, última hora, vídeos y fotos de Mundo en lainformacion. España recibe el apoyo de EEUU para cooperar contra la expropiación de YPF Si uno coge el metro en Manhattan hasta Astoria, en Queens, al bajar descubrirá que el inglés ha desaparecido.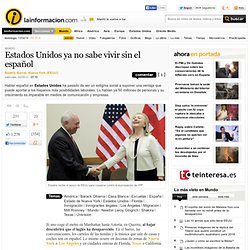 En el barrio, las conversaciones, los carteles de las tiendas y la música que sale de casas y coches son en español. Lo mismo ocurre en decenas de zonas de Nueva York o Los Ángeles y en ciudades enteras de Florida, Texas o California. El español en EEUU ya no se limita a los distritos de mayoría latina y a los hispanos. Lo intentan hablar los políticos como Barack Obama (pidiendo el voto) o el alcalde de Nueva York, Michael Bloomberg, en una rueda de prensa... con más o menos fortuna. More Spanish: Five for Friday: 5 Web 2.0 tools to record oral communication. I am working on a series of blog posts for the summer called Five for Friday.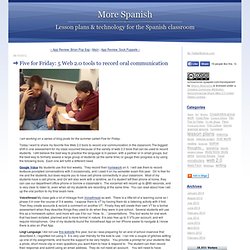 Today I want to share my favorite five Web 2.0 tools to record oral communication in the classroom.The biggest shift in oral assessment for my class occurred because of the variety of web 2.0 tools that can be used to record students. I still believe the best way to practice the language is in person, with a partner or in small groups, but the best way to formally assess a large group of students (at the same time) or gauge their progress is by using the following tools.
Each one will fulfill a different need. Google Voice My students use this tool weekly. They record their homework on it. ESPAÑOL. Español. Learning spanish. Spanish. Spanish Language Drill. . . . . . . . . . . . .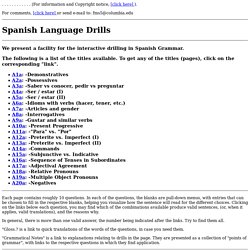 (For information and Copyright notice, [click here] ). For comments, [click here] or send e-mail to: fms5@columbia.edu We present a facility for the interactive drilling in Spanish Grammar. Learn Spanish Online Free - Learning Spanish. Don Quijote Members | donQuijote.org. Pssst...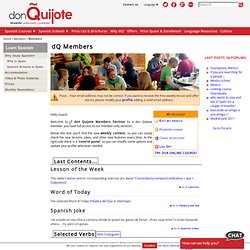 Your email address may not be correct. If you want to receive the free weekly lesson and offer alarms please modify your profile adding a valid email address. Hello Guest! Aburrirse. Spanish Verb:aburrirse English Translation: to get bored, become bored, be bored Like our free content?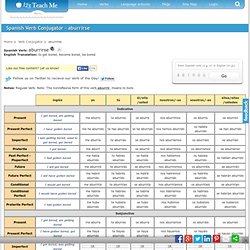 Let us know! 501 Spanish Verbs flashcards. Mnemonics to learn Spanish verbs, ser and estar ~ Learn Spanish language fast | free memory tricks | Spanish vocabulary lessons. Posted by Amit Schandillia at 5:22 PM There has always been a major confusion for new learners of Spanish over the translation of the English, to be.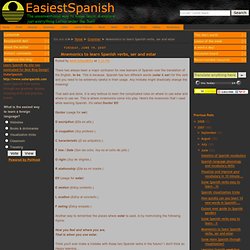 This is because, Spanish has two different words (estar & ser) for this verb and you need to be extremely careful in their usage. Any mistake might drastically change the meaning! Learn Spanish.
---