Places
Atlas Obscura | Curious and Wondrous Travel Destinations. Mystical, Magical & Magnificent Monasteries in Meteora (20 Pics) The caves in Meteora, Greece, had inhabitants for fifty millennia, but due to raids, "hermit monks" moved to the safety of sandstone rock pinnacles in the 9th century and began building monasteries.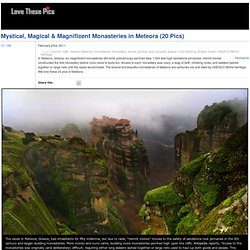 More monks and nuns came, building more monasteries perched high upon the cliffs. Wikipedia reports, "Access to the monasteries was originally (and deliberately) difficult, requiring either long ladders lashed together or large nets used to haul up both goods and people. This required quite a leap of faith — the ropes were replaced, so the story goes, only 'when the Lord let them break.'"
Eight Lesser-Known Places to Visit in China. You can climb the Great Wall, wander through the chambers of Beijing's Forbidden City, and marvel at the stately colonial buildings along Shanghai's Bund.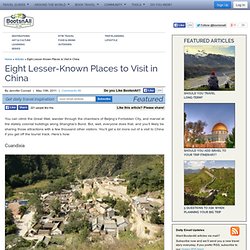 But, well, everyone does that, and you'll likely be sharing those attractions with a few thousand other visitors. You'll get a lot more out of a visit to China if you get off the tourist track. The 50 Most Important Landmarks of the World. Originally, a landmark literally meant a geographic feature used by explorers and others to find their way back or through an area.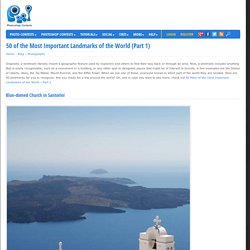 Now, a landmark includes anything that is easily recognizable, such as a monument or a building, or any other spot to designate places that might be of interest to tourists. A few examples are the Statue of Liberty, Uluru, the Taj Mahal, Mount Everest, and the Eiffel Tower. Most Colourful Places on the Globe. Man-made or created by nature, some of the world's destinations are truly blessed with colors.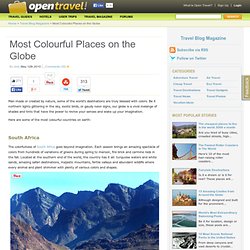 Be it northern lights glittering in the sky, exotic birds, or gaudy neon signs, our globe is a vivid melange of shades and tints that have the power to revive your senses and wake up your imagination. Here are some of the most colourful countries on earth: South Africa The colorfulness of South Africa goes beyond imagination.
Each season brings an amazing spectacle of colors from hundreds of variations of greens during spring to maroon, fire brick and carmine reds in the fall. Fenhuan – One of the Ten Most Beautiful Towns in China | China Photos Pictures. By Saif on March 12, 2011 Fenhuan considered one of the 10 most beautiful cities in China.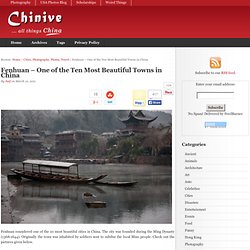 The city was founded during the Ming Dynasty (1368-1644). Originally the town was inhabited by soldiers sent to subdue the local Miao people. Check out the pictures given below. Places to see before you die, Italy. Top selection of places in Italy to see at least once in life Top 10 places to see in Italy before you die!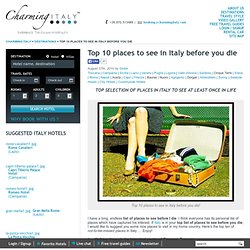 I have a long, endless list of places to see before I die. I think everyone has its personal list of places which have captured his interest. If Italy is in your top list of places to see before you die, I would like to suggest you some nice places to visit in my home country. Here's the top ten of not-to-be-missed places in Italy .... In pictures: the world's most romantic travel destinations | Global Grasshopper | Travel Tips and Inspiration. The 41 Places to Go in 2011. Five Of The Best Non-Tourist Places To Eat In New York City. When taking into consideration that there are literally thousands upon thousands of places to eat in the Manhattan area of New York alone, from cafes and delis to Michelin starred restaurants ran by world famous chefs, there really is a gastronomic delight for everyone.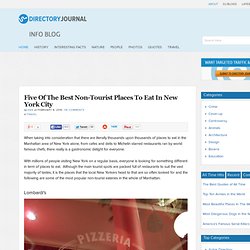 With millions of people visiting New York on a regular basis, everyone is looking for something different in term of places to eat. Although the main tourist spots are packed full of restaurants to suit the vast majority of tastes, it is the places that the local New Yorkers head to that are so often looked for and the following are some of the most popular non-tourist eateries in the whole of Manhattan. Lonely Planet's top 10 cities for 2011. Who doesn't love a city?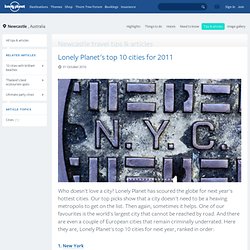 Lonely Planet has scoured the globe for next year's hottest cities. Our top picks show that a city doesn't need to be a heaving metropolis to get on the list. Then again, sometimes it helps. Five Towns of Cinque Terre. Located on the Italian Riviera, Cinque Terre is a rugged coastline, made up of "The Five Lands" or the five villages: Vernazza, Corniglia, Monterosso al Mare, Riomaggiore, and Manarola.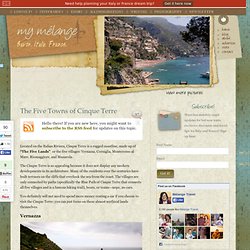 The Cinque Terre is so appealing because it does not display any modern developments in its architecture. Many of the residents over the centuries have built terraces on the cliffs that overlook the sea from the coast. The villages are only connected by paths (specifically the Blue Path of Cinque Terre that connects all five villages and is a famous hiking trail), boats, or trains—nope, no cars.
You definitely will not need to spend more money renting a car if you choose to visit the Cinque Terre; you can just focus on these almost mythical lands themselves. Vernazza. Urban Exploration - Undercity.org. This Is the New York No One Ever Sees. Crazy Drives: Stelvio Pass, Italy - Bing Travel. America's Best Swimming Holes. America's prettiest towns - Travel - Destination Travel - US and Canada.
As the sun casts its autumnal glow on thousands of picturesque U.S. cities and towns, it's the perfect time to recognize the proverbial winners of the country's civic-beauty contest.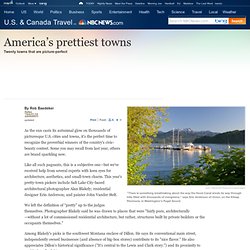 Some you may recall from last year, others are brand sparkling new. Like all such pageants, this is a subjective one—but we've received help from several experts with keen eyes for architecture, aesthetics, and small-town charm. This year's pretty-town pickers include Salt Lake City-based architectural photographer Alan Blakely; residential designer Erin Anderson; and painter John Vander Stelt. 14 Sights From an Airplane: Golden Gate Bridge - Bing Travel.
---