Emmajanekelly2
Emma Jane Kelly
Download Dropbox - Online backup, file sync and sharing made easy. The Dropbox daemon works fine on all 32-bit and 64-bit Linux servers.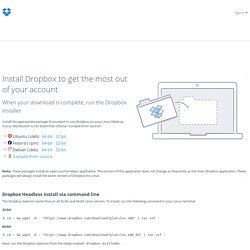 To install, run the following command in your Linux terminal. 32-bit: Presentations 2.0. Lovely Charts | Free online diagram software - Flowchart & process diagram, Network diagram, BPMN diagrams, Sitemap, Organisation chart, Wireframe, business drawing software. Digital Storytelling. What is Digital Storytelling? Digital Storytelling Presentation. Create a slideshow | Slideshows, photos, pictures at imageloop.com.
One True Media - slideshows, free photo sharing, facebook video, slide shows, Facebook slideshows, Facebook codes, free video sharing, video montages. Cloud. 4shared.com - free file sharing and storage. Social Media News and Web Tips – Mashable – The Social Media Guide. Twitter / Home. Facebook. Blogging. Social media. Best Practices: Applying Social Business Challenges To Social Business Maturity Models. Early Adopters Cross Through Five Phases Of Social Business Maturity Interviews with over 100 early adopters of social business (i.e. social crm, E2.0, social media marketing, etc.) reveal 5 phases of social business maturity (see Figure 1): Discovery.
A few individuals begin the process of discovering new tools. Social media. Facebook. Flixster. Social Media. Myspace. Social Media News and Web Tips – Mashable – The Social Media Guide. Social. The Facebook Blog. Facebook Usage in South Africa – March 2011 | Social Media Blog.
Welcome to our new series of monthly Facebook statistics in South Africa.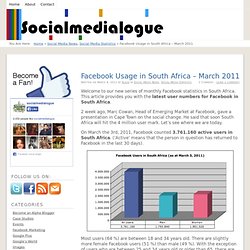 This article provides you with the latest user numbers for Facebook in South Africa. 2 week ago, Marc Cowan, Head of Emerging Market at Facebook, gave a presentation in Cape Town on the social change. He said that soon South Africa will hit the 4 million user mark. Let's see where we are today. Foursquare. Twitter. TweetDeck. Top Social Networks.
TNW Social Media - One of the Worlds Leading Social Media Blogs. Focusing on Social Media Culture, Applications and Marketing. Twitter Tools. Online Search Tools. Tech. Tumblr. Sign up. Flickr. Diigo. Free Skype calls and cheap calls to phones. StumbleUpon.com: Discover the Best of the Web. Digg.
Pearltrees videos
Help. Web 2.0. Socialnet, Microblog, IM, Stream. Infographies complexes & interactives. Online Tools. Pixelpipe - Your uploads. Mixpanel | Real-time Web Analytics, Funnel Analysis. Web 2.0. Web2.0 tools. Content Strategy: Exploring Content Curation Tools. Content curation has been getting a lot of attention recently.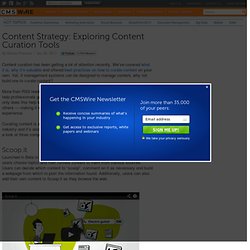 We've covered what it is, why it's valuable and offered best practices on how to curate content on your own. Yet, if management systems can be designed to manage content, why not build one to curate content? The Seven Needs of Real-Time Curators. I keep hearing people throw around the word "curation" at various conferences, most recently at SXSW.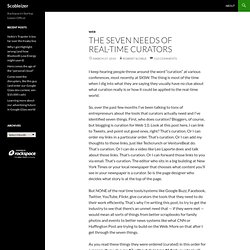 The thing is most of the time when I dig into what they are saying they usually have no clue about what curation really is or how it could be applied to the real-time world. So, over the past few months I've been talking to tons of entrepreneurs about the tools that curators actually need and I've identified seven things. First, who does curation? Bloggers, of course, but blogging is curation for Web 1.0. Global - Find search engines from across the world with Search Engine Colossus. Recorded Future - Temporal & Predictive Analytics Engine, Media Analytics & News Analysis. What are the best content curation tools for daily use.
Twitter, Facebook, and social activism. At four-thirty in the afternoon on Monday, February 1, 1960, four college students sat down at the lunch counter at the Woolworth's in downtown Greensboro, North Carolina.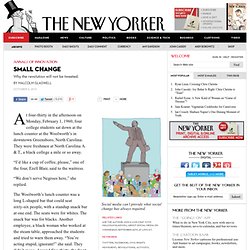 They were freshmen at North Carolina A. & T., a black college a mile or so away. "I'd like a cup of coffee, please," one of the four, Ezell Blair, said to the waitress. "We don't serve Negroes here," she replied. The Woolworth's lunch counter was a long L-shaped bar that could seat sixty-six people, with a standup snack bar at one end. List of People search engines. This is a list of articles about search engines, including web search engines, selection-based search engines, metasearch engines, desktop search tools, and web portals and vertical market websites that have a search facility for online databases.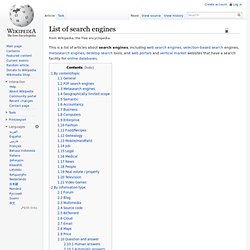 By content/topic General P2P search engines Geographically limited scope Semantic. Create stories using social media - storify.com. Curation - The Next Web Revolution. Tattler (app) Google. Google Everything. Google Cloud. Google Wave. Gmail. Google Cloud. Blogger. Blogging. Making Business Sense of Social Media and Social Networking – Twitter For Business. Yesterday evening, my time, I attended a rather interesting webcast with Sandy Carter, IBM's Worldwide Sales Vice President, IBM Social Business, Collaboration, and Lotus Sales and Evangelism, along with Jeremiah Owyang, Industry Analyst at Altimeter Group, on the topic of Why Be Social?.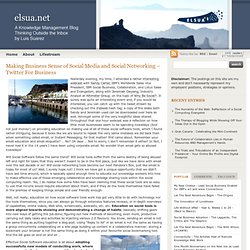 It surely was quite an interesting event and, if you would be interested, you can catch up with the tweet stream by checking out the #sbweb hash tag; a copy of the slides both Sandy and Jeremiah used can be downloaded over here as well. Amongst some of the very insightful ideas shared throughout that one hour webcast was a reflection on how little most businesses seem to be spending nowadays (And not just money!) On providing education on making use of all of these social software tools, which I found rather intriguing, because it looks like we are bound to repeat the very same mistakes we did back then when something called email, or Instant Messaging, for that matter! Translate. WLive. Hotmail. Musing about sharing and social in business. To paraphrase Peter Drucker, the primary purpose of a business is to create customers, people who are able and willing to part with their money to buy goods and services from you.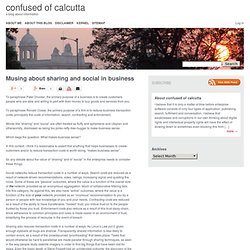 To paraphrase Ronald Coase, the primary purpose of a firm is to reduce business transaction costs, principally the costs of information, search, contracting and enforcement. Words like "sharing" and "social" are often treated as fluffy and ephemeral and Utopian and otherworldly, dismissed as being too pinko-lefty-tree-hugger to make business sense. Internet. Business Technology. LiveJournal.com - Start a Free Blog / Journal Today. Telecom Outsourcing Telecom Software Service Provider Offshore Development India – Tech Mahindra. Group conversations around images, documents, and videos. Insights 2011 User Conference | Pitney Bowes Business Insight. Beautiful Word Clouds.
Global Provider of Innovative Graphics, Processors and Media Solutions | AMD. Mixpanel | Real-time Web Analytics, Funnel Analysis. Create a slideshow | Slideshows, photos, pictures at imageloop.com.
---