General education
Quantum Physics Video Lecture Course
Dr. Charles T. Mangrum and Dr. Stephen S. Strichart are two former university professors who formed Mangrum-Strichart Learning Resources in 1997. The study skills curriculums & instructional programs they have developed for students from elementary school through college are used in schools, tutoring centers, and homeschooling throughout the United States, Canada, and many other parts of the world.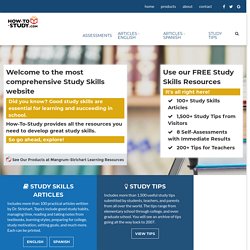 Recherches ( a ) Page : 152
The Socratic Method:Teaching by Asking Instead of by Tellingby Rick Garlikov The following is a transcript of a teaching experiment, using the Socratic method, with a regular third grade class in a suburban elementary school. I present my perspective and views on the session, and on the Socratic method as a teaching tool, following the transcript.
To make all of these Instructables, download this collection of How To's as an ebook. Download » "How to Draw" is a collection of tutorials that will teach you everything from perspective basics to shading chrome. Never picked up a pencil before? Fear not!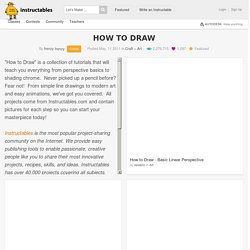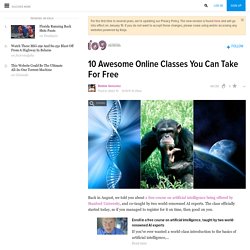 1. 7 of them are available via YouTube. 2. iTunes is free. It's clunky, but who cares? Do you somehow lose geek-cred just by installing it specifically for this?
Europe > Background
All consortium partners have identified OpenCourseWare as a development priority. They all play an active role in the international OCW movement. The universities of Madrid, Barcelona, Lyon and Delft have already published a significant part of their own material as OCW. The Catholic University of Leuven is in the final stage of developing an OCW program and will soon start publishing its first courses online. The consortium partners consider OCW to be an essential component of the development of virtual mobility. It enables students to follow (part of) a program from their home campus and/or better prepare themselves before studying abroad.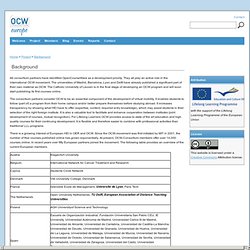 Sophia was created with a vision of transforming education through a vibrant online community of teachers and learners. Our goal is to provide self­-paced, inspirational and relevant curriculum to learners of all stages and ages. To achieve our vision, we've built a customizable education platform that offers more than 37,000 academic tutorials. Taught by thousands of teachers using our Many Ways model, learners can choose teaching styles that appeal to their own unique way of learning.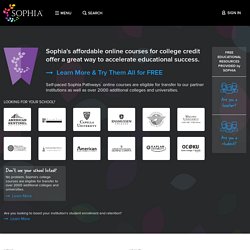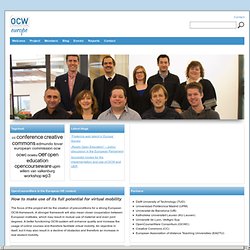 The focus of the project will be the creation of preconditions for a strong European OCW-framework. A stronger framework will also mean closer cooperation between European institutes, which may result in mutual use of material and even joint degrees. A better functioning OCW-system will enhance quality and increase the usage of online courses and therefore facilitate virtual mobility.
Rating: 3.7/5 (20 votes cast) Molécule de caféine (Wikipedia) Est-il vrai qu'un sachet de thé trempé une 2e fois ne contient plus de théine? La théine et la caféine ont-elles les mêmes effets? Est-il vrai qu'un Red Bull fait effet 6 heures après sa consommation?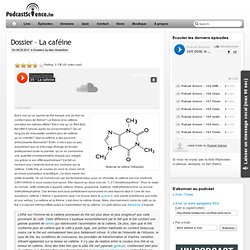 psychotrope
About the Author Scott McLean is the Shadle-Edgecombe Endowed Faculty Chair at Arizona Western College. He serves as the professor of speech communication with an emphasis in business communication for a combined campus partnership with the University of Arizona and Northern Arizona University–Yuma.
Business Communication for Success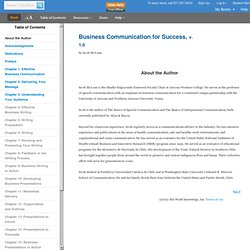 Digital Tools Horla Varlan This week, the OCW Consortium is holding its annual meeting, celebrating 10 years of OpenCourseWare. The movement to make university-level content freely and openly available online began a decade ago, when the faculty at MIT agreed to put the materials from all 2,000 of the university's courses on the Web. With that gesture, MIT OpenCourseWare helped launch an important educational movement, one that MIT President Susan Hockfield described in her opening remarks at yesterday's meeting as both the child of technology and of a far more ancient academic tradition: "the tradition of the global intellectual commons."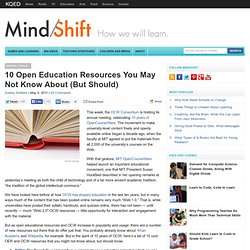 Welcome all to NAEA's virtual home! This dynamic community of practice is where visual arts teachers, scholars, researchers and professors, students, administrators, and art museum educators, and artists come together around a shared belief in the power of the arts in developing human potential. View message from NAEA Executive Director Deborah B.
Competent Children
As we enter the 21st century it seems we, as a society, have gone even deeper into the morass of institutional education so now we can't even imagine what it is like for a child to discover and own their personal learning. Somewhere, somehow, for any number of reasons, it now seems an adult or one of their programs must lay claim to causing childrens' learning to occur—unless it doesn't, in which case it is the child's fault! As Illich feared, we no longer trust that a child will learn to speak, now we must teach them their mother tongue (Taught Mother Tongue and the Nation State is a fascinating recording of Illich's that goes deep into the political and historical reasons for this).