Edapps
Free Online Grammar Check, Plagiarism, Spelling
3 Dec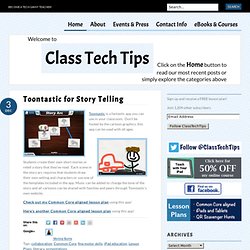 Toontastic for Story Telling
Introduction French - Lessons by Raja Mohammad Zishanullah is a very colorful French learning app that for once doesn't try to get you to subscribe to a service, doesn't have any ads, and gives you a lot of content totally free! There must be a catch somewhere, you would think?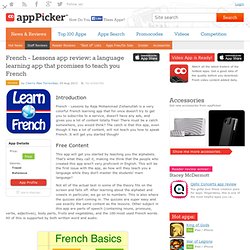 French - Lessons app review: a language learning app that promises to teach you French
SAT Vocab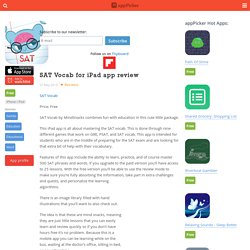 SAT Vocab for iPad app review
Language TherAppy Lite Price: Free Language TherAppy Lite by Tactus Therapy Solutions Ltd. mixes together naming, comprehension, reading, and writing in this free trial on your iPad.
Language TherAppy Lite for iPad app review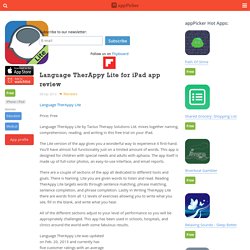 Shake A Phrase App
Shake a Phrase is a language app for the development of reading, vocabulary, grammar and writing. The app presents the content under five different themes – Animals, Fairytale, Monsters, Sports and Shake Starter.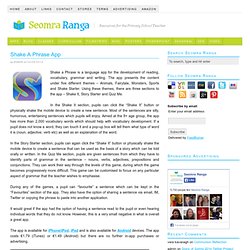 What's The Phrase Free app review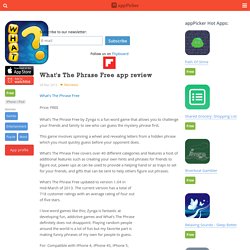 What's The Phrase Free Price: FREE
Screen flashes.
Sliding apps.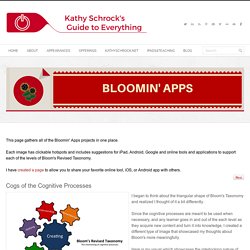 This page gathers all of the Bloomin' Apps projects in one place !
SyncSpace Shared Whiteboard - Aplicações no Android Market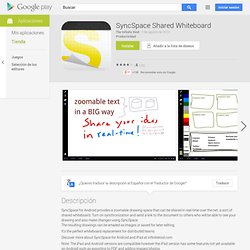 SyncSpace for Android provides a zoomable drawing space that can be shared in real time over the net, a sort of shared whiteboard. Turn on synchronization and send a link to the document to others who will be able to see your drawing and also make changes using SyncSpace.
Zooshia - Create your own social widget
Shoebox for iPhone
How does ShoeBox work? ShoeBox's edge detection and perspective correction make sure that the paper photographs you scan turn out beautifully. What about the quality?
Description Award-winning Edmodo for iPod touch, iPhone, and iPad makes it easy for teachers and students to stay connected and share information. Use your iOS device to send notes, submit assignments, post replies, and check messages and upcoming events while away from the classroom.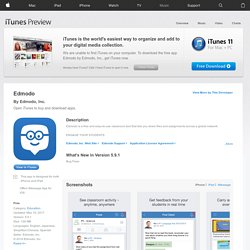 Attend your next online meeting on your mobile device with the join.me mobile viewer. View someone's screen and collaborate in real time, on your time, 100% Free.
join.me Viewer - Android Market
Description Flipboard is your personal magazine. It is the most popular way to catch up on the news you care about, discover amazing things from around the world, or stay connected to the people closest to you.
Option to save all media in SD Card.
iStoryBooks - Android Market
PearPad
Use your smartphone for slideshow presentations
GDrive | Memeo Connect For Google Docs - Memeo.com
SnaPanda Dicionário Inglês - Android Market
Learn Languages: English Free - Android Market
Aprenda inglês com o busuu.com - Android Market
Droideley (beta) - Android Market
Teacher Reboot Camp » Blog Archive » 18 Educational Apps for Halloween