Edapps
Manything home security webcam. Description Manything is an all-in-one home video monitoring system for iOS.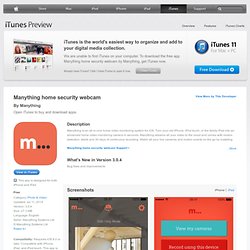 Turn your old iPhone, iPod touch, or the family iPad into an advanced home video monitoring camera in seconds. Manything streams all your video to the cloud and comes with motion detection, alerts and 30 days of continuous recording. Watch all your live cameras and motion events on the go by installing Manything on the device you take with you. You can also playback to any point in time, create and share clips, time-lapse, and more by logging into manything.com. Learn English online, fast & easy. Inkling - Interactive Books, Textbooks, eBooks, and How To Guides for iPhone, iPod touch, and iPad on the iTunes App Store. Description As featured in the New York Times, Wall Street Journal, and Techcrunch.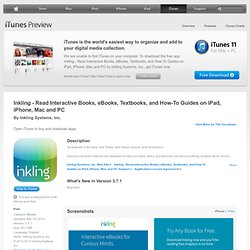 Inkling's interactive eBooks are designed to help you learn, study, and discover just about anything, whether it's for school, work, or play. Our books cover the gamut from anatomy to photography and travel to cooking. Tools for Learners, Page 39. Historypin Lets You Explore the History of Your Surroundings. Have you ever wondered what your neighborhood looked like throughout history, or perhaps the historical significance of a nearby landmark?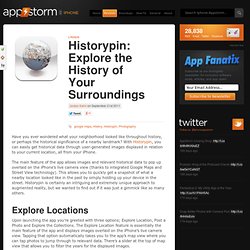 With Historypin, you can easily get historical data through user-generated images displayed in relation to your current location, all from your iPhone. The main feature of the app allows images and relevant historical data to pop up overlaid on the iPhone's live camera view (thanks to integrated Google Maps and Street View technology). Learn English, Speak English with SpeakingPal English Tutor.
Description *Speak with a video Character and get instant feedback.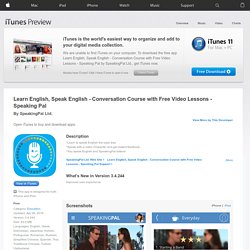 *You speak English and SpeakingPal listens! *Improve your English speaking skills*From beginners to business and academic needs. Hours of fun video content:*More than 100 levels, 1000 different dialogs, 1800 sentences, 1300 vocabulary, and hundreds of quiz questions*Dont miss our 16 free levels !!! Welcome to Kanvas. Coach's Eye. Description Coach's Eye is the performance-enhancing video app for serious competitors.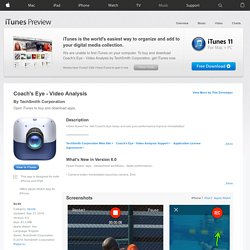 Evaluate performance on the field or on the go using powerful instant replay tools. Shoebox from Ancestry.com. Description Shoebox from Ancestry.com is the best way to scan your old paper photos and share them with family and friends.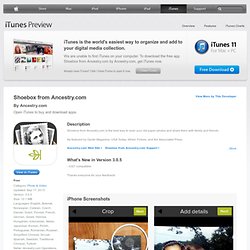 As featured by Oprah Magazine, USA Today, Wired, Forbes, and the Associated Press. "It's an organized nerd's dream." - Wired Magazine Shoebox makes digitizing paper photos easy by turning your iPhone into a mobile photo scanner. Shoebox's edge detection and perspective correction technology ensures your scans are quick and turn out beautifully. Skitch. Description See something that sparks an idea?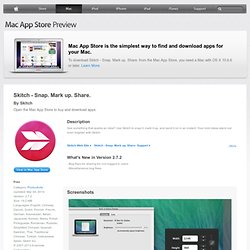 Use Skitch to snap it, mark it up, and send it on in an instant. Movie360:My Movies,My Life! Description *Ever been top1 camera app in 40 countries and one of 'what's hot' of Appstore in America Region;**Everyone has desire to make movies, Movie360 helps you make nice mini movies easily;*Created by the passionate group of Camera360, Movie360 is a Phone Filming App. with real-time filming function.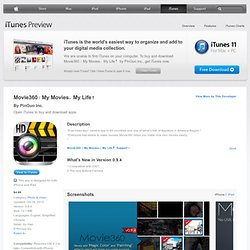 Memories, Sketch, Elegancy, Charm, Magic, Silence, Jelly, Aesthetic, Jewelry, Coldness, Love, Sweet, and Bloom, with these 18 effects, and distinguishing "Pause" function, Movie360 makes it possible for you to record the whole fantastic movie without any trash part at one go. It also can save 1/2 memory space for you by decreasing size of movie files. Fotobabble. Description instantaneously share your Talking Photos in three simple steps: 1.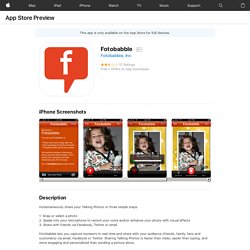 Snap or select a photo2. Speak into your microphone to record your voice and/or enhance your photo with visual effects3. Becoming an eTeacher. GifBoom. Description Express yourself in motion - gifboom is the best app to capture and share your moments.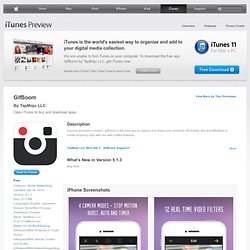 It's simple, fast and effortless to create amazing clips with our well crafted features. gifboom combines the best tool in video and gif editing with the state of art social networking features. You Spin 360 Lite. Description ***See yourself in 360***YouSpin lets you create 360 animations like a pro! See yourself, a friend, your car...whatever you want, from all sides. It's easy to use, lets you share your 360 degree views with others, and even lets you embed them on your website! Click "...More" to learn why you should download this App today! MyHomework Student Planner for iPhone, iPod touch, and iPad on the iTunes App Store. Description What makes myHomework the best student planner? * Beauty, Simplicity, and Reliability - myHomework has a gorgeous appearance and simple interface making it easy for anyone to use. Our apps fill their role as a planner without network connectivity. * Amazing Anywhere - With highly rated cross-platform apps, and a wonderful website, it's the most complete on the go planner experience anywhere. * Price - The account is FREE everywhere and an ads-free experience is available.
Speaking Spelling Bee. Description The speak and spell training drill for everyone: K-12 students, parents, educators. ** NEW: now with Siri's voice! ** Build your spelling accuracy and vocabulary with this entertaining app! SeeMail. iZip - Zip Unzip Unrar Tool. Description No. 1 App for ZIP file management on iPhone/iPad! Most secure and fast Zip utility for business and professional users. iZip is a ZIP file management tool on iPhone and iPad. iZip has the following features: - Compress files into ZIP file. - Compress photos and videos from Camera Roll. - Compress songs from iTunes Music. - Open and extract files from ZIP format, including password protected and AES encrypted ZIP files. - Open and extract many other compressed file formats: RAR, 7Z, ZIPX, TAR, GZIP. - Open and view many document types: DOC, Excel, PPT, PDF, TXT, RTF, Pages, JPG, GIF, PNG, videos, etc.- Append files to a ZIP file. - Send files in Email. - Open a file in another App. - Zip/Email photos and videos from Photo Album. - Share your photos on Facebook/Twitter/Weibo. - Save images to Photo Album. - Send and download files to/from Dropbox. - Print documents. - Download/upload files through iTunes. - Compress files using a plain password or an AES password.
The Quilt App. Everyday Timeline: Personal Journal/Diary with Calendar/Maps/Evernote/Dropbox. Description Everyday.me is a smart personal journal with photos/videos, maps, calendar, checkins, tagging, search, etc. It imports your activities from Facebook, Twitter, Instagram, and Foursquare. PicView. iTunes - Affiliates - Download iTunes. iTunes - Affiliates - Download iTunes. Outinapp.com. Lingua.ly | Collect new words, language learning your way! Learn French, Spanish, Portuguese and other languages for free with busuu. Duolingo - Learn Languages for Free for iPhone 3GS, iPhone 4, iPhone 4S, iPhone 5, iPod touch (3rd generation), iPod touch (4th generation), iPod touch (5th generation) and iPad on the iTunes App Store. Educational App Store. Cleverlize - Mobile Learning made by YOU.
AppShed - Build HTML5, iPhone and Android apps online for schools, education and business. Intel® XDK. #edpad. Cram.com: Create and Share Online Flashcards. 50+ Free Interactive Games for Elementary. 25 Teaching Tools To Organize, Innovate, & Manage Your Classroom. 34 Diverse Blended Learning Apps For iPad. Free Online Grammar Check, Plagiarism, Spelling. Toontastic for Story Telling. French - Lessons app review: a language learning app that promises to teach you French. SAT Vocab for iPad app review. The best educational iPad apps, handpicked by experts. - appoLearning. Language TherAppy Lite for iPad app review. Shake A Phrase App. What's The Phrase Free app review. Screen flashes. Sliding apps. Kathy Schrock's Guide to Everything - Bloomin' Apps. SyncSpace Shared Whiteboard - Aplicações no Android Market.
DROPitTOme - Securely receive files from anyone to your Dropbox. Hipstamatic Disposable. Zooshia - Create your own social widget. Shoebox for iPhone. Edmodo. Join.me Viewer - Android Market. Flipboard for iPhone 3GS, iPhone 4, iPhone 4S, iPod touch (3rd generation), iPod touch (4th generation) and iPad on the iTunes App Store. iStoryBooks - Android Market. PearPad. Scrible | smarter online research - annotate, organize & collaborate on web pages. ReadCube | Free Reference Manager - Academic Software For Research. Feedly. TED. VoiceThread. Use your smartphone for slideshow presentations. Looking Glass Children's Videos for iPad on the iTunes App Store.
News360. Google. Learn Languages: English Free - Android Market. Aprenda inglês com o busuu.com - Android Market. Google Docs - Android Market. 18 Educational Apps for Halloween.
---