Edapps
50+ Free Interactive Games for Elementary
25 Teaching Tools For The Digital Classroom: Tools To Organize, Innovate, & Manage What You Do by Mike Acedo Over the years, many of us have personally experienced the growth of technology in today's classrooms. Instead of taking notes, students are now occupied by surfing the Internet, scrolling through Facebook, and messaging their friends on their smart phones, tablets, and laptops. Instead of focusing on the instruction, teachers are constantly required to interrupt class in order to remind those students again and again, that class time is for learning, not texting. However, as today's students are using more technological devices, it is imperative that teachers have access to the resources to keep pace with the growing tech culture.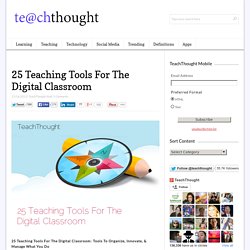 25 Teaching Tools To Organize, Innovate, & Manage Your Classroom
34 Diverse Blended Learning Apps For iPad This post is promoted by the app X-Mirage, software that allows you to mirror content between your iPad & Mac, and record the displayed content. Blended learning is a potentially powerful way of mixing the power of asynchronous access with face-to-face facilitation and instruction. It's this mixing of old and new that makes it tempting for many schools and districts wanting to dip their toes in the water of eLearning and far-reaching technology access while still depending on the expertise and training of human teachers. But it's this combination–and subsequent flexibility–that also makes it a challenge to setup.
34 Diverse Blended Learning Apps For iPad
Free Online Grammar Check, Plagiarism, Spelling
3 Dec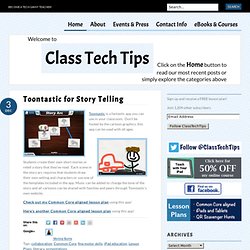 Toontastic for Story Telling
Introduction French - Lessons by Raja Mohammad Zishanullah is a very colorful French learning app that for once doesn't try to get you to subscribe to a service, doesn't have any ads, and gives you a lot of content totally free! There must be a catch somewhere, you would think?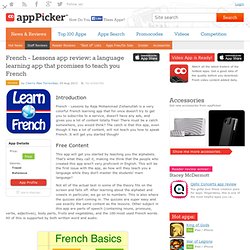 French - Lessons app review: a language learning app that promises to teach you French
SAT Vocab Price: Free SAT Vocab by MindSnacks combines fun with education in this cute little package. This iPad app is all about mastering the SAT vocab.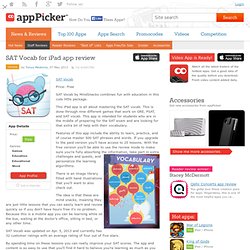 SAT Vocab for iPad app review
Language TherAppy Lite Price: Free Language TherAppy Lite by Tactus Therapy Solutions Ltd. mixes together naming, comprehension, reading, and writing in this free trial on your iPad. The Lite version of the app gives you a wonderful way to experience it first-hand. You'll have almost full functionality just on a limited amount of words.
Language TherAppy Lite for iPad app review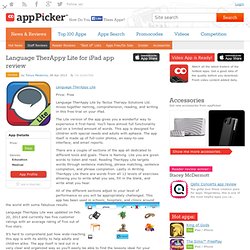 Shake A Phrase App
Shake a Phrase is a language app for the development of reading, vocabulary, grammar and writing. The app presents the content under five different themes – Animals, Fairytale, Monsters, Sports and Shake Starter.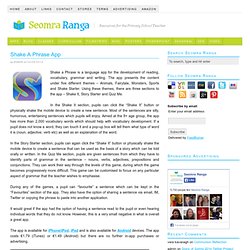 What's The Phrase Free app review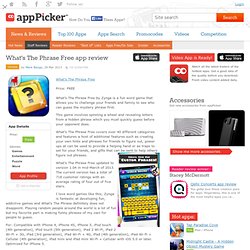 What's The Phrase Free Price: FREE What's The Phrase Free by Zynga is a fun word game that allows you to challenge your friends and family to see who can guess the mystery phrase first. This game involves spinning a wheel and revealing letters from a hidden phrase which you must quickly guess before your opponent does. What's The Phrase Free covers over 40 different categories and features a host of additional features such as creating your own hints and phrases for friends to figure out, power ups at can be used to provide a helping hand or as traps to set for your friends, and gifts that can be sent to help others figure out phrases.
Screen flashes.
Sliding apps.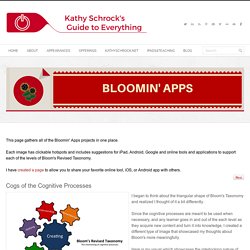 This page gathers all of the Bloomin' Apps projects in one place.Each of the images has clickable hotspots and includes suggestions for iPad, Google, Android, and Web 2.0 applications to support each of the levels of Bloom's Revised Taxonomy.The use of the triangle shape for Bloomin' apps projects was not used to help clear up the misunderstanding that the levels are hierarchical andthe top levels only make up a tiny portion of the cognitive processes.I have created a page to allow you to share your favorite Web 2.0, iOS, or Android app with others.
SyncSpace Shared Whiteboard - Aplicações no Android Market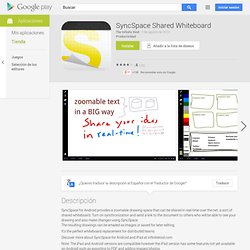 Whiteboard is a collaborative drawing app for the Android, iPhone, iPod touch, and iPad. With over 7 million downloads, Whiteboard is the leading real-time collaborative painting app for iOS.
Zooshia - Create your own social widget
Shoebox for iPhone
Description Edmodo makes a teacher's daily life easier by providing a safe and easy way for teachers and students to engage and collaborate for free, anytime, anywhere. Use Edmodo for:
Control a computer from your Android device! VNC® Viewer connects your device to a computer anywhere in the world, displays its desktop, and lets you take control.
join.me Viewer - Android Market
Description Flipboard is your personal magazine. It is the most popular way to catch up on the news you care about, discover amazing things from around the world, or stay connected to the people closest to you.
Option to save all media in SD Card.
iStoryBooks - Android Market
PearPad
Description "Feedly is what you needly" - David Pogue, New York Times Feedly is a new way to browse and share the content of your favorite news sites, rss feeds, tumblr blogs and youtube channels.
feedly
Use your smartphone for slideshow presentations
Learn Languages: English Free - Android Market
Aprenda inglês com o busuu.com - Android Market
Teacher Reboot Camp » Blog Archive » 18 Educational Apps for Halloween