English Language
Ambiguous Words Here's a bunch of words that, by themselves, have a handful of meanings. Because of this flexibility, they can be instrumental in titles for your songs/poems/stories/etc. Click on each word to delve deeper into these words' meanings.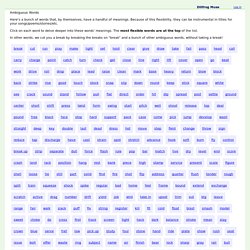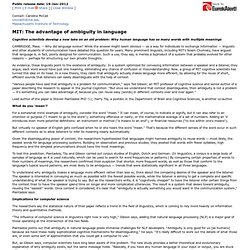 MIT: The advantage of ambiguity in language
Public release date: 19-Jan-2012 [ Print | E-mail Share ] [ Close Window ]
Words of Estimative Probability
This classic piece on the need for precision in intelligence judgments was originally classified Confidential and published in the Fall 1964 number of Studies in Intelligence. Although Sherman Kent's efforts to quantify what were essentially qualitative judgments did not prevail, the essay's general theme remains important today. The briefing officer was reporting a photoreconnaissance mission.(1) Pointing to the map, he made three statements: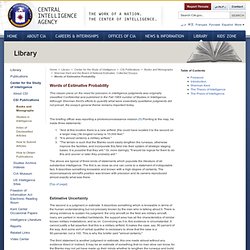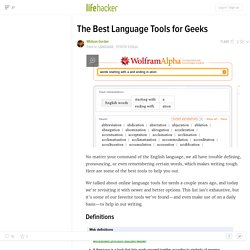 One of my favourite language tools is dict, a dictionary client. On Linux, you can install it and dictd from your distribution's software repositories. (Other platforms, try here) It can query either local or internet dict servers, so you can use it even without an active internet connection if you install the server yourself. Plus, if you run your own server, you can choose what dictionaries (including translation and jargon dictionaries, census info, etc.*) to install and keep locally.
In 1776, whether you were declaring America independent from the crown or swearing your loyalty to King George III, your pronunciation would have been much the same.
Americans and Brits Different Accents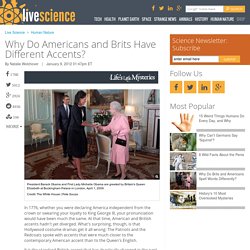 If the English don't speak English, who does?
If you can pronounce correctly every word in this poem, you will be speaking English better than 90% of the native English speakers in the world.
Spelling - Spelling Rules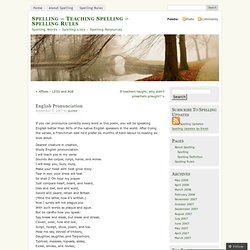 Plain English Alternatives
Have you heard of Futurity?
Scientists don't understand journalism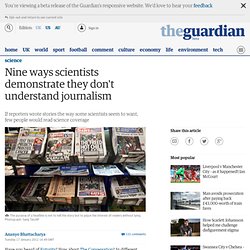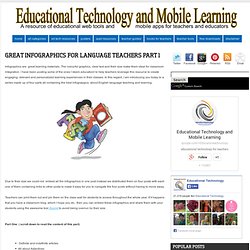 Infographics are great learning materials. The colourful graphics, clear text and their size make them ideal for classroom integration.
Overhauling the calendar
Dec. 28, 2011 — Researchers at The Johns Hopkins University have discovered a way to make time stand still -- at least when it comes to the yearly calendar. Using computer programs and mathematical formulas, Richard Conn Henry, an astrophysicist in the Krieger School of Arts and Sciences and Steve H. Hanke, an applied economist in the Whiting School of Engineering, have created a new calendar in which each new 12-month period is identical to the one which came before, and remains that way from one year to the next in perpetuity.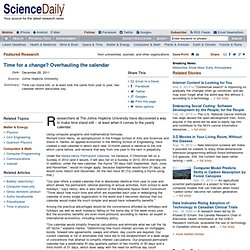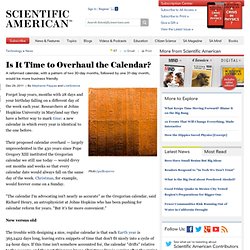 Forget leap years, months with 28 days and your birthday falling on a different day of the week each year.
Is It Time to Overhaul the Calendar?
Hanke Henry Permanent Calendar
Get it Write Online
Getting it write!
Future Perfect - grammar tips
I've edited a monthly magazine for more than six years, and it's a job that's come with more frustration than reward. If there's one thing I am grateful for — and it sure isn't the pay — it's that my work has allowed endless time to hone my craft to Louis Skolnick levels of grammar geekery. As someone who slings red ink for a living, let me tell you: grammar is an ultra-micro component in the larger picture; it lies somewhere in the final steps of the editing trail; and as such it's an overrated quasi-irrelevancy in the creative process, perpetuated into importance primarily by bitter nerds who accumulate tweed jackets and crippling inferiority complexes.
Everyone makes mistakes, but that notion seems to go out the window anytime syntax is misused.
15 Grammar Goofs
Condolence Phrases in Short Prose
Since the invention of media (the book, the record, the movie...), there's been a pyramid of value and pricing delivered by those that create it: Starting from the bottom:
The erosion in the paid media pyramid
Do you know what an 'interrobang' is?
As you may have noticed from the extended radio silence, it's been a busy few months between classes (both taking them and giving them), tenure packaging, and research.
Another advantage of blogging : Aetiology
English Grammar - Adverbs - Position in a Sentence
Grammar Exercises OWL