Art & art history
The Sibyllene Prophecies. Arising from ancient legends, a Sibyl was a divinely inspired woman who revealed prophecies in poetic form, relating to Pagan, Jewish and Christian traditions.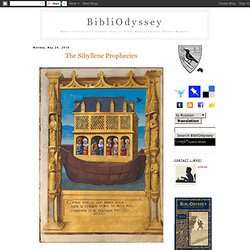 The Sibyl are associated with the holy sites at which their predictions were made, such as Persian Sibyl, Cimmerian Sibyl, Delphic Sibyl, Tiburtine Sibyl etc. They first appear in the written record in about 500BC and their official numbers expanded over time, somewhat stabilising in the literature at ten by the 4th century AD and at about twelve during the Middle Ages. As with Nostradamus, the Sibylline prophecies were open to interpretation and successive empires, religions and doctrines adapted the forecasts to serve their own ends. The sample images above come from a small manuscript that presents a miniature of each Sibyl with a snatch of Latin verse and the corresponding episode from the life of Christ that was said to have been predicted. 2009 Harley Davidson Street Bob. 2009 Motorcycles. FAT BOB: Best handling HD ever built.
2010 New Bikes. Sixteenth-Century Italian Replica Globe Bar - SJ45001. We thought we were getting a globe as pictured in the description.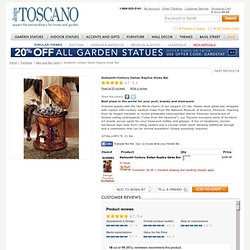 What we received was a globe that had much darker solid colored and reddish legs and swing arm. The picture of the globe matches perfectly which tells me this is either a different product or is what intentionally photo shopped to be more appealing. The decals that make the globe don't align well in various places and there is an odd dotted line that splits the globe, which is also hidden in the picture. When open, the inner graphics are pitted around the entire interior surface of the upper half of the globe.
Bottom line is that it looks a bit "cheaper" in person and up close only gets worse. The Creators Project | Li Hui. The Creators Project: What was your first foray into industrial design?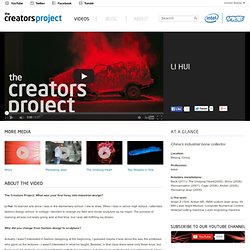 Li Hui: I'd learned arts since I was in the elementary school. I like to draw. When I was in senior high school, I attended fashion design school. In college I decided to change my field and chose sculpture as my major. The process of learning art was not really going well at that time, but I was still fulfilling my dream. Le Blog de la Venus. Bibliotheca Augustana.
Japanese Art
Homepage. Web Gallery of Art, image collection, virtual museum, searchable. Kumi Yamashita. Museum of Fine Arts, Boston: Home. The Metropolitan Museum of Art, New York: metmuseum.org. Heilbrunn Timeline of Art History | The Metropolitan Museum of A. Icons (from the Greek eikones) are sacred images representing the saints, Christ, and the Virgin, as well as narrative scenes such as Christ's Crucifixion.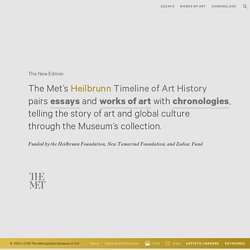 While today the term is most closely associated with wooden panel painting, in Byzantium icons could be crafted in all media, including marble, ivory, ceramic, gemstone, precious metal, enamel, textile, fresco, and mosaic. Icons ranged in size from the miniature to the monumental. Some were suspended around the neck as pendants,... Max Bense, Philosoph. The Mathematics Genealogy Project - Max Bense. Max Bense | Summary. Max Bense was a German philosopher, scholar, and poet.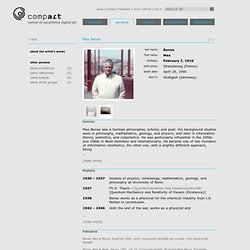 His background studies were in philosophy, mathematics, geology, and physics, and later in information theory, semiotics, and cybernetics. He was particularly influential in the 1950s and 1960s in West-Germany and internationally. He became one of two founders of Information Aesthetics, the other one, with a slightly different approach, being … [read more] Max Bense: Books, Biography, Blog, Audiobooks, Kindle. ZKM | Zentrum für Kunst und Medientechnologie Karlsruhe. Expeditions and Discoveries - Sponsore. The fourth in a series of online collections from Harvard University, Expeditions and Discoveries delivers maps, photographs, and published materials, as well as field notes, letters, and a unique range of manuscript materials on selected expeditions between 1626 and 1953.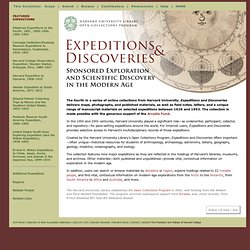 The collection is made possible with the generous support of the Arcadia Fund. In the 19th and 20th centuries, Harvard University played a significant role—as underwriter, participant, collector, and repository—for pace-setting expeditions around the world. For Internet users, Expeditions and Discoveries provides selective access to Harvard's multidisciplinary records of those expeditions. Art History. The Cleveland Museum of Art. Art Timeline. The Use of Visual Information in Art. Acknowledgments: I would like to thank Nicolas Pioch for his excellent work on Le WEBLouvre where many of these images have been maintained.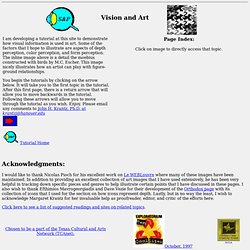 In addition to providing an excellent collection of art images that I have used extensively, he has been very helpful in tracking down specific pieces and genres to help illustrate certain points that I have discussed in these pages. I also wish to thank Efthimios Mavrogeorgiadis and Dave Vezie for their development of the Orthodox page with its collection of icons that I used for the section on how icons represent depth.
Art History. Home Page. Morpho Towers - Two Standing Spirals. Sachiko Kodama "Morpho Towers -- Two Standing Spirals" (2007) Collaborator: Yasushi Miyajima (Sony CSL) Special Thanks:Satoru Saito, Kingo Arakawa, Takeshi Aoki, Osamu Sumiya(UEC), Megumi Sato Music: Tetsuhide Hidaka, PIRAMI Image copyright (c)Sachiko Kodama, music by Tetsuhide Hidaka (Windows Media Player)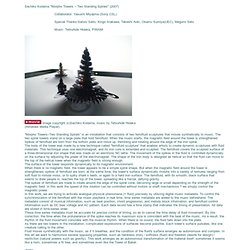 ---