Web content curation
Curation Platforms Comparison. Outils permettant de sélectionner manuellement des contenus en ligne, de les éditorialiser et de les partager.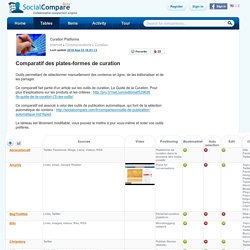 Ce comparatif fait partie d'un article sur les outils de curation, Le Guide de la Curation. Pour plus d'explications sur les produits et les critères : Ce comparatif est associé à celui des outils de publication automatique, qui font de la sélection automatique de contenu :
Annotation. YourVersion. Flipboard — Now available on iPhone. Clipboard - The best place to save, organize and share the web. Kurat. Lynkly. Eqentia. Storyful. Shareist.
Feedly. Is feedly blocked?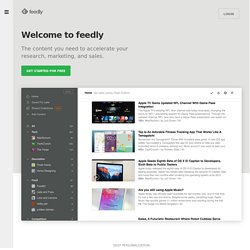 Feedly is not able to load. It is probably because one of your extensions is blocking it. StoryCrawler. Qrait. Diigo. Summify - Twitter. MyTweetMag - Twitter. PostPost - Twitter. Keepstream - Twitter. Home. Home | JOG THE WEB. Redux - videos. Vodpod.
Read It Later: One List Everywhere You Are. MySyndicaat. Know About It. Bundlr. MixTape.me. BlogBridge. Storify.com. Trailmeme. Know the News. Webdoc beta. Amplify.com. BO.LT.
---