Deanh
Dean
Off and on UU since 1967 Jacksonville Florida. Currently member of the CLF
Buddhist Peace Fellowship
Buddhist UU Clergy Bloggers
blog
Buddhist Television Network (BTN) and The Buddhist Channel inks collaboration for news exchange
Why Bother, in a wonderfully engaging and erudite manner, addresses the great question confronting democracy, community and justice -- and that is civic motivation. Prepare to be motivated. Sam Smith is an antidote to mindless speed reading. He makes you pause between paragraphs in order to mull over the captivating morsels he is placing in your imagination. - RALPH NADER Sam Smith puts it to us straight in these essays about finding meaning and hope - JAY WALJASPER, UTNE READER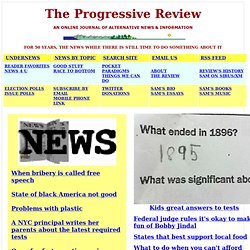 PROGRESSIVE RE INDEX ACTIVISM AMERICAN NOTES ARTS & CULTURE COLLEGE CITIES CREEPING COUP CYBER NOTES DC LOCAL NEWS DEVOLUTION DRUG INDUSTRY DRUGS ECOLOGY ELITE ETHNOGRAPHY FOREIGN AFFAIRS GAY MARRIAGE GOVERNMENT FINANCES GUNS HEALTH & SCIENCE HEALTH PLANS
TomPaine.Com - Home
Unitarian Universalist United Nations Office (UU-UNO)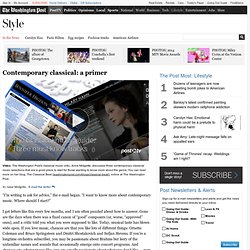 Contemporary classical: A primer
So here, O fictive reader, are answers to some of the questions that, over the years, I've heard you ask. These answers are the equivalent of a one-day tour of a major metropolis, pointing out a few highlights to give you a general sense of the landscape of living composers, hoping that you'll return to visit, in depth, whatever grabs your interest. This is not a "best of" guide, but rather an aide to orientation: Whatever your individual taste, these are pieces worth exploring. 1.Why should I care about minimalism? Minimalism is a frustratingly incorrect term for a compositional approach that developed in the second half of the 20th century and that, in hindsight, turns out to be the most important contribution the United States has made to the field of composition.
The NPR Classical 50
Church of the Larger Fellowship
uuworld.org : liberal religion and life
UUA Bookstore
International Humanist and Ethical Union | The world union of Humanist organizations
American Civil Liberties Union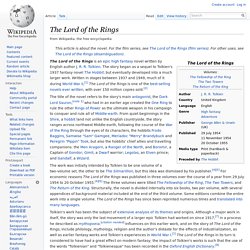 The Lord of the Rings is an epic high fantasy novel written by English philologist and University of Oxford professor J. R. R. Tolkien . The story began as a sequel to Tolkien's 1937 children's fantasy novel The Hobbit , but eventually developed into a much larger work. It was written in stages between 1937 and 1949, much of it during World War II . [ 1 ] It is the second best-selling novel ever written , with over 150 million copies sold. [ 2 ]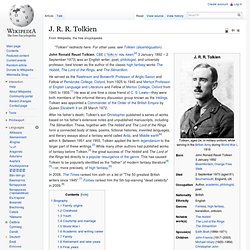 John Ronald Reuel Tolkien , CBE ( pron.: / ˈ t ɒ l k iː n / ; [ a ] 3 January 1892 – 2 September 1973) was an English writer, poet, philologist , and university professor, best known as the author of the classic high fantasy works The Hobbit , The Lord of the Rings , and The Silmarillion . He served as the Rawlinson and Bosworth Professor of Anglo-Saxon at Pembroke College, Oxford , from 1925 to 1945 and Merton Professor of English Language and Literature at Merton College, Oxford from 1945 to 1959. [ 1 ] He was at one time a close friend of C. S. Lewis —they were both members of the informal literary discussion group known as the Inklings .