History
History Today - After the Cold War
Saint Petersburg Preservation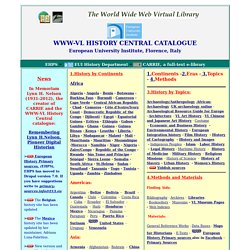 News In Memoriam Lynn H. Nelson (1931-2012), the creator of CARRIE and the WWW-VL History Central catalogue: Remembering Lynn H.Nelson, Pioneer Digital Historian
Crossroads
The Smithsonian Magazine | Smithsonian.com
Blackwell Synergy - The Journal of Popular Culture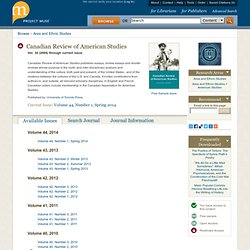 Canadian Review of American Studies
Volume 44, Issue 1 Editor / Rédactrice en chef Priscilla Walton, English, Carleton University Associate Editors / Rédacteurs associés Bruce Tucker, History, University of Windsor Michael Zeitlin, English, University of British Columbia
American History The Spirit of '74 Ray Raphael | Published: April 08, 2014 at 3:24 pm Two years before the Declaration of Independence was written, thousands of militiamen put an end to British rule in Massachusetts Book Review: The Brothers: John Foster Dulles, Allen Dulles, and Their Secret World War Richard Ernsberger Jr. | Published: March 31, 2014 at 2:48 pm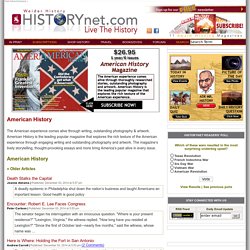 TheHistoryNet | American History
AHR home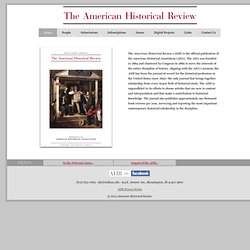 The American Historical Review (AHR) is the official publication of the American Historical Association (AHA). The AHA was founded in 1884 and chartered by Congress in 1889 to serve the interests of the entire discipline of history. Aligning with the AHA's mission, the AHR has been the journal of record for the historical profession in the United States since 1895—the only journal that brings together scholarship from every major field of historical study. The AHR is unparalleled in its efforts to choose articles that are new in content and interpretation and that make a contribution to historical knowledge.
Best of 20th C. Lit
A Glossary of Literary Criticism
UUVA M.A. Theses
AS AH Print and Electronic Resources
Eric C. HendriksAscetic Hedonism: Self and Sexual Conquest in the Seduction Community Responses: Philip Longo Casey R. SchmittIf a Text Falls in the Woods...: Intertextuality, Environmental Perception, and the Non-Authored Text Responses: Stephen Olbrys Gencarella, Harris Berger Jonas SiveläInfected Condoms and Pin-Pricked Oranges: An Ethnographic Study of AIDS Legends in Two Townships in Cape Town Responses: Andrea Kitta, Alan Whiteside and Given Mutinta
Cultural Analysis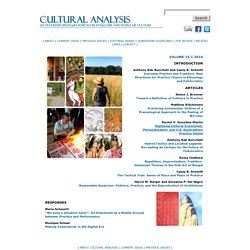 Making of America
Michigan Journal of History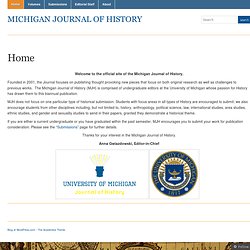 Welcome to the official site of the Michigan Journal of History. Founded in 2001, the Journal focuses on publishing thought provoking new pieces that focus on both original research as well as challenges to previous works. The Michigan Journal of History (MJH) is comprised of undergraduate editors at the University of Michigan whose passion for History has drawn them to this biannual publication. MJH does not focus on one particular type of historical submission. Students with focus areas in all types of History are encouraged to submit; we also encourage students from other disciplines including, but not limited to, history, anthropology, political science, law, international studies, area studies, ethnic studies, and gender and sexuality studies to send in their papers, granted they demonstrate a historical theme.
Great Debates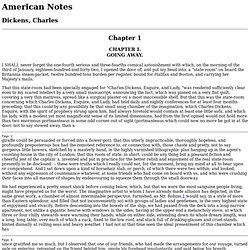 http--xroads.virginia.edu-~HYPER-DICKENS-dks1
Dickens, Charles Chapter 1 I SHALL never forget the one-fourth serious and three-fourths comical astonishment with which, on the morning of the third of January, eighteen-hundred-and-forty-two, I opened the door of, and put my head into, a "state-room" on board the Britannia steam-packet, twelve hundred tons burden per register, bound for Halifax and Boston, and carrying her Majesty's mails. That this state-room had been specially engaged for "Charles Dickens, Esquire, and Lady, "was rendered sufficiently clear even to my scared intellect by a very small manuscript, announcing the fact, which was pinned on a very flat quilt, covering a very thin mattress, spread like a surgical plaster on a most inaccessible shelf.
Where the West Begins
World History
Cultural Studies Central
3 Months Among the Reconstructionists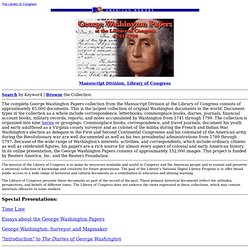 http--memory.loc
The mission of the Library of Congress is to make its resources available and useful to Congress and the American people and to sustain and preserve a universal collection of knowledge and creativity for future generations. The goal of the Library's National Digital Library Program is to offer broad public access to a wide range of historical and cultural documents as a contribution to education and lifelong learning. The Library of Congress presents these documents as part of the record of the past. These primary historical documents reflect the attitudes, perspectives, and beliefs of different times. The Library of Congress does not endorse the views expressed in these collections, which may contain materials offensive to some readers.
Essays--Kant
"Human reason is by nature architectonic." (--Kant, CPR, p.B502) The map below is your guide to the World Wide Web's most organized and comprehensive listing of resources on Kant--that is, until someone copies it and adds an additional link or two! That, of course, is the nature of the WWW. Just remember: you saw it here first! Indeed, many of the texts and tools listed on these pages first appeared (and still have their primary home) on this web site.
Kant on the Web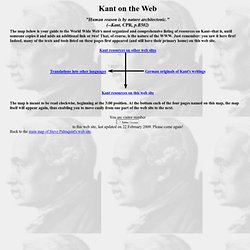 William Faulkner NOTICE
Essays--Foucault