Critiques Nanotechnologies
Index des produits utilisant Nano. PMO - sommaire. Pièces et Main d'Oeuvre, atelier de bricolage pour la construction d'un esprit critique à Grenoble, agit depuis l'automne 2000 de diverses manières : enquêtes, manifestations, réunions, livres, tracts, affiches, brochures, interventions médiatiques et sur Internet, etc.
Pièces et Main d'Oeuvre n'est pas l'enseigne d'un collectif, mais d'individus politiques. Nous refusons la bien-pensance grégaire, qui n'accorde de valeur qu'à une parole réputée "collective", pour mieux la réduire au conformisme, à la paresse et à l'incapacité, dans l'anonymat du groupe. Singularité technologique. Un article de Wikipédia, l'encyclopédie libre.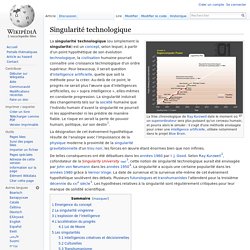 Cet évènement est ainsi nommé par analogie avec l'impuissance de la physique moderne à proximité de la singularité gravitationnelle d'un trou noir, les forces en œuvre étant énormes bien que non infinies. De telles conséquences ont été débattues dans les années 1960 par I. J. Vernor Vinge on the Singularity. Vernor Vinge Department of Mathematical Sciences San Diego State University (c) 1993 by Vernor Vinge (This article may be reproduced for noncommercial purposes if it is copied in its entirety, including this notice.)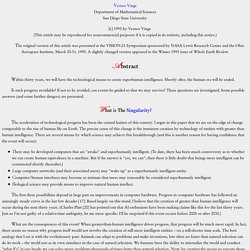 The original version of this article was presented at the VISION-21 Symposium sponsored by NASA Lewis Research Center and the Ohio Aerospace Institute, March 30-31, 1993. A slightly changed version appeared in the Winter 1993 issue of Whole Earth Review. Within thirty years, we will have the technological means to create superhuman intelligence. Shortly after, the human era will be ended.
---