Press
Zérodeux | Revue d'art contemporain trimestrielle et gratuite. Critique art blog emilie renard. FormContent. Documents D'Artistes Rhône-Alpes. Documentation en art contemporain, édition de dossiers d'artistes » Documents D'Artistes Bretagne.
UbuWeb. PILOT: Live archive for artists and curators. Film & Video. The following films are presented for educational and non-commercial use only.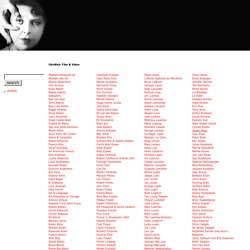 All copyrights belong to the artists. About UbuWeb Film & Video UbuWeb is pleased to present hundreds of avant-garde films & videos for your viewing pleasure. However, it is important to us that you realize that what you will see is in no way comparable to the experience of seeing these gems as they were intended to be seen: in a dark room, on a large screen, with a good sound system and, most importantly, with a roomful of warm, like-minded bodies. However, we realize that the real thing isn't very easy to get to. Les presses du réel.
VVORK. Centre Pompidou (centrepompidou): vidéos, favoris et bien plus encore. Empêcher le visiteur d'entrer (Hans Schabus) - Amateur d'art - Blog LeMonde.fr. On se souvient encore à Villeurbanne de la palissade que Hans Schabus avait édifiée autour de l'Institut d'Art Contemporain il y a trois ans, empêchant -ou, en tout cas, dissuadant - d'y entrer.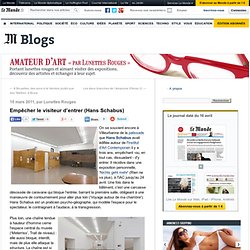 Il récidive dans une exposition personnelle, 'Nichts geht mehr' (Rien ne va plus), à l'IAC jusqu'au 24 avril. Une fois dans le bâtiment, c'est une carcasse désossée de caravane qui bloque l'entrée, barrant la première salle, obligeant à une manœuvre de contournement pour aller plus loin ('Voyage autour de ma chambre'). Hans Schabus est un praticien psycho-géographe, qui modèle l'espace pour le spectateur, le contraignant à l'audace, à la transgression. Plus loin, une chaîne tendue à hauteur d'homme cerne l'espace central du musée ('Meterriss', Trait de niveau) : elle aussi bloque, interdit, mais de plus elle attaque la structure. Saatchi Online : Home. Catalogue Contemporary Art Magazine / Revue d'art contemporain -- Home. Contemporary Art Daily. Les pas perdus. « Fixer des traits, c'est jeter un filet d'images sur ce qu'on ne veut pas laisser fuir, c'es emprisonner un être, une chose dans un contour, donc les réduire en esclavage, les condamner à la décadence.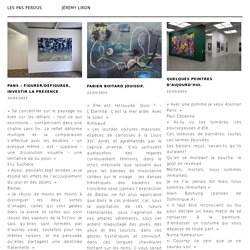 Pour maitriser il faut connaître, et connaître c'est d'abord décrire, éclairer, d'une lumière qui va les limiter, ces forces dont l'aveuglement multiple eût écartelé, étouffé le descripteur, s'il n'eût mis, entre lui et le décrit, la description avec ses. Critiques de films - Citizen Poulpe.
---