Press
critique art blog emilie renard
It's moving from I to It - The Play As final chapter of FormContent's It's moving from I to It, a new performance for two actors written and directed by Tim Etchells animates questions and discourses that had been informing the whole project. Future performances: —Eastside ProjectsTuesday 29 April 2014, Birmingham—CIRCA ProjectsFriday 25 July 2014, New Castle Past performances: —Tate ModernThursday 30 January 2014, London—Spike IslandThursday 27 February 2014, Bristol—If I Can't Dance, I Don't Want To Be Part Of Your RevolutionFriday 28 March 2014, Amsterdam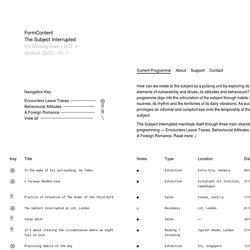 FormContent
Documents d'artistes Rhône-Alpes est un fonds documentaire en ligne consacré à une sélection d'artistes contemporains vivant en Rhône-Alpes. Réalisés avec les artistes et réactualisés régulièrement, les dossiers présentent leur travail par de nombreux documents visuels, textuels et sonores. La Région Rhône-Alpes accompagne le projet qui reçoit également le soutien du Ministère de la Culture et de la Communication - DRAC Rhône-Alpes, de la Ville de Lyon, de la Ville de Saint-Étienne, de la Ville de Valence et de la Fondation Léa et Napoléon Bullukian. DDA-RA est membre du Réseau documents d'artistes, groupement des associations Documents d'artistes en régions : • PACA - http://www.documentsdartistes.org • Bretagne - http://www.ddab.org • Rhône-Alpes - http://www.dda-ra.org • Aquitaine - http://www.dda-aquitaine.org • Piémont, Italie - création en cours Le Réseau documents d'artistes est membre du CIPAC, fédération des professionnels de l'art contemporain.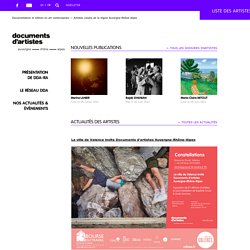 Documents d'Artistes Bretagne édite en ligne des dossiers réalisés avec des artistes visuels vivant en Bretagne. Les dossiers présentent des biobibliographies, des textes et de nombreux documents visuels et sonores. DDA Bretagne est membre du Réseau documents d'artistes. En Provence-Alpes-Côte d'Azur, en Rhône-Alpes, en Aquitaine et en Bretagne, le Réseau documents d'artistes active une plate-forme documentaire commune pour la communication du travail des artistes en France et à l'international.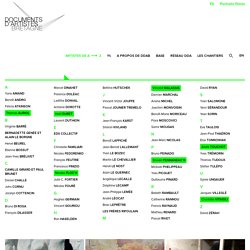 UbuWeb | Winter 2014 Robert Ashley, 1930-2014 UbuWeb mourns the passing of the great American composer Robert Ashley. You can listen to his music and invterviews here, watch his films here, read about him here. If you're unfamiliar with his work, the best place to start is Peter Greenaway's documentary Four American Composers: Robert Ashley (1983).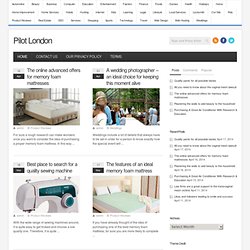 PILOT: Live archive for artists and curators
For sure a rough research can make wonders once you want to consider the idea of purchasing a proper memory foam mattress. In this way ... Weddings include a lot of details that always have to be set in order for a person to know exactly how the special event will ...
The following films are presented for educational and non-commercial use only. All copyrights belong to the artists. About UbuWeb Film & Video UbuWeb is pleased to present hundreds of avant-garde films & videos for your viewing pleasure. However, it is important to us that you realize that what you will see is in no way comparable to the experience of seeing these gems as they were intended to be seen: in a dark room, on a large screen, with a good sound system and, most importantly, with a roomful of warm, like-minded bodies. However, we realize that the real thing isn't very easy to get to.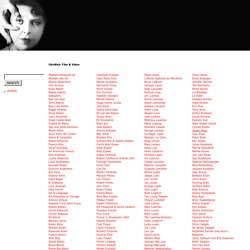 Centre Pompidou (centrepompidou): vidéos, favoris et bien plus encore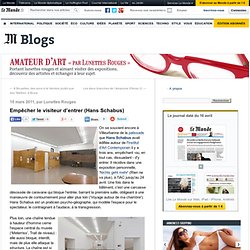 On se souvient encore à Villeurbanne de la palissade que Hans Schabus avait édifiée autour de l'Institut d'Art Contemporain il y a trois ans, empêchant -ou, en tout cas, dissuadant - d'y entrer. Il récidive dans une exposition personnelle, 'Nichts geht mehr' (Rien ne va plus), à l'IAC jusqu'au 24 avril. Une fois dans le bâtiment, c'est une carcasse désossée de caravane qui bloque l'entrée, barrant la première salle, obligeant à une manœuvre de contournement pour aller plus loin ('Voyage autour de ma chambre'). Hans Schabus est un praticien psycho-géographe, qui modèle l'espace pour le spectateur, le contraignant à l'audace, à la transgression. Plus loin, une chaîne tendue à hauteur d'homme cerne l'espace central du musée ('Meterriss', Trait de niveau) : elle aussi bloque, interdit, mais de plus elle attaque la structure.
Empêcher le visiteur d'entrer (Hans Schabus) - Amateur d'art - Blog LeMonde.fr
Catalogue Contemporary Art Magazine / Revue d'art contemporain -- Home
Artist: Anthony Pearson Venue: David Kordansky, Los Angeles Date: March 1 – April 12, 2014 Click here to view slideshow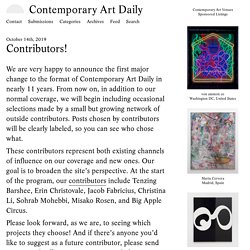 « Fixer des traits, c'est jeter un filet d'images sur ce qu'on ne veut pas laisser fuir, c'es emprisonner un être, une chose dans un contour, donc les réduire en esclavage, les condamner à la décadence. Pour maitriser il faut connaître, et connaître c'est d'abord décrire, éclairer, d'une lumière qui va les limiter, ces forces dont l'aveuglement multiple eût écartelé, étouffé le descripteur, s'il n'eût mis, entre lui et le décrit, la description avec ses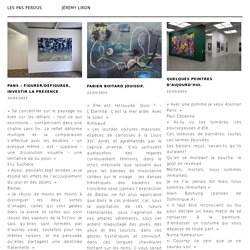 Critiques de films - Citizen Poulpe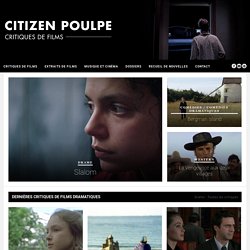 Wolfen Diane Venora dans « Wolfen » Film de Michael Wadleigh Année de sortie : 1981 Pays : États-Unis Scénario : David Eyre et Michael Wadleigh, d'après le roman The Wolfen de Whitley Strieber Photographie : Gerry Fisher Montage : Marshall M. Borden, Martin Bram Musique : James Horner Avec : Albert Finney, Diane Venora, Gregory Hines, Edward James Olmos, Dick O'Neill, Tom Noonan… Eddie Holt : It's not wolves, it's Wolfen. For 20,000 years Wilson- ten times your fucking Christian era- the 'skins and wolves, the great hunting nations, lived together, nature in balance.