Codes and Ciphers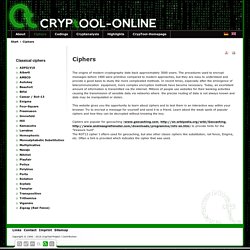 The origins of modern cryptography date back approximately 3000 years. The procedures used to encrypt messages before 1900 were primitive compared to modern approaches, but they are easy to understand and provide a good basis to study the more complicated methods. In recent times, especially after the emergence of telecommunication equipment, more complex encryption methods have become necessary. Today, an exorbitant amount of information is transmitted via the internet.
CrypTool-Online
Scytale Decoder
Decrypting text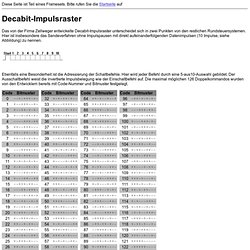 Diese Seite ist Teil eines Framesets. Bitte rufen Sie die Startseite auf Das von der Firma Zellweger entwickelte Decabit-Impulsraster unterscheidet sich in zwei Punkten von den restlichen Rundsteuersystemen. Hier ist insbesondere das Sendeverfahren ohne Impulspausen mit direkt aufeinanderfolgenden Datenimpulsen (10 Impulse, siehe Abbildung) zu nennen.
Decabit-Impulsraster
Solve an Aristocrat or Patristocrat
Universal online Cyrillic decoder - recover your texts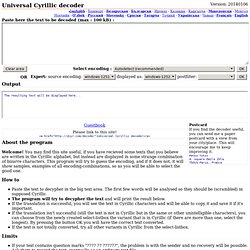 Version: 20130317 Output The resulting text will be displayed here...
Adyghe – ISO 9 transliteration system
Adyghe – ISO 9 transliteration system Adyghe virtual keyboard The Adyghe virtual keyboard allows you to enter characters with a click of your mouse. There's no need to change your keyboard layout anymore.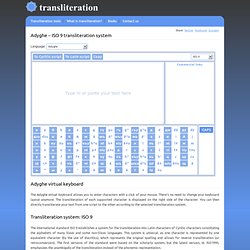 Ascii Table - ASCII character codes and html, octal, hex and decimal chart conversion
[ Overview ] [ Features ] [ What's New ] [ Screenshots ] [ User Reviews ] [ Download ] [ Installation ] [ Other Freeware ] [ Home ] Overview XVI32 is a freeware hex editor running under Windows 9x/NT/2000/XP/Vista/7. The name XVI32 is derived from XVI , the roman notation for the number 16. XVI32 and all of its components are developed by myself.
Freeware Hex Editor XVI32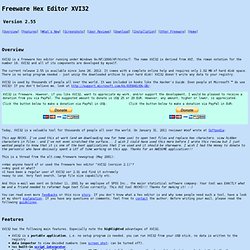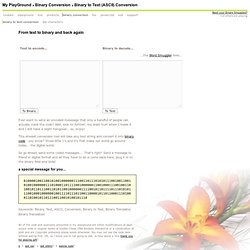 Binary to Text (ASCII) Conversion
Processing Conversion to Text... Ever want to send an encoded messsage that only a handful of people can actually crack the code? Well, look no further; my brain hurt when I made it and I still have a slight hangover... so, enjoy! This shweet conversion tool will take any text string and convert it into binary code - you know?
TRANSLATOR, BINARY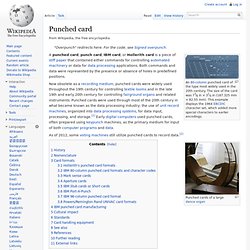 An 80-column punched card of the type most widely used in the 20th century. Card size was 7 3 ⁄ 8 in × 3 1 ⁄ 4 in (187.325 mm × 82.55 mm). This example displays the 1964 EBCDIC character set, which added more special characters to earlier encodings. A punched card , punch card , IBM card , or Hollerith card is a piece of stiff paper that contains digital information represented by the presence or absence of holes in predefined positions. Now obsolete as a recording medium , punched cards were widely used throughout the 19th century for controlling textile looms and in the late 19th and early 20th century for operating fairground organs and related instruments. They were used through the 20th century in unit record machines for input, processing, and data storage .
Hollerith punched card
Baudot Paper Tape Code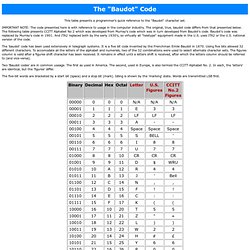 This table presents a programmer's quick reference to the "Baudot" character set. IMPORTANT NOTE: The code presented here is with reference to usage in the computer industry. The original, true, baudot code differs from that presented below. The following table presents CCITT Alphabet No 2 which was developed from Murray's code which was in turn developed from Baudot's code.
Purple Hell Riddle Tools - Index
Website doesn't exists anymore by repmeer Dec 8
Trifid Cipher
The Trifid Cipher is the Bifid Cipher taken to one more dimension. Instead of using a 5x5 Polybius Square , you use a 3x3x3 cube. Otherwise everything else remains the same. As with the Bifid Cipher, the cube can be mixed to add an extra layer of protection, but for these examples we not be using a mixed alphabet cube. The first step is to use the cube to convert the letters into numbers.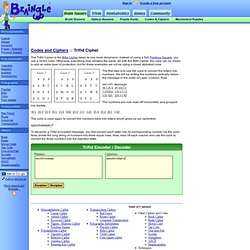 Sudoku Solver
Enigma Simulation
On this page you can download the freeware Award Winning EnigmaSim program. This software is an exact simulation of the 3-rotor Wehrmacht (Heer and Luftwaffe) Enigma, the 3-rotor Kriegsmarine M3, also called Funkschlussel M, and the famous 4-rotor Kriegmarine M4 Enigma cipher machine, used during World War II from 1939 until 1945. The sim has a very authentic feeling with its hands-on approach: you can select between the three models, actually lift out and insert different rotors, adjust their ring setting and set up the plugboard. The internal wiring of all rotors is identical to those that were used by the Wehrmacht and Kriegsmarine. This simulator is therefore fully compatible with the various real Enigma models and you can decrypt authentic wartime messages or encrypt and decrypt your own messages. The program comes with a very complete 22 page helpfile, containing the manual, some original messages, the history of Enigma and all technical details of the machine.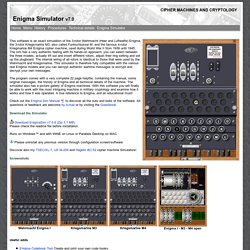 Download Enigma Simulator
Short description of Fialka Fialka was introduced by the Soviet Army around 1965. The design and the operating procedure of this new cipher machine was based on the generally known Enigma. The aim of its design was to improve Enigma's shortcomings. Different versions of the machine were used in , DDR and the former . After the dissolution of the Soviet Union the collection and destruction of the machines was ordered, as a part of the pact, which was only about the borrowing of the machines.
Fialka M-125
The Pigpen Cipher
Pigpen Cipher Variants
Playfair Cipher
The Playfair cipher encrypts pairs of letters (digraphs), instead of single letters. This is significantly harder to break since the frequency analysis used for simple substitution ciphers is considerably more difficult. Memorization of the keyword and 4 simple rules is all that is required to create the 5 by 5 table and use the cipher.
rot13.com
ROT-X : Encryption/Decryption
ROT-X allows you to encrypt plain text. "X" refers to a variable number of letters to shift. The most famous is ROT13, in which each letter is shifted halfway through the alphabet. And there is a ROT13 font that makes it easy to see and use. ROT-X is simple to decrypt, because to undo the first rotate (ROT is short for rotate), you should rotate again by 26 - X.
Let's say that you need to send your friend a message, but you don't want another person to know what it is. You can use a full-blown encryption tool, such as PGP. If the message isn't that important or if it is intended to be decrypted by hand, you should use a simpler tool. This is a page dedicated to simple text manipulation tools, which all can be replicated with just paper and pencil. If you know of another cipher that you think should be on here, leave me a message below.
Cipher Tools
Cipher Statistics
Cryptography
When I wrote my first book, Fermat's Last Theorem, I made a passing reference to the mathematics of cryptography. Although I did not know it at the time, this was the start of a major interest in the history and science of codes and code breaking, which has resulted in a 400-page book on the subject, an adaptation of the book for teenagers, a 5-part TV series, numerous talks and lectures, the purchase of an Enigma cipher machine and the development of an interactive crypto CD-ROM. In the Crypto Corner, you will find details about my book on cryptography ( The Code Book ), information about my TV series based on the book ( The Science of Secrecy ) and you can explore the Black Chamber , which is an interactive encryption and codebreaking section. You will also find a section about the Cipher Challenge , there are some cryptograms (coded messages) for you to try and crack, a free downloadable CD-ROM version of The Code Book, and a quick Q&A based on the questions I am most often asked.
Keyed Caesar
Secret Codes You Aren't Meant To Know
Steganography_Decode - Utility Mill - Utility
Sharky's Vigenere Cipher
Gronsfeld Cipher
Beaufort Cipher
Vigenere Variants