DESIGN
Fortified Studio
Rawtee | tee shirt reviews
Typositoire : Une typo et au lit
5 Critical lessons your design professors never taught you
Wikipedia Redefined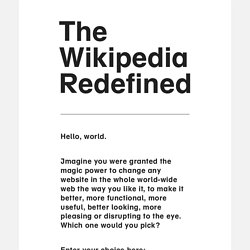 The Brand We started with the world is a puzzle of knowledge logo. ...and decided to eliminate, ahem, everything except... …the letter W, which is/could be the most famous W in the whole web.
Arms Trade
Jeux Olympiques, les médailles
WeDoData
A visual exploration on mapping complex networks
Live Video and Annotation
Best Awards - / Designer's Survival Kit
Google Ramayana
Festival - 2nd edition - 2011
Chaos to perfection
mind design: poopoo strategy
Voyageurs | SNCF.com
Life Below 600px | Paddy Donnelly
Some people would have you believe that you aren't reading this. Why? Because it's not 'above the fold'.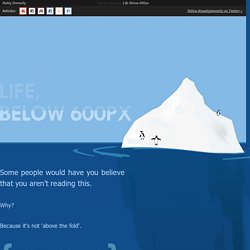 Color Forecast ⋅ Paris
vizualize.me: Visualize your resume in one click.
Welcome to cvgram.me
Now we are talking.
UbuWeb
UbuWeb | Winter 2014 Seven Films by Annika Eriksson (2000-2013) Annika Eriksson is a Swedish artist living in Berlin. Over the years, she has produced a large number of works in which the perception of time, structures of power, and once acclaimed social visions are called into question. Strategically Eriksson plays with the heated debates around the public realm and structures that regulate it, revealing the urban changes and how this is subject to unexpected political appropriations and inversions. UbuWeb Sound Goes Streaming We're creeping into the twenty-first century.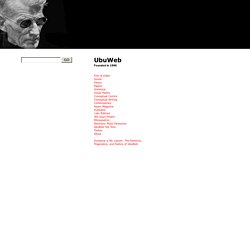 du 04 mai au 22 juillet 2012 Pour sa quatorzième expérience, Le Laboratoire présente l'exposition WA|HH by Starck + Edwards consacrée au WA|HH Quantum Sensations, un petit objet exploratoire sur l'évasion, la sensation d'ivresse.« Nous ne sommes pas des saints. Notre cerveau a besoin d'évasion. Il existe des milliers de façons de s'évader et l'une d'entre elles s'appelle l'ivresse. Or si l'alcool peut faire du bien, il fait aussi beaucoup de mal.
Exposition WAHH by Starck + Edwards - Le Laboratoire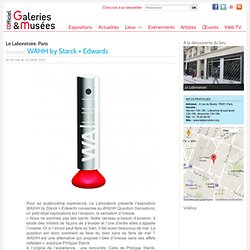 Data Journalism Handbook
It was born at a 48 hour workshop at MozFest 2011 in London. It subsequently spilled over into an international, collaborative effort involving dozens of data journalism's leading advocates and best practitioners - including from the Australian Broadcasting Corporation, the BBC, the Chicago Tribune, Deutsche Welle, the Guardian, the Financial Times, Helsingin Sanomat, La Nacion, the New York Times, ProPublica, the Washington Post, the Texas Tribune, Verdens Gang, Wales Online, Zeit Online and many others. " I want to see the handbook in my language! " If you are a publisher, a news organisation or any other kind of organisation active in the media field interested in becoming an official partner and helping to translate the book into your language please sign up here and we will get in touch with you.
FilmStrips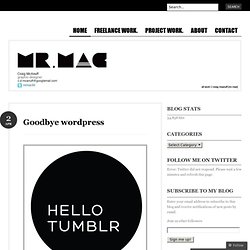 mrmac7.wordpress.com
Goodbye wordpress 2 Apr It's been a great 2 years…it's not me it's you… I am moving on to greener pastures. Maybe we'll see each other again some time?
Tour d'horizon des meilleures cartes de 2011 par l'auteur du site anglais de datavisualisation Spatial Analysis. Des connections sur Facebook aux collaborations scientifiques, tout se cartographie ! Alors que 2011 touche à sa fin, il est bon de revenir sur cette année déterminante pour la cartographie et l'analyse spatiale. Les données géographiques se sont massivement ouvertes, et ont été rendues largement accessibles, conduisant à la production presque quotidienne de cartes inédites et intéressantes. L'usage croissant de technologie telle que les Google Fusion Tables a rendu la cartographie des données plus facile que jamais.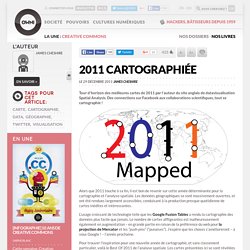 2011 à la carte
Design and Architecture Studio | Ora-ïto
Interview Soemone FR on Vimeo
the professional association for design
NounProject
I'd love to design a lot of new picts for my Siruca Pictograms™ but I can't find the time, so I asked collaboration to some others icon designers. You can participate to the grow of this project if you like. I'll publish it just below the text in this page with your name and a link to your site. Don't worry if you don't know any font editor, you can send me a Freehand, Illustrator or any vectorial file with your design and I'll fix it.
Siruca Pictograms™, the first Open Source project of Fabrizio Schiavi
PICOL - Pictorial Communication Language - Icons & Pictorgrams
Pictoday on the Behance Network
Datavision
WhatTheFont!
I was disappointed by the news that Google had acquired Nest. Nest to me seemed like a beacon of hope for home electronics, that someone was starting to care about the neglected appliances that we use day in and day out. Nest's CEO Tony Fadell learned his skills by helping to birth one of the most important and iconic objects of the last 100 years: the iPod. To think that such a man was setting his sites on these forgotten products had me dreaming of a fully connected home that would truly respond to our lives.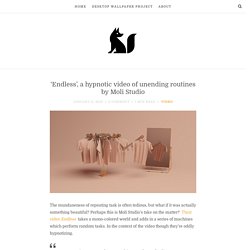 The Fox Is Black
Typekit
Video: Jonathan Harris
The Colors of the Web's Superbrands [INFOGRAPHIC]
Icons of the Web
Village Version 2.0
of Action
What's Your Economic Outlook? - Interactive Feature
Un train de retard
Project Projects
byte foundry
Free Font: Deibi
Téléchargez tous les catalogues de Emigre. | Graphisme & interactivité blog par Geoffrey Dorne
Google WebRTC browser voice/video chat released to take on Skype and FaceTime
8 Usability Mistakes Made By Web Designers | Arbenting
Post'it War: Archives
Post'it War
Derek Watkins
Education
Les Graphiquants | Atelier de graphisme à Paris
[Infographie] Tu te fais des films!
Laura et les hackers: vers le neo-design
strabic.fr - un autre regard sur le design
Design v9
Brand Content
Fancy
Fabrique-Hacktion (re)fabrique la ville
Fabrique - Hacktion
Téléchargez gratuitement la typographie Egypt 22 | Graphisme & interactivité blog par Geoffrey Dorne
Design Elysees - Accueil
A visualization of US debt (credit card bill) stacked in 100 dollar bills
categories
Stunning Infographics and Data Visualization - Noupe Design Blog
J'affiche...! L'actualité en affiche par Geoffrey Dorne
K* Magazine - You need to know
Graphisme et interactivité, un blog de graphisme par Geoffrey Dorne
Neen | Non-verbal emotional experience of notification
43 Essential Controls for Web Applications
Promax|BDA State of Design 2008
Designjet Color 3D Printer - Overview - c02153305
a blog about 3D printing and what comes next
Blog - Fabbaloo
hp designjet color 3D Printer.wmv
HunterGatherer
Floris Voorveld | Brand identity design
HomeWorks® QS System Overview
Paris-Dakar Rally Vehicle Support Truck
Artfinder — Experience the art of discovery
Snapshot your life
Do good with data
WeeNudge | Teach your clients about the mysteries of the web
Top 18 des plus belles réalisations de shadow art (aka. les Maîtres des Ombres…)
livre_blanc_logo
Solo - Project management for the modern freelancer
Little Latitude
Vogue March
The 10 Best Infographics for Internet Marketing Pros
10 Important Technology Infographics
Digital Marketing Agency - Search Engine Optimization, Website Design - Connecticut - DigitalSurgeons.com
Data Visualization: Modern Approaches - Smashing Magazine
Why User Experience Cannot Be Designed - Smashing Magazine