DESIGN
Fortified Studio. Rawtee | tee shirt reviews. Typositoire : Une typo et au lit. 5 Critical lessons your design professors never taught you. Wikipedia Redefined. Arms Trade. Jeux Olympiques, les médailles. WeDoData. A visual exploration on mapping complex networks. Live Video and Annotation. Best Awards - / Designer's Survival Kit. Google Ramayana. Festival - 2nd edition - 2011. Chaos to perfection. Voyageurs | SNCF.com. Life Below 600px | Paddy Donnelly. Some people would have you believe that you aren't reading this.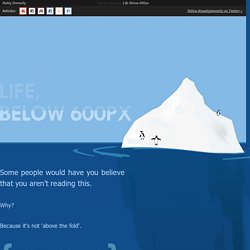 Why? Because it's not 'above the fold'. Color Forecast ⋅ Paris. Vizualize.me: Visualize your resume in one click. Welcome to cvgram.me. Now we are talking. UbuWeb. Exposition WAHH by Starck + Edwards - Le Laboratoire. Du 04 mai au 22 juillet 2012 Pour sa quatorzième expérience, Le Laboratoire présente l'exposition WA|HH by Starck + Edwards consacrée au WA|HH Quantum Sensations, un petit objet exploratoire sur l'évasion, la sensation d'ivresse.« Nous ne sommes pas des saints.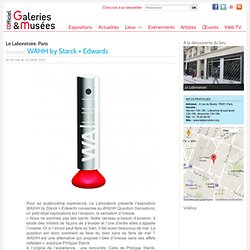 Notre cerveau a besoin d'évasion. Il existe des milliers de façons de s'évader et l'une d'entre elles s'appelle l'ivresse. Or si l'alcool peut faire du bien, il fait aussi beaucoup de mal. Data Journalism Handbook. FilmStrips. Mrmac7.wordpress.com. 2011 à la carte. Tour d'horizon des meilleures cartes de 2011 par l'auteur du site anglais de datavisualisation Spatial Analysis.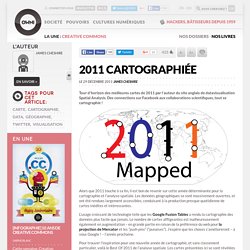 Des connections sur Facebook aux collaborations scientifiques, tout se cartographie ! Alors que 2011 touche à sa fin, il est bon de revenir sur cette année déterminante pour la cartographie et l'analyse spatiale. Les données géographiques se sont massivement ouvertes, et ont été rendues largement accessibles, conduisant à la production presque quotidienne de cartes inédites et intéressantes.
L'usage croissant de technologie telle que les Google Fusion Tables a rendu la cartographie des données plus facile que jamais. Design and Architecture Studio | Ora-ïto. Interview Soemone FR. The professional association for design. NounProject. Siruca Pictograms™, the first Open Source project of Fabrizio Schiavi. I'd love to design a lot of new picts for my Siruca Pictograms™ but I can't find the time, so I asked collaboration to some others icon designers.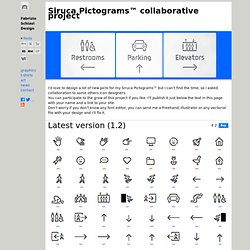 You can participate to the grow of this project if you like. I'll publish it just below the text in this page with your name and a link to your site. Don't worry if you don't know any font editor, you can send me a Freehand, Illustrator or any vectorial file with your design and I'll fix it. Siruca Pictograms™ is designed to works with Siruca™ font. PICOL - Pictorial Communication Language - Icons & Pictorgrams. Pictoday on the Behance Network. Datavision. WhatTheFont! The Fox Is Black. Typekit. (ill)egal graffiti. Video: Jonathan Harris.
HTML 5 accessible player with share button.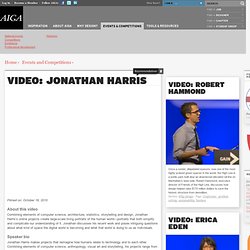 This is the player we use on AIGA.org. Filmed on: October 16, 2010 About this video Combining elements of computer science, architecture, statistics, storytelling and design, Jonathan Harris's online projects create large-scale living portraits of the human world—portraits that both simplify and complicate our understanding of it. Jonathan discusses his recent work and poses intriguing questions about what kind of space the digital world is becoming and what that world is doing to us as individuals.
The Colors of the Web's Superbrands [INFOGRAPHIC] What colors do the web's most powerful brands use to distinguish themselves from others?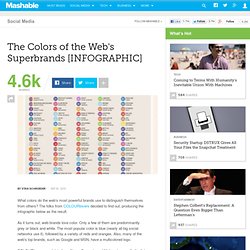 The folks from COLOURlovers decided to find out, producing the infographic below as the result. As it turns out, web brands love color. Icons of the Web. December 18, 2013: The Nmap Project is pleased to release our new and improved Icons of the Web project!
Since our free and open source Nmap Security Scanner software is all about exploring networks at massive scale, we started by scanning the top million web sites for 2013 (as ranked by the analytics company Alexa). We then downloaded each site's favicon—the small icon displayed next to a site title in browser bookmarks and tabs. We scaled the icons in proportion to each site's monthly reach (popularity) and placed them in a giant collage. Village Version 2.0. Of Action. The path travelled between an idea and a minimum viable product is often ruthless.
Depending on the scope of your project, it takes between a couple of weeks and a couple of years to get anything out of the door. Few people possess the focus and determination required to get-to-launch, and I'm certainly not one of them. I have a graveyard of half baked ideas littering my hard drive, but Method of Action was something that I really wanted to deliver, so I knew I had to set some intermediate checkpoints before launching our own product.
I often describe Method of Action as an intersection between Codecademy and Project Euler, but for design. Every course has a series of challenges that you must achieve to complete the course. What's Your Economic Outlook? - Interactive Feature. Un train de retard. Project Projects. Byte foundry. Deibi. Téléchargez tous les catalogues de Emigre. Hello Je profite d'un peu de temps pour vous inviter à jeter un oeil aux publications typographiques d'Emigre.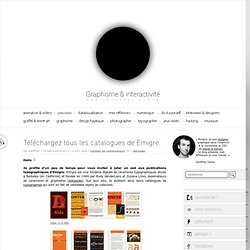 Emigre est une fonderie digitale de caractères typographiques située à Berkeley (en Californie) et fondée en 1984 par Rudy VanderLans et Zuzana Licko, dessinateurs de caractères et graphistes [wikipedia]. Sur leur site, ils publient ainsi leurs catalogues de typographies qui sont en fait de véritables objets de collection. (toutes ces images sont copyright Emigre!) Bref, un travail de pro forcément et une qualité souvent irréprochable, ça donne envie de faire chauffer le porte-feuille. Google WebRTC browser voice/video chat released to take on Skype and FaceTime. Google has released a developer preview of WebRTC, its open real-time voice and video chat system that uses HTML and JavaScript to put video and audio conferencing into the browser.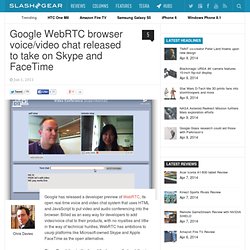 Billed as an easy way for developers to add video/voice chat to their products, with no royalties and little in the way of technical hurdles, WebRTC has ambitions to usurp platforms like Microsoft-owned Skype and Apple FaceTime as the open alternative. Given Google's prioritization of the browser, that ambition is understandable. 8 Usability Mistakes Made By Web Designers | Arbenting.
In the world of web design, we can look around and see so many shining examples of what makes this industry great. Though we are certainly not an industry without our faults and flaws. In fact, with that same discerning eye one can look around and see examples of our less than stellar industry moments. In fact, one can even point to common examples of balls being dropped in various areas.
For example, in the usability arena of web design. Post'it War: Archives. Post'it War. Derek Watkins. Education. Improve your design skills with typography tips and tutorials. FontShop Education docs are formatted for easy downloading and printing, perfect for the classroom or studio. Educational discount: register using your .edu email address and use code EDUCATE10 to receive a 10% discount at checkout.
This work is licensed under a Creative Commons Attribution NoDerivs 3.0 Unported License. Les Graphiquants | Atelier de graphisme à Paris. [Infographie] Tu te fais des films! Laura et les hackers: vers le neo-design. Strabic.fr - un autre regard sur le design. Design v9. Brand Content. Fancy. Fabrique-Hacktion (re)fabrique la ville. Fabrique - Hacktion. Téléchargez gratuitement la typographie Egypt 22. Design Elysees - Accueil. A visualization of US debt (credit card bill) stacked in 100 dollar bills.
Categories. Stunning Infographics and Data Visualization - Noupe Design Blog. J'affiche...! L'actualité en affiche par Geoffrey Dorne. K* Magazine - You need to know. Graphisme et interactivité, un blog de graphisme par Geoffrey Dorne. Neen | Non-verbal emotional experience of notification. 43 Essential Controls for Web Applications. Promax|BDA State of Design 2008. Designjet Color 3D Printer - Overview - c02153305. A blog about 3D printing and what comes next. Blog - Fabbaloo. Hp designjet color 3D Printer.wmv. HunterGatherer. Floris Voorveld | Brand identity design.
HomeWorks® QS System Overview. Paris-Dakar Rally Vehicle Support Truck. Artfinder — Experience the art of discovery. Snapshot your life. Do good with data. WeeNudge | Teach your clients about the mysteries of the web. Top 18 des plus belles réalisations de shadow art (aka. les Maîtres des Ombres…) Livre_blanc_logo. Solo - Project management for the modern freelancer. Little Latitude. Vogue March. The 10 Best Infographics for Internet Marketing Pros. 10 Important Technology Infographics.
Digital Marketing Agency - Search Engine Optimization, Website Design - Connecticut - DigitalSurgeons.com. Data Visualization: Modern Approaches - Smashing Magazine. Why User Experience Cannot Be Designed - Smashing Magazine.
---