Street Art
INTI "Our Utopia Is Their Future" New Mural In Paris, France StreetArtNews. Street art. La Pandilla New Mural In Progress, Miami Your Ultimate Street Art News Site. 24 3D-Street Art Photos – A Collection | STREET ART UTOPIA. 106 of the most beloved Street Art Photos – Year 2010 | STREET ART UTOPIA. More info.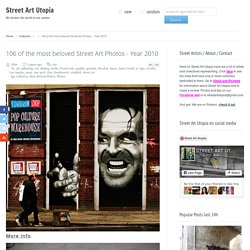 More info. More Banksy on streetartutopia.com. More info. More 3D on streetartutopia.com. More of this on streetartutopia.com. Malarky x VNA Magazine. Hookedblog regular Malarky continues to dominate the East London landscape with the addition of this new shutter above near Petticoat Lane market.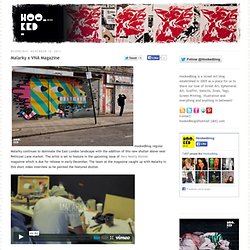 The artist is set to feature in the upcoming issue of Very Nearly Almost magazine which is due for release in early December. The team at the magazine caught up with Malarky in this short video interview as he painted the featured shutter. Un graffiti géant, 500 bombes de peinture, une inspiration Art Nouveau ! Cinq artistes très déterminés vivants à Montréal ont travaillé sur une fresque de graffiti vraiment incroyable !
Inspiré très ( ) largement par l'Art Nouveau et notamment le peintre tchèque Alphonse Mucha. Notre petite équipe a donc créé cette fresque en utilisant environ 500 bombes de peinture dans plus de 50 couleurs différentes. Brooklyn Street Art - ...loves you more every day. : Brooklyn Street Art. Posted on April 7, 2014 "After photographing in the mosh pits for awhile I began to get familiar with patterns in the music.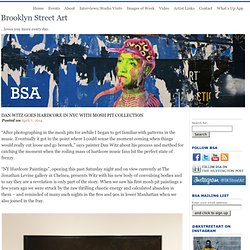 Eventually it got to the point where I could sense the moment coming when things would really cut loose and go berserk," says painter Dan Witz about his process and method for catching the moment when the roiling mass of hardcore music fans hit the perfect state of frenzy. "NY Hardcore Paintings", opening this past Saturday night and on view currently at The Jonathan Levine gallery in Chelsea, presents Witz with his new body of convulsing bodies and to say they are a revelation is only part of the story. Your Ultimate Street Art News Site. Unurth | street art. STREET ART UTOPIA | We declare the world as our canvas. Shepard Fairey Paints Asbury Park. BIG BANG BIG BOOM - the new wall-painted animation by BLU | Créations Numérique.
---