Graphics
Manala Next Door - Girl's next best friend. Making Complex Selections in Photoshop. Making precise selections in Photoshop is an essential skill that every designer needs.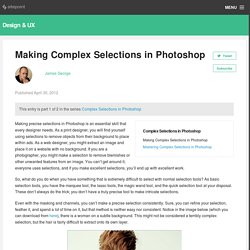 As a print designer, you will find yourself using selections to remove objects from their background to place within ads. As a web designer, you might extract an image and place it on a website with no background. If you are a photographer, you might make a selection to remove blemishes or other unwanted features from an image. You can't get around it; everyone uses selections, and if you make excellent selections, you'll end up with excellent work. Wedding Dress Creator. Neko-Vi on deviantART. Color flip .com by rafaël rozendaal, 2008, collection of sébastien de ganay.
Into time .org by rafaël rozendaal, 2011. Mandiemichel on deviantART. Seed Plant Breeder. CherryBam.com. Superb skin airbrush technique. Step 1.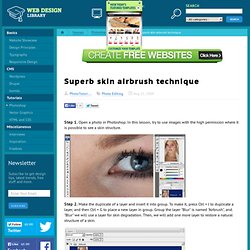 Open a photo in Photoshop. In this lesson, try to use images with the high permission where it is possible to see a skin structure. Trick Photography and Special Effects E-Book. 52 Amazingly Creative Food Art. It was time for another creative,amazing and mostly unbelievable post.When it comes to creativity there is not limit for human beings.I think the first thing is of course imagination.Today when i was searching for something different i came up to this art and i found many examples of creative food art mostly created with fruit and vegetables.Hope you like them all.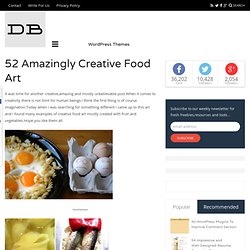 Designbeep is a design blog dedicated to web developers,bloggers,designers and freelancers.Our aim is to share everything about web design,graphic design,tutorials and inspirational articles and more. Nitrozac Portraits! Get a Nitrozac Portrait!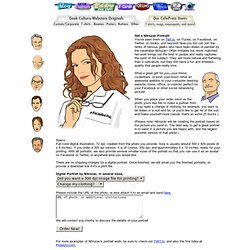 You've seen them on Twit.tv, on iTunes, on Facebook, on Twitter, on books, and beyond! Now you too can join the ranks of famous geeks who have been drawn or painted by the venerable Nitrozac! Often imitated but never matched, her work brings out the best in people and really captures the spirit of the subject. They are more natural and flattering than a caricature, but they still have a fun and timeless quality that people really love.
Tinygrow. Free Home Design Software and Interior Design Software - Autodesk Homestyler. ScribblerToo :: Mario Klingemann update :: zefrank. Timeline. Home - StumbleUpon. Koalas to the Max dot Com. Awesome digital bokeh effect in Photoshop. Our last Wallpaper of the Week was an image I had created using Pixelmator, and I really liked the outcome.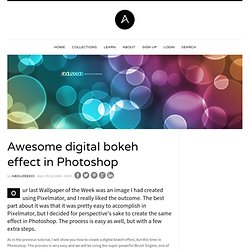 The best part about it was that it was pretty easy to accomplish in Pixelmator, but I decided for perspective's sake to create the same effect in Photoshop. The process is easy as well, but with a few extra steps. As in the previous tutorial, I will show you how to create a digital bokeh effect, but this time in Photoshop. The process is very easy and we will be using the super powerful Brush Engine, one of the coolest things in Photoshop. Step 1. Wallpaper Abyss - Computer Wallpapers And Backgrounds.
pEngine246. Scandinavia and the World - For Realz! Levers. Subtle Patterns | Free textures for your next web project. The leading free stock photography site. Peacock by *Eranthe on deviantART. Drummachine. Google Web fonts E - N | Font comparer - StumbleUpon. Desktopography. Build, Make, Create, Design Your Own Wedding Dress Online. Princess Maker. Abduzeedo | Graphic Design Inspiration and Photoshop Tutorials. Yet Another Colorization Tutorial - Worth1000 Tutorials - StumbleUpon. Web tutorials and free templates | Water Dress.
Step 1 Let's start from the beginning.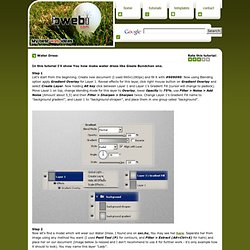 Create new document (I used 960x1280px) and fill it with #909090. Now using Blending option apply Gradient Overlay for Layer 1. Reveal effects for this layer, click right mouse button on Gradient Overlay and select Create Layer. Shortcuts3.jpg 2,761×2,325 pixels. Digital Blasphemy 3D Wallpaper: Widescreen, Dual-Screen, Triple-Screen, iPhone4, iPad, Droid, XBox360, PS3, HDTV Backgrounds. Feed the Head. Water effect photo montage. Neave Interactive - Paul Neaves digital playground - StumbleUpon. DeviantART: where ART meets application! HYBRIDWORKS. EMBRACE YOUR ELEMENT - Element Energy Drinks | All Rights Reserved - 2009.
Arçelik | Rule the Stars. Strobe Illusion - Stare into the Strobe and begin to hallucinate! Sailor Senshi Maker. Digital Blasphemy 3D Wallpaper: Updates. I've added a new version of "Archipelago" to the Members Gallery this morning.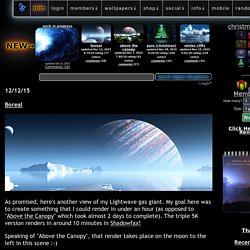 The new version has more sand, calmer waters, and some new life here and there. I just have a few finishing details to add before I start in on the multiscreen. Let me know what you think! Click here to try the offical DB Gmail theme ("Custom Dark" featuring "Translucence"): Feel free to share it with your friends!
---