Edify me
60 Small Ways to Improve Your Life in the Next 100 Days. Contrary to popular belief, you don't have to make drastic changes in order to notice an improvement in the quality of your life.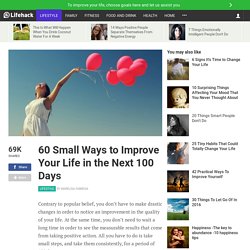 At the same time, you don't need to wait a long time in order to see the measurable results that come from taking positive action. All you have to do is take small steps, and take them consistently, for a period of 100 days. Below you'll find 60 small ways to improve all areas of your life in the next 100 days. Home 1. KingOfLaptops.com, Half Price Laptops of Panasonic ToughBook, IBM ThinkPad, Dell, HP / Compaq, Apple. Batteries, and Accessories. Georgia Tech - Freshman Convocation - Epic Welcome Speech.
News to me
BBC Languages – Free online lessons to learn and study with. The Sites We Love Right Now | 50 Best Websites 2013. As a wise-but-forgotten person once pointed out, any book you haven't read is a new book.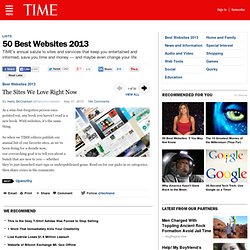 With websites, it's the same thing. So when we TIME editors publish our annual list of our favorite sites, as we've been doing for a decade now, our overarching goal is to tell you about a bunch that are new to you — whether they're just-launched start-ups or underpublicized gems. Read on for our picks in 10 categories, then share yours in the comments. 1330746369_Screenshot.jpg (JPEG Image, 373x664 pixels) - Scaled (97%) Books that will induce a mindfuck. How to Develop a Photographic Memory. I'm Ready To Tell This Story Now. She was my wife.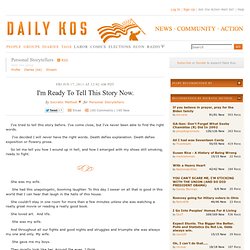 She had this unapologetic, booming laughter. To this day I swear on all that is good in this world that I can hear that laugh in the halls of this house. She couldn't stay in one room for more than a few minutes unless she was watching a really great movie or reading a really good book. She loved art. And life. Between Minds: An Ongoing Taxonomy of Team Dynamics. Between your weekday project team and your weekend softball league, you're likely bombarded with messages reinforcing the importance of teamwork.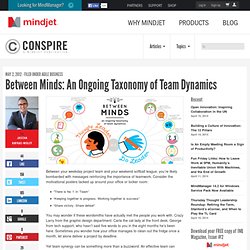 Consider the motivational posters tacked up around your office or locker room: "There is No 'I' in 'Team""Keeping together is progress. Philosophy Timeline. Brotips™ Site. 9 Mind-Blowing Epiphanies That Turned My World Upside-Down. Over the years I've learned dozens of little tricks and insights for making life more fulfilling.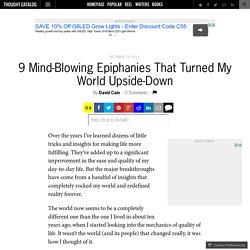 They've added up to a significant improvement in the ease and quality of my day-to-day life. But the major breakthroughs have come from a handful of insights that completely rocked my world and redefined reality forever. The world now seems to be a completely different one than the one I lived in about ten years ago, when I started looking into the mechanics of quality of life.
It wasn't the world (and its people) that changed really, it was how I thought of it. Maybe you've had some of the same insights. One Sentence - True stories, told in one sentence. Bruce lee - clikr.
---