Food
The art of recipe organisation + solve your dinner dilemma [fresh ideas] Ever cooked something amazing and then struggled to find the recipe next time you wanted to make it?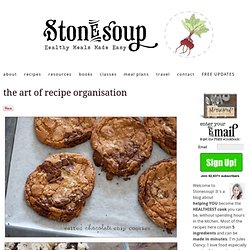 I certainly have. Actually one of the reasons I decided to start this blog back in 2005, was because I wanted to keep a record of what I'd been cooking. And stop losing my favourite recipes. I was reminded of this recently when I was contacted by a Stonesoup reader, looking for help with keeping her recipes organised. Moroccan Chicken With Carrot Puree. First of all, let me apologize in advance.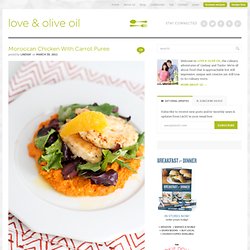 These next few months are going to be nuts. I can't reveal all the details now, but let me just say I'm working on something… very sweet. It's good. So good I know that it will make up for a few months of scarce posting. You'll have to trust me on this one. Roasted Beet Risotto. 3 medium beets (1 1/2 lb with greens), trimmed, leaving 1 inch of stems attached 3 1/2 cups reduced-sodium chicken broth 3 cups water 1 small onion, finely chopped 2 tablespoons olive oil 2 cups arborio rice 1/2 cup dry white wine 1 teaspoon salt 1/2 teaspoon black pepper 1/2 cup finely grated Parmigiano-Reggiano Put oven rack in middle position and preheat oven to 425°F.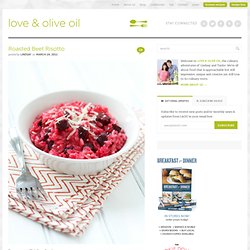 Tightly wrap beets in a double layer of foil and roast on a baking sheet until very tender, 1 1/4 to 1 1/2 hours. Broccoli Garlic Quiche. Kumquats.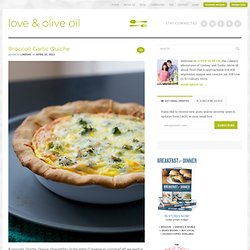 Quiche. Quinoa. Quesadillas. Is the letter Q staging an uprising? Five-Minute Chocolate Mug Cake. Food Cravings? Here Is What Your Body Really Wants~ Chocolate Magnesium Raw nuts and seeds, legumes, fruits Sweets Chromium.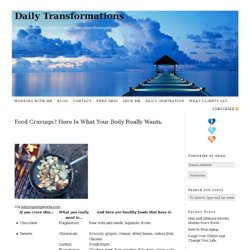 Easy Pumpkin Cheesecake Muffins. French Fries: The No-Guilt Version. There's nothing like a french fried potato.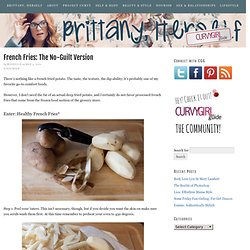 The taste, the texture, the dip-ability; it's probably one of my favorite go-to comfort foods. However, I don't need the fat of an actual deep fried potato, and I certainly do not favor processed french fries that come from the frozen food section of the grocery store. Enter: Healthy French Fries* Step 1: Peel your 'taters. This isn't necessary, though, but if you decide you want the skin on make sure you scrub-wash them first. Steak au Poivre - The Showstopper. I have a comment on this comment, then I have a comment for the OP.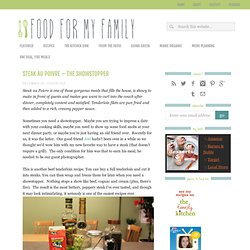 To Amy: Removing to foil is simply a way to keep the steaks warm whilst resting (FOR 5 MINUTES AT LEAST… ALWAYYYS!). When the OP says remove to foil, he/she doesn't mean to wrap them tightly. Chocolate French Toast with Panera Bread. I'm back (already?!)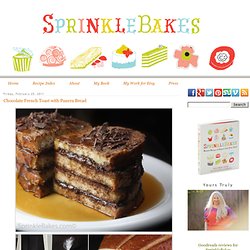 With another post for Panera Bread! I know, two posts in one day - try not to faint. It's a rare occurrence, but my schedule has been a little crazy lately and it just worked out as such. Crispy Potato Roast Recipe. Hey Guys!
So…it's still really hot out…wtf! I'm totally ready for fall…forget this, "I just don't want summer to end" BS…I'm OVER IT! Okay, I apologize for being aggressive right there, but man does this weather make me grumpy. There are a few things that get my mood up during weather like this: 1) My Dog (always) 2) Frequent Fro-Yo and Hawaiian Ice trips with the boyfriend 3) This Roasted Onion Dip.
Remember when you were a kid and sleepovers were still the best thing ever? Homemade Soft Pretzel Bites. Homemade Soft Pretzel Bites On Fridays, I teach cooking classes to two kids in our neighborhood.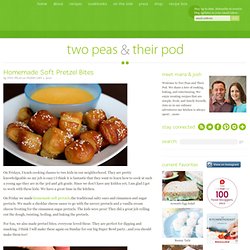 They are pretty knowledgeable-so my job is easy:) I think it is fantastic that they want to learn how to cook at such a young age-they are in the 3rd and 4th grade. Since we don't have any kiddos yet, I am glad I get to work with these kids. We have a great time in the kitchen. Fluffy Pancakes | Blogger For Hire. This pancake recipe is the result of mixing and matching different recipes from many different sources. It is the result of trying and failing so many times, that I almost declared pancakes as the one breakfast recipe I couldn't master. But I persisted, and this recipe is perfect – as perfect as a pancakes recipe can be, because making pancakes does involve frying, and frying is something that each of us needs to play with. It changes depending on your type of stove (gas or electric), on how hot the skillet is, and on how evenly hot you manage to keep it while frying multiple batches. But the instructions here are as close as it gets to "perfect," and the result?
Truly fluffy, puffy pancakes that are never heavy or dense and that are flavored with a pleasant vanilla aroma and taste. Lazy Lasagna II Recipe. Love That Quinoa Burger! « November 1, 2010 by Linda So yummy! If you want a change of pace that's meat-free, yet full of protein, fiber, and very filling…this might be for you. I like it with Tzatziki on top (my recipe is in this post), or a little "fry sauce" (what some drive-ins call that wonderful mayo/ketchup combo), and with a thick slice of tomato, avocado, onion and lettuce, as a burger should be, it's fab.
Don't be afraid of Quinoa. It cooks just like rice – might even be a little easier! Recipes « HappyTummy. Jamaican Banana Fritters - ThatsSoYummy.com. There's a thing in my house that when you have ripe ol bananas either you make banana bread or banana fritters. These delicious tasty treats can be eaten morning, noon, or night, as a snack or as dessert. These fritters are so easy to make and will satisfy any craving you may have. So if you have a few of these bananas lying around your hose… don't toss them, put them to GREAT use! Enjoy! 50 Easy Pizzas : Recipes and Cooking. Courtesy of Food Network Magazine How to make a pizza: Step 1: Place a pizza stone or an inverted baking sheet on the lowest oven rack and preheat to 500 degrees.
Step 2: Stretch 1 pound dough on a floured pizza peel, large wooden cutting board or parchment paper. Step 3: Top as desired, then slide the pizza (with the parchment paper, if using) onto the stone or baking sheet. Bake until golden, about 15 minutes. Expendable Edibles - Gourmet Recipe Rescues for Perfectly Good Food. Ramen Hacks: 30+ Easy Ways to Upgrade Your Instant Noodles. Cinnamon Sugar Pull-Apart Bread.
---