Bags
Free Baby Penguin Backpack Sewing Pattern - sew-whats-new.com
Hobo Bag
Vibrant Designs: Mod Diaper Bag Sale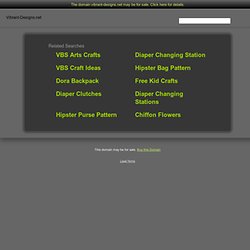 The Mod Diaper Bag is being featured this month on the Vibrant Designs website!! Come on over to order now and receive 15% off the Mod Diaper Bag. This lasts until September 30th so be sure and order in time for that new baby coming or for that perfect Christmas gift. Be sure to check back soon. The cross body hipster tutorial will soon make it's appearance but even more exciting than that is our very first blog giveaway!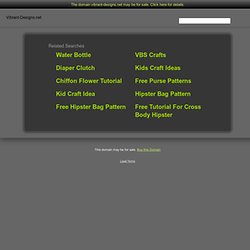 Vibrant Designs: "Town" Backpack
(Ahhh! That flap looks off center!) First I need to say that while I did make this bag, I did NOT create the pattern myself. I found an amazing tutorial at Heart of Mary a while back and actually made two of these last Christmas. Someone saw the one's I made last Christmas and ordered one for themselves.
(Free!) Buttercup Bag Sewing Pattern
This pattern uses a mere fat quarter of fabric for the outer + a little less of another fabric for lining. If you're using quilting cotton for the outer fabric, I recommend using a fusible interfacing to strengthen it. You'll also need a magnetic snap and (optionally) a couple of buttons, although it looks pretty cute without the buttons too. I think this would also look great with some piping or ric-rac over the pleats…I can't wait to see what y'all do with this one!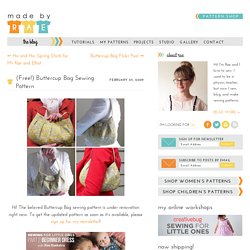 I been making these hipster bags today and I love them. They are my favorite style of bag. I wear them cross body so it leaves my hands free for shopping.
Cross body Hipster Bags..Tute Added .. Very Very Image Heavy. - PURSES, BAGS, WALLETS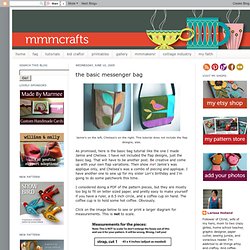 Jamie's on the left, Chelsea's on the right. This tutorial does not include the flap designs, alas. As promised, here is the basic bag tutorial like the one I made Jamie and Chelsea. I have not included the flap designs, just the basic bag.
I got bored with my old handbag, so here is my new one. It took me about 4 hours - cause I didn't want to stuff it up. I particularly like the zipper in the top rather than just the magnetic closure. The handles look short but they're actually 22 inches long - it's just tbucket they are leaning backwards slightly in the photo.
Tutorial: My New Handbag - PURSES, BAGS, WALLETS
Tutorial: Sew Mini Duffle Bags - PURSES, BAGS, WALLETS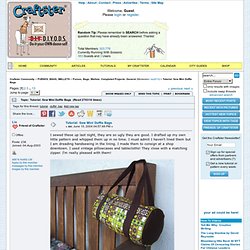 I sewed these up last night, they are so ugly they are good. I drafted up my own little pattern and whipped them up in no time. I must admit I haven't lined them but I am dreading handsewing in the lining.
Update September 2011 We have remade these awesome, simple bags for fall! TThis time around, I used a gorgeous new collection of upholstery weight cotton called Outside Oslo. These bold, stylish prints are sophisticated without being serious and come in a rich palette of colors perfect for fall. I added some sturdy contrasting cotton webbing handles for a pop of color, and I love the way they came out! The new materials are as follows: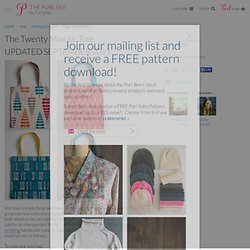 SEWING KITS, STITCHING ORGANIZER, BUSY BAGS
This pattern was written by Sehoy Welshofer and is her copyrighted material originally written for her site Web Threads. Although her site has retired, she has been kind enough to share the pattern and it is posted here with her permission.