Animation/stop motion
What Light: animation de soleil
stop motion avec des atomes
<img src="http://www.thisiscolossal.com/wp-content/uploads/2013/10/phenakistoscope-1.gif" alt="155 Years Before the First Animated Gif, Joseph Plateau Set Images in Motion with the Phenakistoscope history gifs animation " width="640" height="480" class="alignnone size-full wp-image-37522" title="155 Years Before the First Animated Gif, Joseph Plateau Set Images in Motion with the Phenakistoscope"/>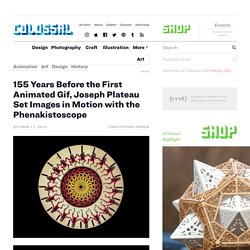 155 Years Before the First Animated Gif, Joseph Plateau Set Images in Motion with the Phenakistoscope
Live Stop Motion Animation Software
Vous souhaitez réaliser un stop motion mais vous ne savez pas quel logiciel utiliser ? Cet article a pour but de lister les différents logiciels, gratuits et payants, fonctionnant sur les différents systèmes d'exploitation (Windows, Mac et Linux), qui vous seront utiles pour la réalisation d'une animation image par image.
Logiciels utiles pour réaliser un court-métrage en stop motion | Le Monde Du Stop Motion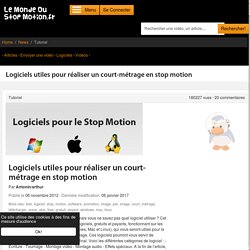 Un article de Wikipédia, l'encyclopédie libre. Une animation image par image montrant le mouvement d'une voiture en Lego. L' animation en volume ou animation image par image ( stop motion et go motion en anglais ) est une technique d' animation permettant de créer un mouvement à partir d'objets immobiles.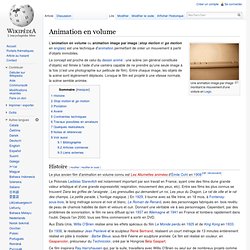 Revealing The Truth on Vimeo
Stop-Motion Excel
Skhizein - Jeremy Clapin - 2008
Animation 8-bit réalisée en Street art et Stop motion !
A quelques heures du grand saut dans l'an 2012 , chacun cherche de bonnes résolutions à prendre.
« Share the Joy », l'animation en stop motion qui met du baume au coeur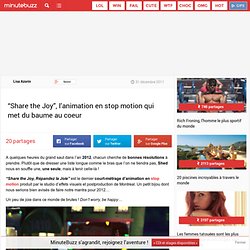 SEED on Vimeo
12 Drawings a Day - 12 Dessins par Jour on Vimeo
SHORT stories - The Deep - PES
Pincel de Zorro (English) on Vimeo
VENDREDI C'EST GRAPHISM S02E43
Cette semaine on plane avec OccupyWallstreet, un magicien, des outils de designers, un renard, une fille, Frankenstein et un WTF à base de Lego violent !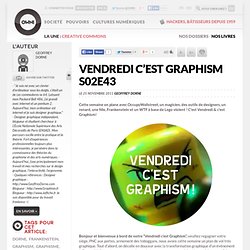 An 8 bit painted animation on wall (Street view)
Stop Motion psychédélique en pâte à modeler
What Light: animation de soleil - Strange Stuff And Funky Things
Playmobil Stop Motion - Joy Division - Transmission
It's A Bird (1930)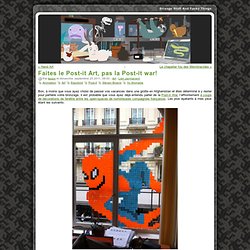 Faites le Post-it Art, pas la Post-it war!
Bon, à moins que vous ayez choisi de passer vos vacances dans une grotte en Afghanistan et êtes déterminé à y rester pour parfaire votre bronzage, il est probable que vous ayez déjà entendu parler de la Post-it War , l'affrontement à coups de décorations de fenêtre entre les open-spaces de nombreuses compagnies françaises .
Alimation on Vimeo
La boite verte :) :o :'( :p :/ :D ಠ_ಠ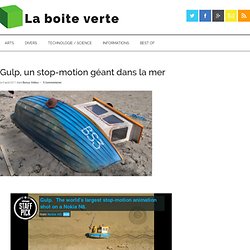 Gulp, un stop-motion géant dans la mer
An Epic Battle Between Michael Jackson and Mr. Bean
Il y a décidément de quoi faire en ce moment avec Star Wars , voici une délicieuse vidéo en « Lego Stop Motion » qui reprend et résume les épisodes I, II, II de la saga de George Lucas .
Star Wars Episodes I, II et III résumés en Lego Stop Motion
Amazing Fire Animation!
I love stop motion on Vimeo