Humor/Time waste
Get flash to fully experience Pearltrees
Please note that we have updated our Online Banking Agreement as we are introducing enhancements to our service. By logging into Sovereign Online Banking, you acknowledge that you have read, understand, and agree to the Customer Agreement and Disclosures for Sovereign Online Banking.
Bellboy March 30th, 2013 Nothing comes between a man and his cat. (submitted by Rhonda) The Ties That Bind March 24th, 2013
"Kelly calls herself "a flaming liberal" and a feminist, too. "I want my daughter to be able to do anything she wants," she says. "But I also want to say, 'Have a career that you can walk away from at the drop of a hat.' "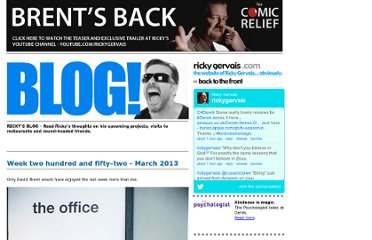 RICKY'S BLOG - Read Ricky's thoughts on his upcoming projects, visits to restaurants and round-headed friends. Week two hundred and fifty-two - March 2013 Only David Brent would have enjoyed the last week more than me. His self-financed video Equality Street has had over 2 million views on YouTube and has been downloaded more than any other track this week on iTunes . Ridiculous. If you enjoyed the comeback you might enjoy this little "Making of" documentary here on my YouTube channel.