Socialisation des enfants
10 Simple Words Every Girl Should Learn. Men interrupt women, speak over them, and discount their contributions to a discussion with surprising regularity.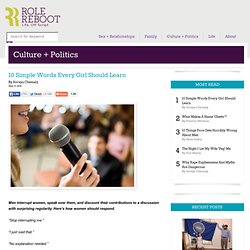 Here's how women should respond. "Stop interrupting me." Peppersongg: paperwhale: peppersongg: These... | Lipstick Feminists. Gender and the Body Language of Power. We're celebrating the end of the year with our most popular posts from 2013, plus a few of our favorites tossed in.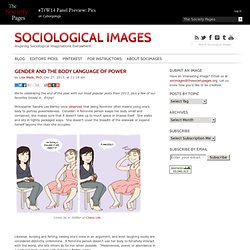 Enjoy! Philosopher Sandra Lee Bartky once observed that being feminine often means using one's body to portray powerlessness. Accueil - Zéro Cliché ! "Gender Reveal Parties" In Utero? On my way to work this morning I heard a radio ad from a local 3-D/4-D ultrasound company that was touting its giant screen and seating capacity for 20 so you can host your very own "gender reveal party" during your pregnancy.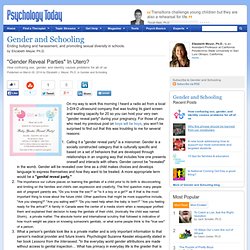 For those of you who read my previous post on boys will be boys, you won't be surprised to find out that this was troubling to me for several reasons:Calling it a "gender reveal party" is a misnomer. Gender is a socially constructed category that is culturally specific and based on a set of behaviors that are developed through relationships in an ongoing way that includes how one presents oneself and interacts with others. 3rd Grade Teacher Reminds Boy Writing is for Girls. By Lisa Wade, PhD, Mar 21, 2014, at 09:00 am This week Meredith Kleykamp tweeted us a photo of a comment written on her 3rd grade son's cursive homework.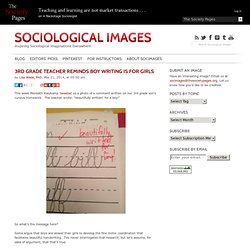 The teacher wrote: "beautifully written! For a boy!" So what's the message here? Some argue that boys are slower than girls to develop the fine motor coordination that facilitates beautiful handwriting. Tempeh-princess: afternoonsnoozebutton: Have... • The real boy crisis: 5 ways America tells boys not to be "girly" The ability to feel what others feel has many well-documented benefits, including, for empathetic people, greater psychological and physical health.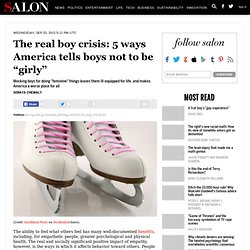 The real and socially significant positive impact of empathy, however, is the ways in which it affects behavior toward others. People who are empathetic are less aggressive and prone to denigrate others; they are predisposed to act with care and compassion; they have increased egalitarian beliefs and act with less prejudice and stereotype-based hatred. Empathetic behaviors, however, are associated with being female. And weak. [HUMEUR] Fille = jolie ; garçon = fort (Petit Bateau). DANGER. Peut-être avez-vous entendu parler de cette polémique sur les derniers bodys de la marque Petit Bateau pour les nourrissons.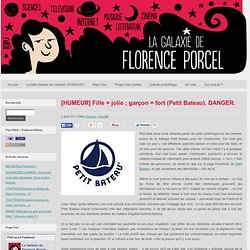 Sur fond gris clair, on peut y voir différents adjectifs danser en rose pour les filles, et en bleu pour les garçons. Ces deux pièces ont fait l'objet il y a quelques semaines d'un bad buzz assez conséquent, puisqu'on a accusé la célèbre marque de vêtements pour enfants d'être sexiste. « On » ? Des livres antisexistes pour enfants. Le titre de cette chronique est une phrase que j'ai entendue en tant que vendeur, comme de nombreux vendeurs qui, comme moi, ont travaillé dans des magasins où l'on vend à la fois des jouets et des livres.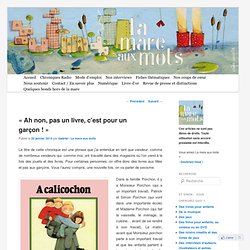 Pour certaines personnes, on offre donc des livres aux filles et pas aux garçons. Vous l'aurez compris, une nouvelle fois, on va parler de sexisme. Dans la famille Porchon, il y a Monsieur Porchon (qui a un important travail), Patrick et Simon Porchon (qui vont dans une importante école) et Madame Porchon (qui fait la vaisselle, le ménage, la cuisine… avant de se rendre à son travail). How To Break The Ice With Little Girls That Doesn't Involve Commenting On Their Appearance. This originally appeared on The Daily Life.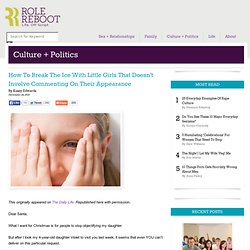 Republished here with permission. Dear Santa, What I want for Christmas is for people to stop objectifying my daughter. 5 Myths About Gender Neutral Parenting. The day I found out the baby I was carrying was a girl, I bought a frilly, pink dress.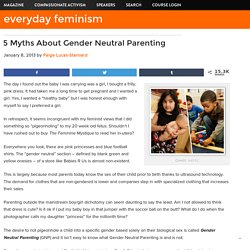 It had taken me a long time to get pregnant and I wanted a girl. Yes, I wanted a "healthy baby" but I was honest enough with myself to say I preferred a girl. How To Break The Ice With Little Girls That Doesn't Involve Commenting On Their Appearance. Tea and Feminism. Remember Storm? Checking in on the baby being raised gender-neutral. It's been more than two years since we first met a chubby-cheeked 4-month-old named Storm.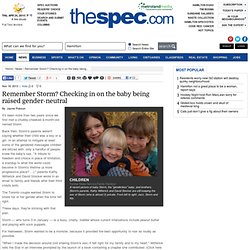 Back then, Storm's parents weren't saying whether their child was a boy or a girl. In an attempt to mitigate at least some of the gendered messages children are blitzed with, only a handful of people knew the baby's sex. "A tribute to freedom and choice in place of limitation, a standup to what the world could become in Storm's lifetime (a more progressive place? ...) ," parents Kathy Witterick and David Stocker wrote in an email to family and friends after their third child's birth. The Toronto couple wanted Storm to share his or her gender when the time felt right. Girl's Gone Child: "We need more Maps to Manhood."
A few days ago, the following slide was brought to my attention via a tweet from Steph Guthrie via Jeff Perera who regularly speaks about gender roles, specifically, masculinity. It reminded me of a conversation Archer and I had about "motherhood. " It reminded me of a conversation Archer and I had about violence. It reminded me of many conversations Archer and I have had. 24 Kids Who Are Clearly Being Raised Right. Fille n'est pas un gâteau. Nowel dernier. Fille a été revêtue, par kekun d'autre que moi, de keke chose qui portait le nom de « c't'une surprise ». C'tait framboise et noir. Why Gender-Specific Toys Are Harming Girls. Feminism, Pop-Culture | Posted by Clarissa D on 10/14/2013 The majority of the Toys R Us Lego Isle is a very familiar shade of blue, copyrighted and trademarked, and gleaming under the florescent lights. In one brightly lit section, however, pink reigns supreme: the section full of toys marketed to little girls. Most of these toys can be placed in at least one of three categories: luxury play (play that seems to serve no other purpose than to stimulate the girls' imaginations in settings of extreme opulence and wealth), housework play (in which a child mimics doing household chores, including anything from an Easy Bake Oven to a baby doll to a plastic kitchenette), or interpersonal relationship play (in which a child is meant to identify with a doll of some kind, and she and other "dolls" are meant to interact).
Stéréotypes de genre. Le point de vue psychosociale Les attentes parentales et l'influence parentale Nous l'avons compris l'image de chaque sexe que l'enfant va incorporer tout au long de sa vie commence très tôt par différents agents de socialisation comme la littérature, la télévision mais avant tout les attentes parentales. Ces attitudes et comportements sont généralement appris d'abord dans la maison et sont alors renforcés par les pairs de l'enfant, l'expérience de l'école, et le visionnement de la télévision entre autres. Cependant, l'influence la plus forte sur le développement de rôle de genre semble se produire dans l'arrangement de famille, avec des parents passant, manifestement et secrètement, à leurs enfants leur propre croyance au sujet de genre. Stride Rite needs to give kid more choices, not less. Since my letter to Stride Rite about how its gender stereotyped marketing limits all kids, hundreds of commenters on Jezebel, Daily Mail, Huffington Post, Fox News, and this blog are upset for the same reason: (This one from Daily Mail) Normal boys will NOT wear pink, girly shoes.
It's just a fact of nature. That is the reason society and marketers accept different preferences for different genders. Get over it! Even little kids have a wage gap.
'Boys will be boys' in U.S., but not in Asia. How to Talk to Little Girls. Www.toutalego.com/2013/01/6-ans-et-deja-sexistes.html. Cookies or careers?
---