Web 2.0
Emaze - Create Amazing Presentations Online in Minutes.
Picture/Video Editing & Tutorials. Blendspace - Create lessons with digital content in 5 minutes. Free web apps & blog and website widgets. Evernote. Flashcards. Pinterest. 20 Educational Technology Tools. Smithsonian X 3D. Products. Blogging.
Cork/Sticky/Note Boards
DropBox. If You Don't Have Teacher Access To YouTube At Your School, Then This Search Engine is a "Must. Richard Byrne has created a nice list of 47 Alternatives to YouTube.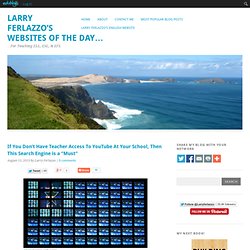 Yes, it's nice and useful. However, the killer part of what he's done is create a custom search engine for those 47 sites. If you don't have teacher access to YouTube at your school, you'll definitely be using this search engine a lot. WorkFlowy - Organize your brain. Registration. 70+ Web Tools Organized For Bloom's Digital Taxonomy. The number of web tools currently available to teachers, administrators, and students is downright absurd.
You can't swing an iPad without hitting a free web tool looking to revolutionize your classroom. Luckily, there are a few brave souls out in the world wide web attempting to organize the chaos a bit. Cool Cat Teacher Blog: Location Based Safety Guide. Responsible Use of Email For Students Handout. Saw this fantastic handout on Langwitches ' blog, and had to share.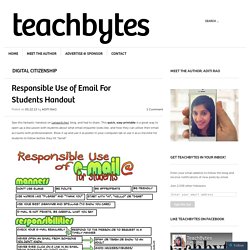 This quick, easy printable is a great way to open up a discussion with students about what email etiquette looks like, and how they can utilize their email accounts with professionalism. Blow it up and use it as poster in your computer lab or use it as a checklist for students to follow before they hit "Send!" Happy emailing, y'all! Like this:
Google Tools
ThingLink. Presentations Webliography. Infographics. Cool Cat Teacher Blog: 89 cool apps, sites, and tools for teaching. Print Friendly & PDF. Convert Web Page to PDF - #1 Web to PDF Converter. iPad. 10 Tools To Add An Extra Hour To Your Day. My three favorite playlist tools.
Soo Meta - A Nice, New Way to Create Multimedia Presentations. Soo Meta is a new digital presentation tool from the same people that developed the YouTube remixing tool Dragon Tape.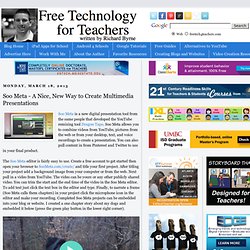 Soo Meta allows you to combine videos from YouTube, pictures from the web or from your desktop, text, and voice recordings to create a presentation. You can also pull content in from Pinterest and Twitter to use in your final product. The Soo Meta editor is fairly easy to use. Create a free account to get started then open your browser to SooMeta.com/create/ and title your first project. After titling your project add a background image from your computer or from the web. Alice.org. Remind101.
Skloog.com - Visual bookmarking made easy. Gallery. Get more out of google.pdf (application/pdf Object) 12 Top eLearning Tools for 2012 and Beyond - Getting Smart by Melissa A. Venable. By Melissa A.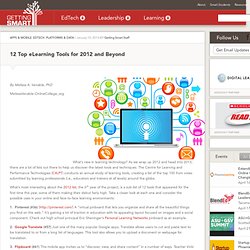 Venable, PhD What's new in learning technology? National Geographic Society: Geography, Social Studies and Science Resources. Augmented Reality For Reading and English. Forms - Kern Kelley. Google Form Templates If you are logged into your Google Account, these form templates will automatically copy into your Google Docs Dashboard.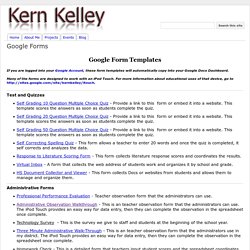 Many of the forms are designed to work with an iPod Touch. For more information about educational uses of that device, go to Test and Quizzes. 5 Great Sites for Student Collaboration. The education technology revolution has been fantastic in helping teachers get closer to students and communicate with them better, but another commonly overlooked benefit has been its ability to get students collaborating successfully and productively with one another.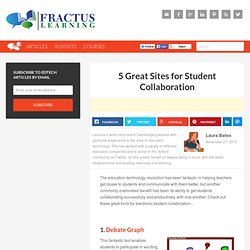 Check out these great tools for electronic student collaboration… 1. Debate Graph This fantastic tool enables students to participate in exciting, illuminating collaborative debate or group brainstorming. 8 Great Web Tools Teachers Are Using Right Now. After publishing My Top 10 Tools as a Teacher, I received over 35 emails from my readers , some asking me why not include certain tools I did not feature in that list and others suggesting other additions.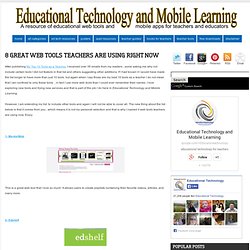 If I had known it I would have made the list longer to have more than just 10 tools but again when I say those are my best 10 tools as a teacher I do not mean that I am confined to only these tools , in fact I use more web tools than I could ever remember their names. I love exploring new tools and trying new services and that is part of the job I do here in Educational Technology and Mobile Learning. However, I am extending my list to include other tools and again I will not be able to cover all. The new thing about the list below is that it comes from you , which means it is not my personal selection and that is why I named it web tools teachers are using now. Enjoy. The Best Web 2.0 Applications For Education In 2012 — So Far.
I usually just do a year-end list on Web 2.0 Applications For Education and many other topics, but it gets a little crazy having to review all of my zillion posts at once.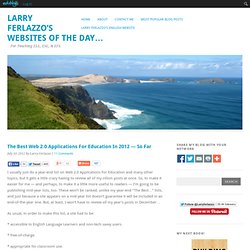 So, to make it easier for me — and perhaps, to make it a little more useful to readers — I'm going to be publishing mid-year lists, too. These won't be ranked, unlike my year-end "The Best…" lists, and just because a site appears on a mid-year list doesn't guarantee it will be included in an end-of-the-year one. But, at least, I won't have to review all my year's posts in December… As usual, in order to make this list, a site had to be: * accessible to English Language Learners and non-tech savvy users. The Top 9 Mindmapping and Brainstorming Apps for iPad. After posting about iPad apps that teachers can use to create diagrams and charts, we went back into our archive and browsed through the posts we have previously published before looking for apps to use to create mind maps and to brainstorm ideas.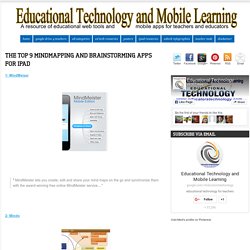 We found some but were too old to feature now so we tried to look for new ones and we were surprised to find some really interesting ones. We have compiled a list below that contains some of the best mind mapping and brainstorming apps you could ever find online. Secondary(Years 7 - 10) Home > Secondary Teachers' area Crack the case! QED is a new mystery-adventure game set in Ancient Rome. You play as Cosmo Veritas, a hot-shot lawyer seeking fame in the law courts. Play now. Featured Flyers - Smore. 25 Awesome Virtual Learning Experiences Online - Virtual Education Websites. Posted by Mark on June 18th, 2009 Just because you're online doesn't mean that you can't experience the world first-hand — or as close to first-hand as possible. Here are websites that feature virtual learning experiences, exposing online visitors to everything from history to geography, astronomy to anatomy, literature to government. 7 Wonders Panoramas – 360-degree views of the Seven Wonders of the World.
QR Codes
Wikis. A Cleaner Internet - Browser Extensions and Add-ons for YouTube, Amazon and more. Technology Resources. Projecthelp - home. Wicked Web Fun - home. Teaching and technology ~ presentations and resources for educators. Online Diagram Software and Flowchart Software - Gliffy. FreshBrain. ClassTools.net: Create interactive flash tools / games for education. 10 Free Organizational Tools for Students and Teachers.
Just a few weeks are left till the start of the new school year. As a part of the digital kit you might be recommending to your students, personal planners shoudl take some priority. Using these tools students will be able to organize their study materials online, make it easily accessible, collaborate and share links and resources with one another and above all improve their scholarly achievement. 7 Excellent Tools to Publish Students Work. There is nothing much rewarding for students than to see their accomplished work being published and celebrated with others. This is very much motivating and is a strong impetus for them to achieve more and work harder. Can you imagine how happy a student would be to share his classroom work with his parents in a neat and clean online platform that they access anywhere and anytime ? There are several online tools that you as a teacher can use to host your students work and share them with the whole class and as well as parents .Below are some tools that can help you do that.
Check them out : 1- Flipsnack. 8 Great Free Educational Resources for Teachers. Neave Interactive - Paul Neave's digital playground. Educational Technology and Mobile Learning: The 33 Digital Skills Every 21st Century Teacher should Have. Technology Links. 9 Great New Web Tools for Teachers. 20 Must-See Teaching Tools Coming To Your Classroom Very Soon. Fifty of the best ed-tech products for schools. Snaggy is a Handy Screen Capture Tool. Web 2.0 Collaborative Projects in the Middle School. SoundGecko. How to Do 11 Techy Things in the New School Year.
Web 2.0 Tools for Teachers.
Edmodo
The 101 Most Useful Websites on the Internet. 60in60 - home. Www.tcea2012.org/2012/Custom/Handout/Speaker6734_Session1219_1.pdf. Free Research Tools Every Educator Need to Know about.
---