Desserts
Fruit and Cream Braid. This is a recipe my Grandmother makes, my Mom made, and I have learned as well.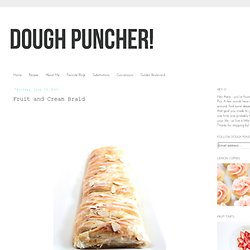 Its so perfect- looks so impressive, but is secretly super easy- using bread machine dough and store bought pie filling (though you can make the bread dough and filling by hand too). And did I mention how amazingly tasty it is?! Šam s voćem / Fruit Meringue Mousse. U današnje vreme, na sve strane se pravi panna cotta, cheesecake i ostale kremaste poslastice pune želatina.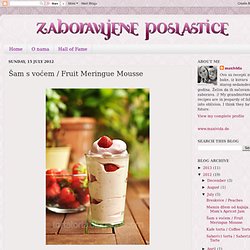 S obzirom na to da nisam ljubitelj gumene konzistencije, moj omiljeni krem-desert je bio i ostao crème brûllée, ali postoji nešto veoma starinsko, veoma jednostavno, a naizgled, potpuno zaboravljeno što je prethodilo svemu ovome. "Šam" je odomaćena varijanta nemačke reči Schaum, što znači pena. A šam od voća, konkretno od malina, obeležio je svako leto mog detinjstva. Moram da vam priznam da nisam bila neki ljubitelj, kao što nisam volela ni Vasinu tortu. Dete kada vidi sneg od belanaca, pomisli: "Njam, ovo je šlag!
" Skillet Chocolate Chip Cookie. Lemon-Filled Coconut Cupcakes. I made these lemon-curd filled coconut cupcakes with 7-minute frosting for my lovely friend Marnie in celebration of her l'il sprout, whose much anticipated arrival is expected later this month.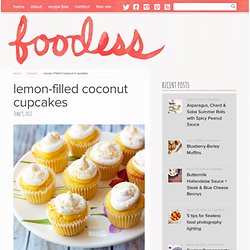 Marnie is a strong contender for cutest pregnant lady ever. I co-hosted a baby shower for her a couple of weekends ago. She opted to keep the baby's sex a surprise, so rather than exhausting ourselves with originality, her mom and I went with classic, gender-neutral yellow as the party's theme colour. Yellow balloons, yellow duckies, yellow cupcakes. The Perfect Cookie Dough Truffles Recipe. Apple Pies & Jo In the Kitchen. I know, I've made a few pies lately.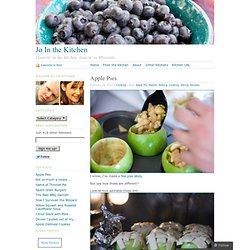 But see how these are different? Look at how adorable these are! I mean, come on. Could you resist? Better-Than-Crack-Brownies. I'm sorry for doing this to you.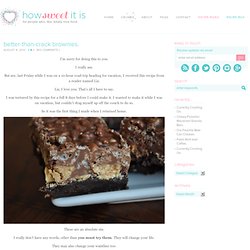 I really am. But see, last Friday while I was on a 10-hour road trip heading for vacation, I received this recipe from a reader named Liz. Liz, I love you. That's all I have to say. BEST-EVER Chewy Chocolate Chip Cookies. Readers, whatever you're doing, stop.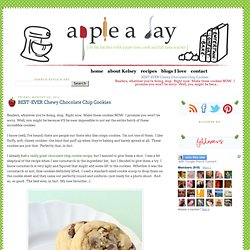 Right now. Make these cookies NOW. I promise you won't be sorry. Chocolate Chip Cookie Dough + Cupcake = The BEST Cupcake. Ever. Recipe. Desserts That Are Almost Too Cute To Eat & Pretty Please Us Blog: Your guide to fashion, beauty, style & everything else in between. Hi, my name is Himani and I'm a sugar addict.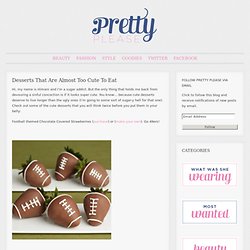 But the only thing that holds me back from devouring a sinful concoction is if it looks super cute. You know… because cute desserts deserve to live longer than the ugly ones (I'm going to some sort of sugar-y hell for that one). Check out some of the cute desserts that you will think twice before you put them in your belly: Slutty Brownies - StumbleUpon. Now I don't want to over sell this, so I'm going to be conservative and simply say, that these are...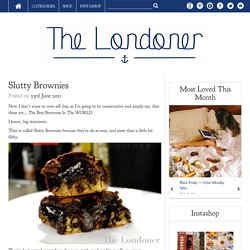 The Best Brownies In The WORLD. I know, big statement. They're called Slutty Brownies because they're oh so easy, and more than a little bit filthy. They're best served warm from the oven, with good quality vanilla ice cream (devastatingly I didn't have any in the freezer this time, so I guess I'll just have to make them again).
Easter Desserts/Baking Recipes & Vdieos. Chocolate Chip Lava Cookies | Kevin & Amanda - StumbleUpon. I am so in love with these darn chocolate lava cookies!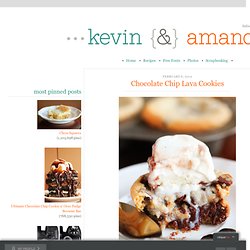 What is it about a warm, gooey chocolate chip cookie stuffed with decadent, rich, melted chocolate that makes it so irresistible?? Especially when topped with vanilla ice cream. These are one of Kev's favorite homemade treats, and he usually asks me to make them at least once a week. They are so simple to whip up, and such a treat! Let's make some right now :) Design Crush & Popsicles! Jun29 Not to sound full of myself, but I'm pretty sure this is the be all, end all of popsicle roundups.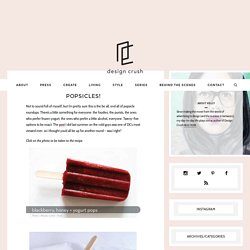 There's a little something for everyone: the foodies, the purists, the ones who prefer frozen yogurt, the ones who prefer a little alcohol, everyone. Homemade Snickers Bars | How Sweet It Is - StumbleUpon. Insanity. That's what this is. Pure In.San.It.TEEEEE. You know those days when you're in desperate need of sugar and you've already downed more gummy vitamins than recommended while seriously considering how many more you can ingest without causing severe harm to your internal organs? - StumbleUpon.
---