Useful sites
DITTO | Designer Glasses & Sunglasses, Video Try-On. Topsy » Free Analytics. How do our favorite tech companies make money? Cordova. ClamBook Android and iPhone Laptop Dock. Some of the ClamBook features highlighted may use modified software.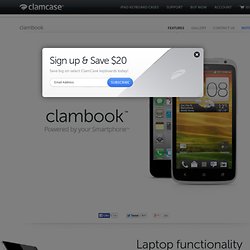 It is important to note, most manufacturers strongly caution against installing any software that modifies the original device software (this process is often referred to as "jailbreaking" or "rooting"). It is also important to note that unauthorized modification may be a violation of your hardware end-user license agreement and may result in being denied service for devices that have any unauthorized software installed. Modifying your phone can cause irreparable damage and void your warranty. If you choose to use third party software on your device then you do so at your own risk. Certain features of the ClamBook may require additional hardware not shown in this presentation. How to install Mac OS X 10.6.6 (includes App Store) in VMWare on Windows 7 | MerryCode. I wanted to try out iOS development on XCode 4 but I don't own a Mac.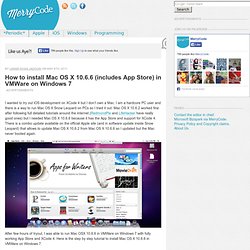 I am a hardcore PC user and there is a way to run Mac OS X Snow Leopard on PCs so I tried it out. Mac OS X 10.6.2 worked fine after following full detailed tutorials around the internet (RedmondPie and LifeHacker have really good ones) but I needed Mac OS X 10.6.6 because it has the App Store and support for XCode 4. There is a combo update available on the official Apple site (and in software update inside Snow Leopard) that allows to update Mac OS X 10.6.2 from Mac OS X 10.6.6 so I updated but the Mac never booted again.
After few hours of tryout, I was able to run Mac OSX 10.6.6 in VMWare on Windows 7 with fully working App Store and XCode 4. Tracking shot. Screenr | Instant screencasts: Just click record. 10 Ways to Create Videos Without Installing Software. Creating videos used to require that you own expensive equipment and software.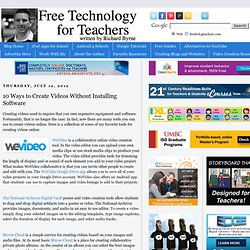 Fortunately, that is no longer the case. In fact, now there are many tools you can use to create videos online. Here is a collection of some of my favorite tools for creating videos online. WeVideo is a collaborative online video creation tool. Features. Meet face to face online.
Meet with your team mates, customers, clients, board and co-workers online instead of having to make the trip to a physical location. Get all the same experience as a face to face meeting but do it online and save time and money. Hangout with your team, co-workers or project groups. Hangout with up to 5 people at a time and see them all at once. 5 Alternatives to iGoogle - Moderator's blog. Vous l'avez peut-être déjà appris, iGoogle va fermer ses portes d'ici peu… Dommage pour ceux qui s'étaient créé une page d'accueil sur le service qui leur permettait d'accéder à leurs sites favoris mais aussi à différents services (bourse, météo, …) sur une seule page.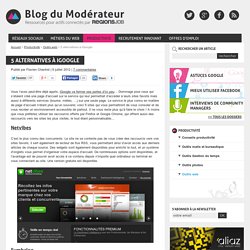 Le service le plus connu en matière de page d'accueil n'étant plus qu'un souvenir, voici 5 sites qui vous permettront de vous consoler et de vous recréer un environnement accessible de partout. Il ne vous reste plus qu'à faire le choix ! Create Free iPhone App Using Online Interface Builder| Android, iPad. Tools To Design a Poster Online. In today's age of technology, it is entirely feasible for anyone to design their own posters.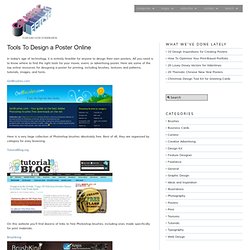 All you need is to know where to find the right tools for your movie, event, or advertising poster. Here are some of the top online resources for designing a poster for printing, including brushes, textures and patterns, tutorials, images, and fonts. GetBrushes.com Here is a very large collection of Photoshop brushes absolutely free. Best of all, they are organized by category for easy browsing. Easel.ly. Unique Gifts, Curated Global Products & Discovery Shopping.
814 Free PowerPoint templates and backgrounds - High Quality. Best Chrome Extensions. On this page, you will find the best Chrome extensions for all your browsing needs. Using the right Chrome extensions can completely transform your online experience, and make your time on the Internet much more productive and interesting. We've made the effort to categorize the extensions and chose only those we believe to be the best ones and which will most likely be useful to you. A perfect tool for students/researchers and one of the best Chrome extensions for organization.
Diigo lets you highlight, share and save web pages. Read selected content both online and offline. iPad Word Processor. Best Google Chrome Extensions. Google Chrome is one of the most used browser having 36% marketshare in comparison of Firefox which has 36.6% of marketshare.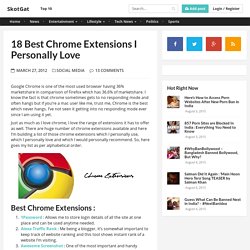 I know the fact is that chrome sometimes gets to no responding mode and often hangs but if you're a mac user like me, trust me, Chrome is the best which never hangs. I've not seen it getting into no responding mode ever since I am using it yet. Just as much as I love chrome, I love the range of extensions it has to offer as well. Story Wheel - Tell the story behind your pictures. Tool of the Day: Knight Lab Releases Free, Easy Interactive Timeline.
Sponsored Post Career Expert, Lauren Berger, releases her second book, Welcome to the Real World:Finding Your Place, Perfecting Your Work, and Turning Your Job Into Your Dream Career(Harper Business), on April 22nd.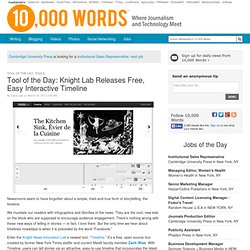 In this book, Berger shares everything she wishes someone told her after graduation. Her book is the essential guide to anyone starting their first, second, or third job. She encourages readers to be fearless, step outside of their comfort zones, and go after what they want. Over 100 Incredible Infographic Tools and Resources (Categorized) This post is #6 in DailyTekk's famous Top 100 series which explores the best startups, gadgets, apps, websites and services in a given category.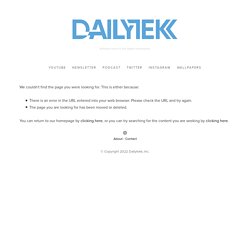 Total items listed: 112. Time to compile: 8+ hours. Follow @DailyTekk on Twitter to make sure you don't miss a week! Update: Be sure to check out our latest post on infographics: Infographics Are Everywhere – Here's How to Make Yours Go Viral. I love a good infographic! Free Data Visualization Software. Beautiful Word Clouds. Tagxedo - Word Cloud with Styles. DataMarket - Find and Understand Data — DataMarket. Gephi, an open source graph visualization and manipulation software. The Top 100 Twitter Tools of 2012 (Categorized)
This post is #9 in DailyTekk's famous Top 100 series which explores the best startups, gadgets, apps, websites and services in a given category. Total items listed: 115. Time to compile: 8+ hours. The 100 Best, Most Interesting Blogs and Websites of 2012 (Categorized) This list, while awesome, is no longer the newest list. Click here to visit the most recent list! This post is #1 in DailyTekk's famous Top 100 series which explores the best startups, gadgets, apps, websites and services in a given category.
Total items listed: 100. Tag Archive | Top 100. BrandMyMail - Live social content, blog posts, signatures and more - in your mails. F | My Feedly. The best way to make a great first impression. || Vizify. Moreofit - Website Similarity Search Engine. Good News, Inspirational Stories, Positive Views - HuffPost Good News. Always Innovating: HDMI Dongle. Available now for licensing If you have any interest to license the HDMI Dongle, please follow this link. The HDMI Dongle is available immediately for licensing. It comes with an optimized hardware design and a fully Open Source software solution including Angstrom, Ubuntu and Android. Technology to Promote Thinking.
---