Desserts
Banana Split Bites. Banana Split Bites ~ A classic ice cream dessert gets mini for some bite size fun.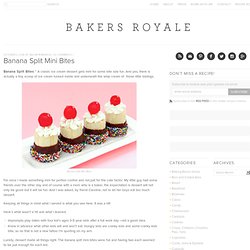 And yes, there is actually a tiny scoop of ice cream tucked inside and underneath the whip cream of those little darlings. Banana Split Mini Bites For once I made something mini for portion control and not just for the cute factor. Thirty Top-Rated Cake Recipes at Epicurious. A Blast From the Past. I'm just finishing up the photos for my next recipe, but since we're entering into flowery, lovely springtime, I wanted to bring this quick and easy—and too precious for color TV—dessert idea from my archives.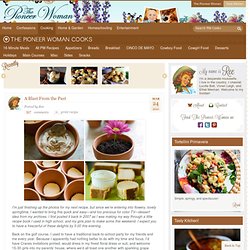 I first posted it back in 2007 as I was making my way through a little recipe book I used in high school, and my girls plan to make some this weekend. I expect you to have a freezerful of these delights by 5:00 this evening. Back on the golf course, I used to have a traditional back-to-school party for my friends and me every year. One Bowl Vanilla Cupcakes For Two. Let's face it: sometimes we all need a dessert that only makes two servings.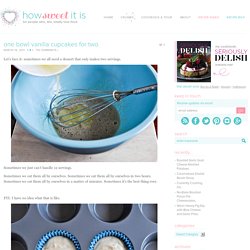 Sometimes we just can't handle 12 servings. Sometimes we eat them all by ourselves. Sometimes we eat them all by ourselves in two hours. Sometimes we eat them all by ourselves in a matter of minutes. Puppy Chow Recipe | Muddy Buddies. I LOVE LOVE LOVE when some of the most yummiest treats are also the most easiest to make.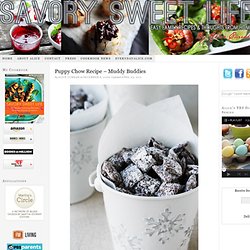 Ten years ago my friend Nancy gave each woman in our small group a beautifully packaged container of Puppy Chow aka Muddy Buddies. This was the first time I had ever had this "crazy good" treat. From the first bite I was hooked but also intrigued by what it was made of. When she told me how she made it I couldn't believe it because it was such an easy recipe yet the combination of all the ingredients produced such a wonderful taste. Homemade Oreos | Flour Child. Fact #1: I made Oreos.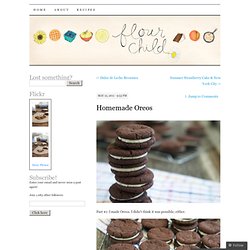 I didn't think it was possible, either. Fact #2: They tasted just like the real ones.. on crack. So much better. No Bake Peanut Butter and Chocolate Bars. Churro Tots. Happy Wednesday, beautiful people.Factoid for you: Getting my car serviced stresses me.To deal, I totally made Churro Tots.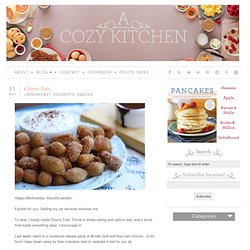 Throw in stress eating and calls to dad, and it some how made everything okay. I encourage it! Last week I went to a cookbook release party at Border Grill and they had churros…in tot form! I was blown away by their cuteness–had to replicate it stat for you all.I basically made a tweaked and adjusted version of this pate a choux recipe. Mingmakescupcakes.yolasite.com. Easy Pumpkin Cheesecake Muffins.
Copycat Candy Recipes. To make all of these Instructables, download this collection of How To's as an ebook.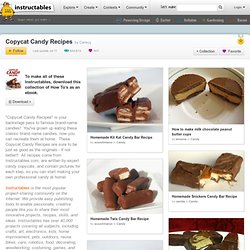 Download » "Copycat Candy Recipes" is your backstage pass to famous brand-name candies! Rose Cookie Tutorial. These sweet little Rose Cookies are so fun and easy to do, and I am so excited to finally be sharing the recipe with you!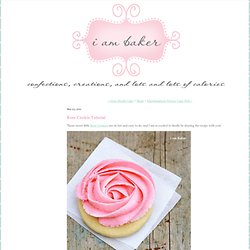 I used my favorite Sugar Cookie recipe but with some adjustments. Amanda's Amazing Sugar Cookies. Carrot Cake Cinnamon Rolls with Cream Cheese Glaze & Healthy Food For Living. I'm not exaggerating when I write that I have been thinking about making these cinnamon rolls for five months.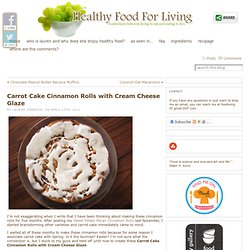 After posting my Sweet Potato Pecan Cinnamon Rolls last November, I started brainstorming other varieties and carrot cake immediately came to mind. I waited all of these months to make these cinnamon rolls because for some reason I associate carrot cake with Spring. Is it the bunnies? Easter? I'm not sure what the connection is, but I stuck to my guns and held off until now to create these Carrot Cake Cinnamon Rolls with Cream Cheese Glaze.
Seeking Sweetness in Everyday Life - Triple Threat: The Cookie Cake Pie. Cookies, Cakes and Pies are basically the holy trinity of baked goods.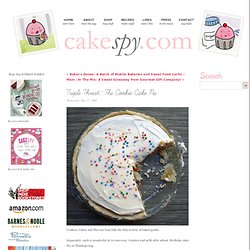 Separately, each is wonderful in its own way. Cookies and milk after school. Birthday cake. Pie at Thanksgiving.
---