Food
Sweetie Pie Pops {Plus Hand Pies, Pie Jars, and Printables!} They keep saying that in 2011 "Pie is the new cupcake."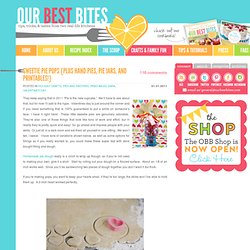 We'll have to see about that, but for now I'll add to the hype. Valentines day is just around the corner and if you need something that is 100% guaranteed to put a smile on someone's face- I have it right here! The Infamous Jacques Torres Chocolate Chip Cookies. Now, I have a chocolate chip cookie recipe that I swear by.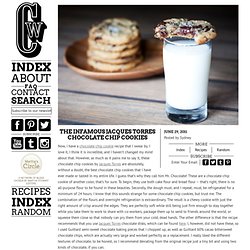 I love it, I think it is incredible, and I haven't changed my mind about that. However, as much as it pains me to say it, these chocolate chip cookies by Jacques Torres are absolutely, without a doubt, the best chocolate chip cookies that I have ever made or tasted in my entire life. I guess that's why they call him Mr. Common Ingredient Substitutions Article. Why You SHOULD Play With Your Food. CopyKat Recipes. Allrecipes.com - recipes, menus, meal ideas, food, and cooking tips. Science of Cooking: Food Science, Recipes &Projects.
Nigella Lawson: Nigella Lawsons official site for recipes, books and latest news. Italian Food Forever - Italian Recipes! Jamie Oliver | Official site for recipes, books, tv, restaurants and food... Top Secret Recipes from Todd Wilbur | Restaurant Recipes and Name Brand Recipes. Recipes for all cooks - 39,000 delicious recipes plus a cooking dictionary... Cook the Book: Perfect French Fries. I think that french fries are underappreciated.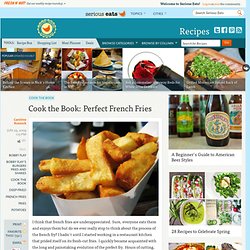 Sure, everyone eats them and enjoys them but do we ever really stop to think about the process of the french fry? I hadn't until I started working in a restaurant kitchen that prided itself on its fresh-cut fries. I quickly became acquainted with the long and painstaking evolution of the prefect fry. Hours of cutting, soaking, rinsing, re-rinsing, frying, cooling, and re-frying go into this classic burger accompaniment. French fries are not just fried potatoes. The Fresh Loaf | News &Information for Amateur Bakers and Artisan Bread... Thai Recipes Home Style from Temple of Thai. Welcome to our Thai recipes section.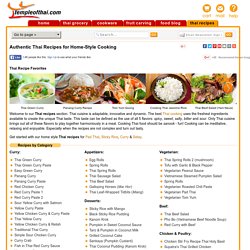 Thai cuisine is adaptable, innovative and dynamic. The best Thai cooking uses the freshest ingredients available to create the unique Thai taste. This taste can be defined as the use of all 5 flavors: spicy, sweet, salty, bitter and sour. Only Thai cuisine brings out all of these flavors to play together harmoniously in a meal. Recipes &Cookbooks – Food, Cooking Recipes from BettyCrocker.Com. Chocolate Clubs Chocolate Recipes from all Chocolate Types. Cooking Light | Find Healthy Recipes, Nutrition Tips, and Guides to Healthy...
Cooks Illustrated: Home. Gastronomers Guide: Watermelon and Mint Ice Cubes. For an interesting twist to serving iced tea, add these watermelon and mint ice cubes.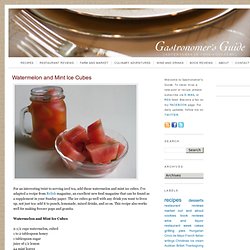 I've adapted a recipe from Relish magazine, an excellent new food magazine that can be found as a supplement in your Sunday paper. The ice cubes go well with any drink you want to liven up, not just tea: add it to punch, lemonade, mixed drinks, and so on. Over 100 Quick and Easy Recipes. We Have Preparation and Cooking Times of 30 Minutes or Less The majority of recipes we offer can be both prepared and cooked in 30 minutes or less, from start to finish.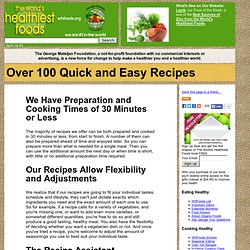 A number of them can also be prepared ahead of time and enjoyed later. So you can prepare more than what is needed for a single meal. Then you can use the additional amount the next day or when time is short, with little or no additional preparation time required. Our Recipes Allow Flexibility and Adjustments. National Flags Made Out of Food. Baking & Dessert Recipes & Videos - Joyofbaking.com *Fully Tested... - StumbleUpon. World Hearth Recipe Collection. Visual Recipes - Free Recipes with Step-by-Step Pictures. HERSHEYS Kitchens Home Page Recipes. TasteSpotting | a community driven visual potluck. Cinnamon Roll Sugar Cookies? Yes! Have I got a treat for you today right before Valentines day!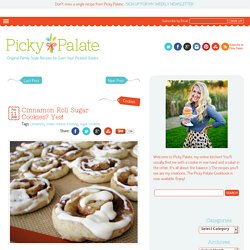 I was getting ready to cut my traditional sugar cookies in the shape of hearts for this post and a little light bulb went off! I don't know if I was craving cinnamon rolls or what, but I thought to myself….I am soooo making these sugar cookies into cinnamon rolls! Brace yourself friends, you will NOT be able to stop eating these, they are that good. My husband and I both agree the only way to enjoy these beauties is after they've chilled in the fridge for at least 30 minutes.
Food Pyramid Submissions. Warm Toasted Marshmallow Smore Bars.
---