Economie
OPEC : Home. Bank for International Settlements. International Maritime Organization. 15/04/2014 IMO Secretary-General Sekimizu chaired the judging panel for the Seatrade Awards 2014 (14 April).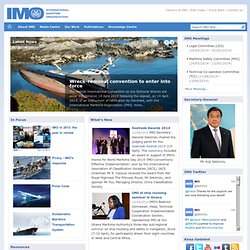 The ceremony included an award in support of IMO's theme for World Maritime Day 2014 'IMO Conventions: Effective Implementation', won by the International Association of Classification Societies (IACS). IACS Chairman Mr R. Cazzulo received the award from Her Royal Highness The Princess Royal; Mr Sekimizu; and sponsor Mr Hui, Managing Director, China Classification Society. 14/04/2014 ​IMO's Beatrice Vormawah, Head, Technical Cooperation Implementation Coordination Section, represented IMO at the Ghana Maritime Authority's three-day sub-regional seminar on ship routeing and safety in navigation, Accra (7-10 April), for participants drawn from eight countries in West and Central Africa. International Fund for Agricultural Development. 中国人民银行. Board of Governors of the Federal Reserve System. The European Central Bank.
Bienvenue aux Nations Unies. Organisation mondiale du commerce - Page d'accueil. Fonds Monétaire International -- Accueil. M.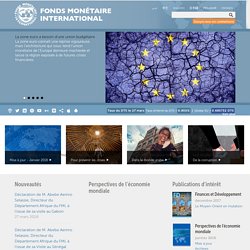 Shanmugaratnam (CMFI) et Mme Lagarde (FMI) : le CMFI appelle les pays à se préoccuper du moyen terme et à mettre l'accent sur les réformes structurelles (photo: IMF) Pour une économie mondiale équilibrée et riche en emplois. Organisation de coopération et de développement économiques.