SITIOS WEB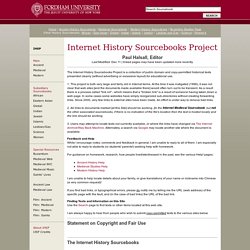 Internet History Sourcebooks Project Paul Halsall, Editor Last Modified: Nov 4 2011 | linked pages may have been updated more recently The Internet History Sourcebooks Project is a collection of public domain and copy-permitted historical texts presented cleanly (without advertising or excessive layout) for educational use. Update Information 2006: In 2006 the Internet History Sourcebooks Project is undergoing a major overhaul to remove bad links and add more documents.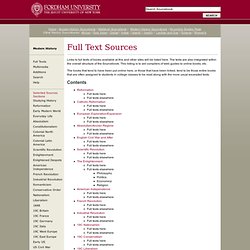 Internet History Sourcebooks
Full Text Sources Links to full texts of books available at this and other sites will be listed here. The texts are also integrated within the overall structure of the Sourcebook. This listing is to aid compilers of web guides to online books, etc.
echo Exploring and Collecting History Online
ECHO (Exploring and Collecting History Online) is a directory to 5,000+ websites concerning the history of science, technology, and industry. You can search it, browse it according to category, or even look at the tag cloud we've generated. Every website contains a brief description by macopa Feb 3
Since 1994 under the founding direction of Roy Rosenzweig, the Center for History and New Media (CHNM) at George Mason University has used digital media and computer technology to democratize history—to incorporate multiple voices, reach diverse audiences, and encourage popular participation in presenting and preserving the past. The center itself is a democratic, collaborative space where over fifty scholars, technologists, and researchers work together to advance the state of the art.

CHNM uses digital media and technology to preserve and present history online, transform scholarship across the humanities, and advance historical education and understanding. Each year CHNM's many project websites receive over 20 million visitors, and over a million people rely on its digital tools to teach, learn, and conduct research.

CHNM's work has been recognized with major awards and grants from the American Historical Association, the National Humanities Center, the National Endowment for the by macopa Feb 3
Libros de historia: Edad Antigua y Media Descargar
Curiosidades de las Ciencias, la Historia y del Hombre
Institute and Museum of the History of Science - Florence, Italy
HISTORY
La historia ha ubicado a Mesoamérica como la región del origen del árbol de cacao sin embargo estudios realizados por botánicos y genetistas lo ubican en el Alto Amazonas, cerca de los límites entre Perú, Ecuador, Colombia y Venezuela. FJ Pound un agrónomo del Departamento de Agricultura de Trinidad encontró la clave para resolver el enigma, un enfermedad común en el árbol de cacao llamada escoba de bruja (witches' broom) es facilmente sobrellevada por las plantas del Alto Amazonas gracias a su alto nivel de diversidad sin embargo las plantas de Mesoamérica muestran pobreza genética y no resisten esta enfermedad. Un árbol infectado con moniliasis del cacao (frosty pod rot) izquierda y escoba de bruja (witches' broom) derecha Ver la fuente para una información detallada.
¿De dónde proviene el árbol de cacao? Mesoamérica o Alto Amazonas | Mundo Historia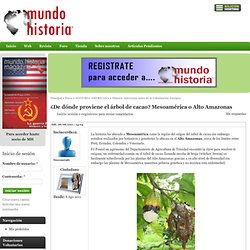 History & Archaeology | From Smithsonian Magazine
educahistoria.com
Es una herramienta de difusión del español a través de contenidos relativos al Arte y a la Historia universales creada por la Consejería de Educación de la Junta de Castilla y León. by macopa Sep 2
Biográfica.info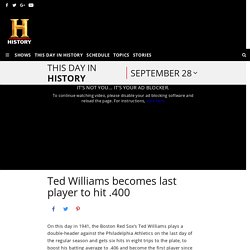 Jan 10, 1901: On this day in 1901, a drilling derrick at Spindletop Hill near Beaumont, Texas, produces an enormous gusher of crude oil, coating the landscape for hundreds of feet and signaling the advent of the American oil industry. The geyser was discovered at a depth of over 1,000 feet, flowed at an initial rate of approximately 100,000 barrels a day and took nine days to cap. Following the discovery, petroleum, which until that time had been used in the U.S. primarily as a lubricant and in kerosene for lamps, would become the main fuel source for new inventions such as cars and airplanes; coal-powered forms of transportation including ships and trains would also convert to the liquid fuel. Crude oil, which became the world's first trillion-dollar industry, is a natural mix of hundreds of different hydrocarbon compounds trapped in underground rock.
History en Español