SITIOS WEB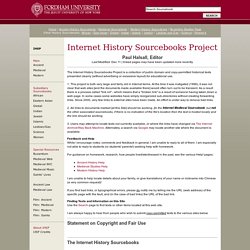 Internet History Sourcebooks Project Paul Halsall, Editor Last Modified: Nov 4 2011 | linked pages may have been updated more recently The Internet History Sourcebooks Project is a collection of public domain and copy-permitted historical texts presented cleanly (without advertising or excessive layout) for educational use. Update Information 2006: In 2006 the Internet History Sourcebooks Project is undergoing a major overhaul to remove bad links and add more documents.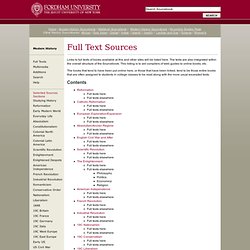 Internet History Sourcebooks
Full Text Sources Links to full texts of books available at this and other sites will be listed here. The texts are also integrated within the overall structure of the Sourcebook. This listing is to aid compilers of web guides to online books, etc.
It is the most sickening sight of the war, this tide of wounded flowing back. One has a shattered arm, and the sling in which he carries it is the same bloody rag the surgeon gave him the day of battle; another has his head seamed and bandaged so you can scarcely see it, and he weaves like a drunken man as he drags along through the hot sun; another has his shoe cut off, and a great roll of rags around his foot, and he leans heavily on a rough cane broken from a pine tree; another breathes painfully and holds his hand to his side, where you see a ragged rent in his blouse; another sits by a puddle, dipping water on a wounded leg, which , for want of dressing since the battle, had become inflamed; another lies on a plot of grass by the roadside, with his browned face turned full to the sun, and he sleeps. - Dr. William Morton Welcome. This is a small web site dedicated to the medical side of the American Civil War.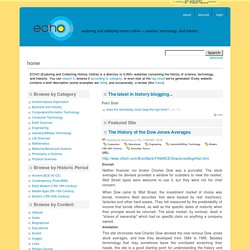 El sarcófago había sido desenterrado hacía un año, pero no se tenía constancia de a que faraón pertenecía. La respuesta ha sido posible gracias al hallazgo de un fragmento de una losa en el mismo yacimiento arqueológico de Abydos, a unos 500 km de El Cairo, en la que estaba inscrito el nombre del faraón, representado además sentado [...] Había permanecido al menos setenta años enterrada, oculta pero aún activa.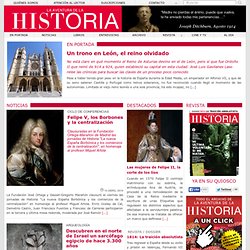 Libros de historia: Edad Antigua y Media Descargar
Curiosidades de las Ciencias, la Historia y del Hombre
Institute and Museum of the History of Science - Florence, Italy
HISTORY
La historia ha ubicado a Mesoamérica como la región del origen del árbol de cacao sin embargo estudios realizados por botánicos y genetistas lo ubican en el Alto Amazonas, cerca de los límites entre Perú, Ecuador, Colombia y Venezuela. FJ Pound un agrónomo del Departamento de Agricultura de Trinidad encontró la clave para resolver el enigma, un enfermedad común en el árbol de cacao llamada escoba de bruja (witches' broom) es facilmente sobrellevada por las plantas del Alto Amazonas gracias a su alto nivel de diversidad sin embargo las plantas de Mesoamérica muestran pobreza genética y no resisten esta enfermedad. Un árbol infectado con moniliasis del cacao (frosty pod rot) izquierda y escoba de bruja (witches' broom) derecha Ver la fuente para una información detallada.
¿De dónde proviene el árbol de cacao? Mesoamérica o Alto Amazonas | Mundo Historia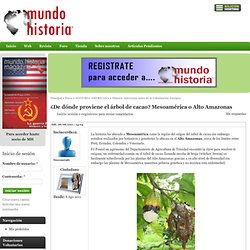 History & Archaeology | From Smithsonian Magazine
Evocaciones gráficas de la guerra civil española y el exilio mexicano Mª Luisa Hernández Ríos Guadalupe Tolosa Sánchez Dentro del proyecto internacional y de cooperación hispano-mexicana, que gira en torno al planteamiento de la actuación de una agencia de fotoperiodistas republicanos, los Hermanos Mayo, que en un momento clave de la historia de España, como es la II República, la Guerra Civil y el posterior exilio en México, marcan toda una época de avances, propuestas y reflejos de los que sería un interesantísimo trabajo llevado a cabo en los inicios del fotoperiodismo del periodo republicano previo al conflicto, aspecto que sellará de manera clara el compromiso de sus artífices, tanto desde el punto de vista de lo que reflejaban sus instantáneas como de su puesta al servicio de una ideología.-artículo completo (pdf) >> Martín Lutero y su contexto
educahistoria.com
Biográfica.info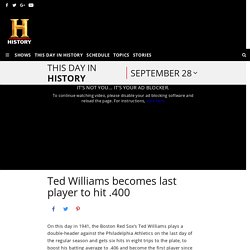 Jan 10, 1901: On this day in 1901, a drilling derrick at Spindletop Hill near Beaumont, Texas, produces an enormous gusher of crude oil, coating the landscape for hundreds of feet and signaling the advent of the American oil industry. The geyser was discovered at a depth of over 1,000 feet, flowed at an initial rate of approximately 100,000 barrels a day and took nine days to cap. Following the discovery, petroleum, which until that time had been used in the U.S. primarily as a lubricant and in kerosene for lamps, would become the main fuel source for new inventions such as cars and airplanes; coal-powered forms of transportation including ships and trains would also convert to the liquid fuel. Crude oil, which became the world's first trillion-dollar industry, is a natural mix of hundreds of different hydrocarbon compounds trapped in underground rock.
History en Español