SITIOS WEB
Internet History Sourcebooks Project. Internet History Sourcebooks Project Paul Halsall, Editor Last Modified: Nov 4 2011 | linked pages may have been updated more recently The Internet History Sourcebooks Project is a collection of public domain and copy-permitted historical texts presented cleanly (without advertising or excessive layout) for educational use.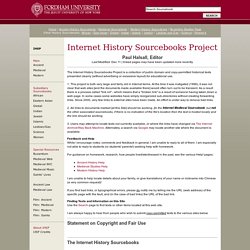 Update Information 2006: In 2006 the Internet History Sourcebooks Project is undergoing a major overhaul to remove bad links and add more documents. Internet History Sourcebooks. Full Text Sources Links to full texts of books available at this and other sites will be listed here.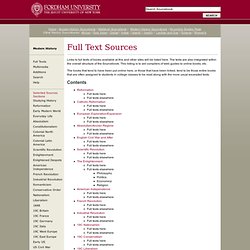 The texts are also integrated within the overall structure of the Sourcebook. This listing is to aid compilers of web guides to online books, etc. Echo Exploring and Collecting History Online. LA AVENTURA DE LA HISTORIA. Roy Rosenzweig Center for History and New Media. Libros de historia: Edad Antigua y Media Descargar. British Museum. Institute of Historical Research | The national centre for history.
Famous Trials - UMKC School of Law - Prof. Douglas Linder. World History : HyperHistory. Curiosidades de las Ciencias, la Historia y del Hombre. Homepage. Institute and Museum of the History of Science - Florence, Italy. HISTORY. ¿De dónde proviene el árbol de cacao? Mesoamérica o Alto Amazonas. La historia ha ubicado a Mesoamérica como la región del origen del árbol de cacao sin embargo estudios realizados por botánicos y genetistas lo ubican en el Alto Amazonas, cerca de los límites entre Perú, Ecuador, Colombia y Venezuela.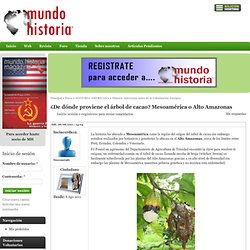 FJ Pound un agrónomo del Departamento de Agricultura de Trinidad encontró la clave para resolver el enigma, un enfermedad común en el árbol de cacao llamada escoba de bruja (witches' broom) es facilmente sobrellevada por las plantas del Alto Amazonas gracias a su alto nivel de diversidad sin embargo las plantas de Mesoamérica muestran pobreza genética y no resisten esta enfermedad. Un árbol infectado con moniliasis del cacao (frosty pod rot) izquierda y escoba de bruja (witches' broom) derecha Ver la fuente para una información detallada. Teachinghistory.org.
History & Archaeology | From Smithsonian Magazine. Proyecto Clío. Educahistoria.com. ARTEHISTORIA. Biográfica.info. Buscador de biografías. This Day in History — History.com — What Happened Today in History. On this day in 1947, Jackie Robinson, age 28, becomes the first African-American player in Major League Baseball when he steps onto Ebbets Field in Brooklyn to compete for the Brooklyn Dodgers.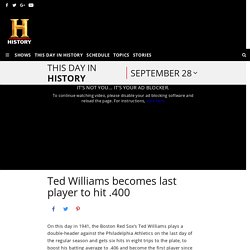 Robinson broke the color barrier in a sport that had been segregated for more than 50 years. Exactly 50 years later, on April 15, 1997, Robinson's groundbreaking career was honored and his uniform number, 42, was retired from Major League Baseball by Commissioner Bud Selig in a ceremony attended by over 50,000 fans at New York City's Shea Stadium. Robinson's was the first-ever number retired by all teams in the league. Jack Roosevelt Robinson was born January 31, 1919, in Cairo, Georgia, to a family of sharecroppers.
Growing up, he excelled at sports and attended the University of California at Los Angeles, where he was the first athlete to letter in four varsity sports: baseball, basketball, football and track. History.com — History Made Every Day — American & World History. History en Español.
---