Very useful tools-Twitter
Photo Sharing for Twitter and Facebook | Plixi. Twitter Directory and Search, Find Twitter Followers. Twitscoop - Stay on top of twitter! - Search twitter, twitter cl. Snap Bird - search twitter's history. TweetMeme - Search and Retweet the Hottest Stories on Twitter. Topsy - A search engine powered by tweets. Get twitter followers and friends | twiends.com. Twitter follow stats, graphs and widgets | Twitter Counter. Twitter Grader | Get Your Twitter Ranking. Who Doesn't Follow You on Twitter | Friend or Follow.
Twingly Channels. Twitter Search, Twitter Directory, Twitter Yellow Pages :: Twell. Cadmus. Collaborative Search. Pusher - Realtime client push powered by HTML5 websockets, beyon. Twitxr.com - Share pictures and status updates from your mobile. ***Articles and Blog-Posts*** Pluggio - The Helpful Twitter Client. The Standard for Online and Internet Influence.
Twimbow - Colored Thoughts. The Rainbow vanished Hi folks, today is a sad day here in Twimbowland, In the last communiques, Twitter discouraged the development of new applications replicating the core Twitter Experience, called "Traditional Clients", among which Twimbow is included.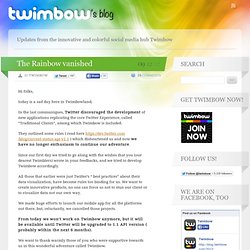 They outlined some rules ( read here ) which disheartened us and now we have no longer enthusiasm to continue our adventure. Since our first day we tried to go along with the wishes that you (our dearest Twimblers) wrote in your feedbacks, and we tried to develop Twimbow accordingly. Bettween | Easily Track and Share Twitter Conversations. Tweetvolume Compare Twitter Results! Now with timed results!
---