Cooking
60 Second Chocolate Chip Cookie A la Mode. I had so much fun developing this recipe.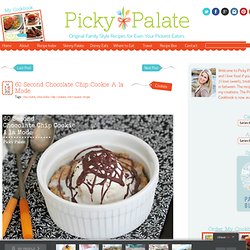 Talk about kinda dangerous though. This baby is baked in 60 seconds, no lie!! The cookie dough recipe is prepared right in your ramekin, so we are also talking about minimal dishes. Jason's Everlasting Recipes: Cheesecake Stuffed Strawberries. Ingredients:-1 lb large strawberries-8 oz. cream cheese, softened (can use 1/3 less fat)-3-4 tbsp powdered sugar (4 tbsp for a sweeter filling)-1 tsp vanilla extract-graham cracker crumbs Directions:1.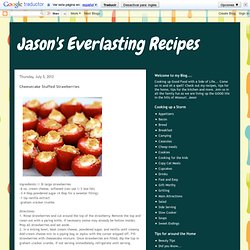 Rinse strawberries and cut around the top of the strawberry. Remove the top and clean out with a paring knife, if necessary (some may already be hollow inside). Peanut Butter and Jelly Cupcakes Recipe. From decadent Peanut Butter Trifles to Amber's Peanut Butter Snickeroos, I filled up the week with pure peanut butter goodness, so I knew I had to wrap up the week with something extra special.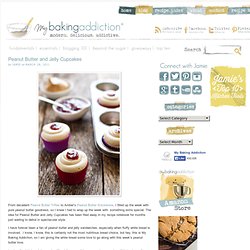 The idea for Peanut Butter and Jelly Cupcakes has been filed away in my recipe notebook for months just waiting to debut in spectacular style. I have forever been a fan of peanut butter and jelly sandwiches, especially when fluffy white bread is involved. I know, I know, this is certainly not the most nutritious bread choice, but hey, this is My Baking Addiction, so I am giving the white bread some love to go along with this week's peanut butter love. Mint Chocolate Chip Cake - Semisweetie, A geeky baking and recipe blog. Thank goodness I have a mother-in-law with good taste in birthday cakes.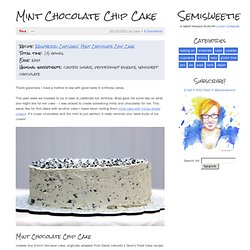 This past week we traveled to my in-laws to celebrate her birthday. Brad gave me some tips on what she might like for her cake – I was stoked to create something minty and chocolatey for her. This easily ties for first place with another cake I made when visiting them (chai cake with honey ginger cream). It's super chocolatey and the mint is just perfect; it really reminds your taste buds of ice cream! Mint Chocolate Chip Cake. Best Baking Recipes - Kiwi Baking. Chocolate Stout Cake Recipe. About two weeks ago my younger brother, Jared sent me a text me stating he had pink eye.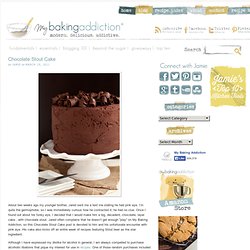 I'm quite the germophobe, so I was immediately curious how he contracted it; he had no clue. Once I found out about his funky eye, I decided that I would make him a big, decadent, chocolate, layer cake…with chocolate stout. Jared often complains that he doesn't get enough "play" on My Baking Addiction, so this Chocolate Stout Cake post is devoted to him and his unfortunate encounter with pink eye. I am baker. Rose Cake Tutorial. Mingmakescupcakes.yolasite. Most gawked all-time - page 20. Chocolate Chip Lava Cookies. I am so in love with these darn chocolate lava cookies!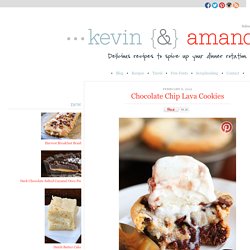 What is it about a warm, gooey chocolate chip cookie stuffed with decadent, rich, melted chocolate that makes it so irresistible?? Especially when topped with vanilla ice cream. These are one of Kev's favorite homemade treats, and he usually asks me to make them at least once a week. They are so simple to whip up, and such a treat! >Easy Nutella Brownie Cups. So I have found new love.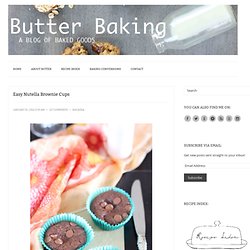 These delicious, gooey, chocolate-y, Nutella brownie cups. They have only 3 main ingredients. THREE!!! Nutella, eggs and flour. That's it. Brown Butter Double Fudge Chocolate Chip Cookie Dough Cookies. Little bit of a mouthful there.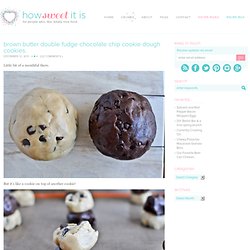 But it's like a cookie on top of another cookie! Yeah. Stay hungry, my friends. Deep Dish Fruit Pizza. My sister-in-law Missy first introduced me to the concept of fruit pizza years and years ago, and here's how: she brought one to my house and I proceeded to eat the whole thing.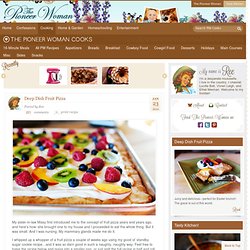 But it was small. And I was nursing. My mammary glands made me do it. Untitled. From the molten yolk and bacon crunch of a hand-held breakfast, to the gooey charm of grilled cheese for lunch, nothing matches the simple pleasures of well-made sandwiches.
They're quick to assemble, infinitely adaptable, easy to eat, and immediately satisfying—the very definition of good food. The 25 sandwiches you're about to meet can be thrown together during the average basketball halftime or, with practice, during the seventh-inning stretch. (Who needs hot dogs, anyway?) No-Bake Chewy Cookies and Cream Bars. Oh how I love a treat that can be whipped up in about 15 minutes. My boys and their buddies couldn't get enough of these Chewy Oreo Bars we had as an after school snack this week. Sometimes my spontaneous recipe creations turn out to be the most fun, lol! Yes you use an entire package of Oreo Cookies, but what you get in return is a marshmallow-y Oreo treat that is worth every bite Surprise the kids (and yourself) with this one, they'll be all smiles, Enjoy!
The best new recipes from Framed Cooks — punchfork.com. German pancakes. Saturday, December 2, 2006 Back when I was still getting daily "are you okay?" And "do you need anything" phone calls from my mother each morning after my little rumble with the stairs, she told me one more she'd just made German pancakes for breakfast. "Oh, you remember them, don't you? I made them once in a while when you were growing up." Popsicles! Jun29 Not to sound full of myself, but I'm pretty sure this is the be all, end all of popsicle roundups.
There's a little something for everyone: the foodies, the purists, the ones who prefer frozen yogurt, the ones who prefer a little alcohol, everyone. Tweny-five options to be exact.
Ordering Fooood
Crusty Bread. I must begin by saying where the recipe originated, if in fact it originated anywhere...really. I think bread has been baked for centuries using flour, salt, water, and yeast or other form of leavening. As far as I know the recipe for "No-Knead" bread dough was printed in the New York times. I don't know what month, day, or year. The originator is Jim Lahey of Sullivan Street Bakery. That's all I know. The Best Chocolate Mousse of Your Life Under 5 Minutes : Cafe Fernando – Food Blog - best chocolate mousse - best chocolate mousse recipe - chocolate chantilly - chocolate mousse recipe - herve this - Chocolate.
---