Digital Storytelling
- Google Story Builder. 0 Comments July 19, 2014 By: Özge Karaoglu Jul 19 Written by: 7/19/2014 3:12 PM.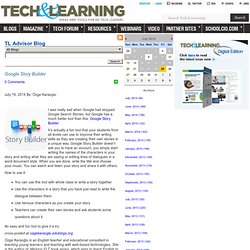 Storyboard That Classroom Edition - Starting at Just $5.95 per month. At the heart of Storyboard That is our incredibly powerful, yet easy to use storyboard creator.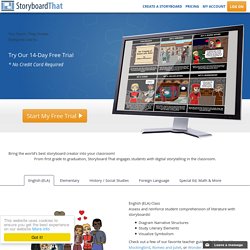 Simple & Fun Interface:The storyboard creator uses a familiar drag and drop interface that users of all ages pick up in seconds. Our creator allows you to fully customize numerous aspects of your storyboard; from coloring in your own character, to adding text, we have everything you need to get the story straight! Detailed Image Library:Creating a beautiful and expressive storyboard is easy with our extensive and well curated library of over 325 characters, 225 scenes, and over 45,000 images in search. If that still isn't enough we offer another powerful tool; the ability to upload your own images! Focus is on The Story: By using a storyboard like a graphic organizer it helps structure students work into a linear and concise story. 100 Digital Storytelling Tools for Your Digital Selves + Natives (Part 1) | Ozge Karaoglu's Blog. "We are our stories, we compress years of experience, thought and emotion into a few compact narratives that we convey to others and tell to ourselves" Daniel Pink, a Whole New Wind Digital storytelling, in short, using technologies to tell stories.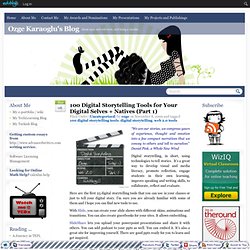 It's a great way to develop visual and media literacy, promote reflection, engage students in their own learning, improve speaking and writing skills, to collaborate, reflect and evaluate. Here are the first 25 digital storytelling tools that you can use in your classes or just to tell your digital story. I'm sure you are already familiar with some of them and I hope you can find new tools to use. Digital-storytelling. Comics. Collections of Digital Story Tools. Collections of Digital Story Tools. Digital Technolgy Enhanced Storytelling. Home | Zimmer Twins at School. Digital Story-Telling. Publish your own children's book.
New Meograph 1. Conversations in the cloud. Ken Tothero · University of Texas at Austin VoiceThread conversations are media-centric, which keeps the discussions focused.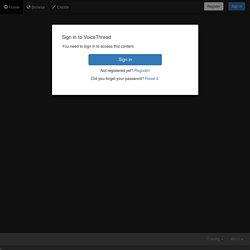 They also provide an opportunity to reflect, resulting in higher quality input. And finally, the system just plain works. Ken Tothero from the University of Texas at Austin shares his experience using VoiceThread (3:04 Min) Voki Home. For Fun. ArtisanCam - Home. Create Your Own Comic | Games. ToonDoo - World's fastest way to create cartoons! Strip Generator. Create your own comic strips. Comic Master. Captain Underpants: Comic Maker.
6 Free Sites for Creating Your Own Comics. In the days of cold, hard newsprint, only people who could draw were successful comic strip authors.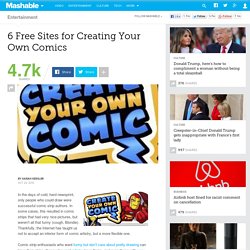 In some cases, this resulted in comic strips that had very nice pictures, but weren't all that funny (cough, Blondie). Thankfully, the Internet has taught us not to accept an inferior form of comic artistry, but a more flexible one. Comic strip enthusiasts who want funny but don't care about pretty drawing can have their strips, those who want artistry have theirs, and even those with very specific tastes can find something just right.
The best part about these developments is that they allow you, regardless of any talent as an artist or comedian, to create your very own comic strip. Depending on what you're going for, you can use one of these six sites to help you do it. The Cartoon Strip Creator - Create, Publish, Share, Discuss! MAKE BELIEFS COMIX! Online Educational Comic Generator for Kids of All Ages. KidPad. KidPad Version 1.0 is now available for free download for non-commercial use!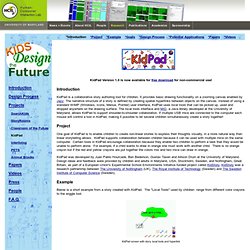 Introduction KidPad is a collaborative story authoring tool for children. It provides basic drawing functionality on a zooming canvas enabled by Jazz. Tikatok - Kids Activities: Publish a Children's Book with Tikatok. Tumblecloud. Tumblecloud is a whole new way to work together.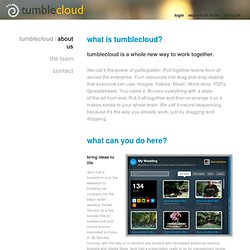 We call it the power of participation. Pull together teams from all across the enterprise. Turn resources into drag and drop objects that everyone can use. Images. Storybird. Animation Tools. WebList - The place to find the best web lists on the web. Animoto. Vimeo, Your Videos Belong Here. Blabberize. Yodio - Add voice to photos. Make a Video. Amazing Animated Video Maker - GoAnimate.
My StoryMaker : Carnegie Library of Pittsburgh. My Storymaker was named one of the Best Websites for Teaching and Learning by the American Association of School Librarians , a division of the American Library Association.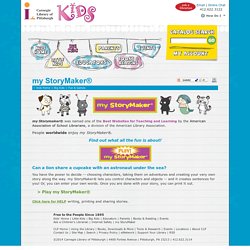 People worldwide enjoy my StoryMaker . Find out what all the fun is about! Can a lion share a cupcake with an astronaut under the sea? You have the power to decide -- choosing characters, taking them on adventures and creating your very own story along the way. my StoryMaker lets you control characters and objects -- and it creates sentences for you! Digital Play. Thanks to Simon Hadley for this great guest post all about creating your own computer games to use with students.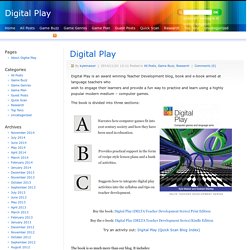 Hunched over a keyboard in the classroom he clicks away furiously with the mouse whilst simultaneously sweeping the virtual room from side-to-side. Game tiles fall before his lightning-quick reflexes. He's done it, in record time! Create a PicLit. This is a tooltip bear collar crowd dog fence.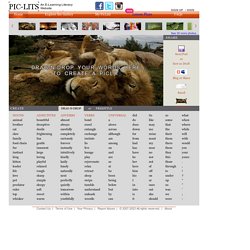 ---