Online Paint/Drawing
Artrage Home. LIVE CANVAS SKETCHPAN. Skrbl: easy to share online whiteboard. You draw : online drawing. Scriblink - Your Online Whiteboard. Grant Robinson : Scribble launcher. About Scribble Once described as an open canvas to create and share drawings, this popular drawing app is back after 2 years offline.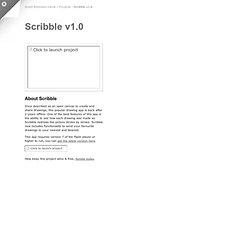 One of the best features of this app is the ability to see how each drawing was made as Scribble redraws the picture stroke by stroke. Scribble now includes functionality to send your favourite drawings to your nearest and dearest. This app requires version 7 of the Flash player or higher to run, you can get the latest version here. Sketch Swap. SwarmSketch. Sketchfu. Sketchcast - A new way to express yourself - Sketchcast.com. Scribbler :: the original version :: zefrank. Online Drawing Tools & Free Online Painting & Sketching Tools. Free Online Drawing Tools, Online Painting Tools, and Online Sketching Tools and Programs As Graphic Designers, we are all creative individuals.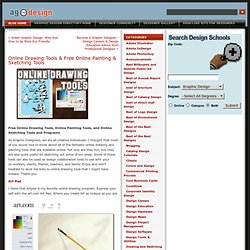 I thought that most of you would love to know about all of the fantastic online drawing and painting tools that are available online. Not only are they fun, but they are also quite useful for sketching out some of our ideas. Some of these tools can also be used as design collaboration tools to use with your co-workers, clients, friends, teachers, and family. FREE ONLINE PHOTO EDITING.
Nothing to download or install.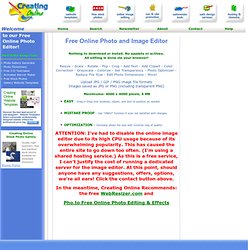 No applets or activex. All editing is done via your browser! Resize - Scale - Rotate - Flip - Crop - Add Text - Add Clipart - Color Correction - Grayscale - Colorize - Set Transparency - Photo Optimizer - Reduce File Size - Edit Photo Dimensions - More! Upload JPG / GIF / PNG image file formats Images saved as JPG or PNG (including transparent PNG) Odosketch. ROXIK. Rate My Drawings • online drawing community - draw online, DrawChat, competitions and tutorials. Create, rate and comment animated speed paint drawings online. Queeky - paint and share. Pencil - a traditional 2D animation software. Paint - WiiPlayable. Painting online game paint brush online. Painting online game paint brush online.
Draw a picture and send it to your email. This tool can be used as post card creator. Painting online game. paint brush online. Noughts:: Mikons.com | create and connect. Kerpoof Studio. Online Diagram Software and Flowchart Software - Gliffy. º Flash PAINT º Online Painting Tool © Favicon Icon Drawing Program Online Free. Draw your own favicon or icon online for free using this entirely web-based, non-Java icon generator.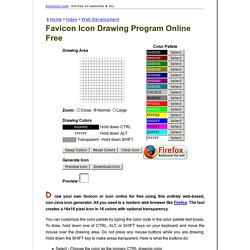 All you need is a modern web browser like Firefox. The tool creates a 16x16 pixel icon in 16 colors with optional transparency. Draw Anywhere - easy online diagramming, flow chart. Paint - draw online! National Gallery of Art NGAkids BRUSHster. Brushster is an online painting machine for all ages.
This Shockwave interactive includes more than forty brushes and customizable size, transparency, texture, and stroke options. A rainbow palette, along with a toolbox of special effects that blur, ripple, smudge, blend, and fragment your designs help make Brushsterr a full-feature painting program. Brushster has a mind of its own! ArtPad. Paint.NET - Free Software for Digital Photo Editing.
Freeware Paint, animation and Image-editing. Create Your Own Cards,eCards,Animated Greetings | Personalize your MySpace profile and layout with sparkling pictures! Photobie: free image photo editor, GIF animation, digital scrapbooking software. Paint Online - Sketch & Paint! - OneMotion.com. Sumo Paint | Online Image Editor.
---
rainey123 Dec 31 2013

lol.this is sooooo cool!my little brother says tha he likes it to.
---