Art
Rendez-vous avec X. CAMEMBERT – De l'art de l'infographie vide de sens. Peut-on dessiner un diagramme, un graphique, un tableau qui expliquent quel sens a la vie, ou autres "questions [parmi] les plus importantes de l'univers" ?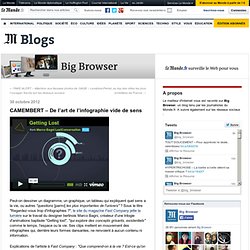 Sous le titre "Regardez-vous trop d'infographies ? ", le site du magazine Fast Company jette la lumière sur le travail du designer berlinois Marco Bagni, créateur d'une trilogie d'animations baptisée "Getting lost", "qui explore des concepts grisants, existentiels" comme le temps, l'espace ou la vie. Le blog de Laurent Delmas. MoRUS: A Museum for Urban Space (NY) A city plagued by bankruptcy and violence, between 1970 and 1980 New York lost one million people—10% of its population.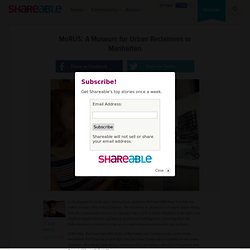 The result was an abundance of empty space. Along with decreased police resources, squatters were able to make a foothold in the city's most blighted neighborhoods, opening up abandoned buildings and converting them into collective houses and community spaces and turning abandoned lots into gardens. At the time, the Lower East Side (LES) of Manhattan was considered the center of the movement, but if you ask an average seasoned New Yorker about squatting on the Lower East Side, they would likely tell you that those days are history—the stuff of museums. And they would be partially right.
Du graffiti de lumière avec de l'eau. Du voyeurisme à travers les fenêtres de New York. The Angel Orensanz Foundation NYC. "XXI, c'est la revue dont on rêvait tous" Deux ou trois choses que je sais d'elle. Quand on soulève les jupes de la ville, on en voit le sexe.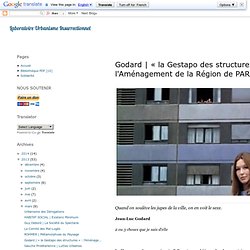 Jean-Luc Godard 2 ou 3 choses que je sais d'elle Le film 2 ou 3 choses que je sais d'elle, est un ambitieux plan documentaire, car Elle, n'est autre que la région parisienne, qui en 1966 faisait l'objet de grands travaux (cités d'habitat, autoroutes, périphérique, etc.), dans le cadre de son aménagement. L'objectif réel, pour Jean-Luc Godard, est d'observer et de critiquer cette grande mutation, entre fiction et documentaire, nous rappelant au passage les atrocités de la guerre du Vietnam. Un Jean Luc Godard alors engagé dans la voie maoïste, et filmant pour la première fois, quelques scènes dans la cité des 4000 à La Courneuve, là où vit l'héroïne ; une des opérations emblématiques puis symboliques de la politique de l'Etat, en matière d'aménagement de territoire.
Subway Parasite: Stealth Projector Lights Up Train Tunnels. Subway Parasite: Stealth Projector Lights Up Train Tunnels Article by Urbanist, filed under Installation & Sound in the Art category.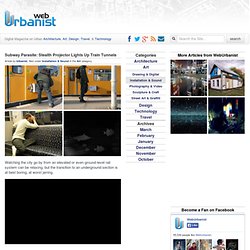 Watching the city go by from an elevated or even ground-level rail system can be relaxing, but the transition to an underground section is at best boring, at worst jarring. Here to lighten the mood a bit during the duller parts of your nighttime or subterranean transit is a quirky little device designed to attach to the outer shell of a passenger train. It was created by Frédéric Eyl for a Digital Media course at the University of the Arts in Berlin. Suddenly there is a school of fish struggling to keep up, an under-earth ecosystem, or some other speed-appropriate scene to liven your day. Cités du monde. ZINC @Belle de Mai (Marseille) Rebel:art | connecting art and activism. Mathieu Kassovitz making of Apocalypse - TV5MONDE. Himalayas Dream." by Cheah Nz.
Information Is Beautiful. Le Tournedisque. Comment les robots voient le monde. Galerie Marseille. Des événements tout au long de la semaine. © Karine Maussiére, 2014, Dans le cadre de LOOP IN THE CITY, résidence croisée entre Marseille et Sarajevo, un projet produit par art-cade Art Cade travaille depuis plusieurs années en étroite relation avec des artistes, des architectes et des paysagistes en s'appuyant sur les œuvres et la ville comme matériaux de réflexion.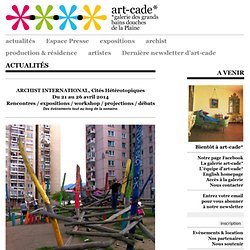 BD. Sifteo - Intelligent Play. Remake / Submissions. I will be updating this post with all the submissions to our "Remake" project.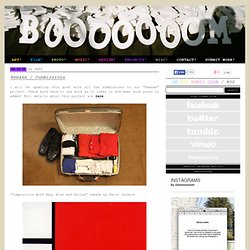 Check back here to see work as it comes in and make sure yours is added! Full details about this project are here. "Composition With Red, Blue and Yellow" remake by Katie Jackson "Composition With Red, Blue and Yellow" by Mondrian. Creative Process for Art and Illustration. Webdoc Vaudou. BAROQUE.ME.
---